To Buy Car Touch Up Paint or Car Aerosol Spray Cans for your Alfa Romeo please


CLICK HERE

or

RETURN TO HOMEPAGE

Finding Your Alfa Romeo Paint Code

Alfa Romeo has a few paint code locations. Check on the edge of the boot lid, or in some cases under the bonnet (actually on the under side of the bonnet). An Alfa Romeo Color Code is typically 3 or 4 digits long, but can also be a letter/number combination and can be found on a chrome sticker. In most cases this will also include the colour name.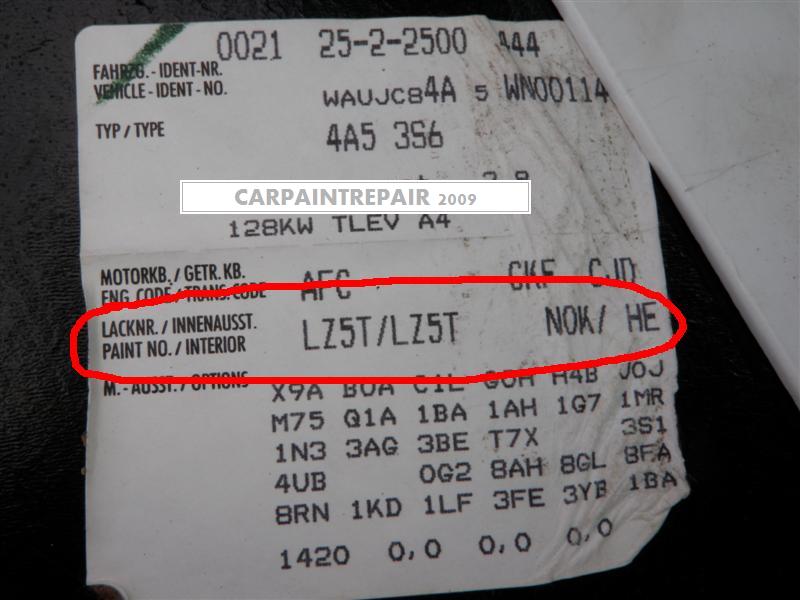 ALFA ROMEO LE MANS BLUE AR348 1972 1975
ALFA ROMEO AZZURRO LUGANO AR377 1986 1988
ALFA ROMEO VERDE AR353 1992 -
ALFA ROMEO POSILLIPO BLUE AR355 1982 -
ALFA ROMEO BLUE PERVINCA AR357 1976 1982
ALFA ROMEO AZZURRO AR362 1981 1983
ALFA ROMEO VERDE MIRTO AR251 1986 1988
ALFA ROMEO GREEN MIRTO AR364 1992 1997
ALFA ROMEO GREEN RESEDA AR250 1987 -
ALFA ROMEO BLUE POSILLIPO AR369 1985 1986
ALFA ROMEO AZZURRO AR371 1985 1987
ALFA ROMEO BLUE POLIZIA AR374 1988 1988
ALFA ROMEO BLUE ZAFFIRO AR375 1985 1987
ALFA ROMEO DARK (DUTCH) BLUE AR343 1968 1971
ALFA ROMEO CHAMPAGNE BEIGE AR843 1986 1987
ALFA ROMEO GREY GREEN AR772 1987 -
ALFA ROMEO GRIGIO NUBE AR763 1982 -
ALFA ROMEO GRIGIO CHIARO AR765 1982 1985
ALFA ROMEO ARGENTO AR767 1985 1986
ALFA ROMEO GREY NEUTRO AR768 1985 1986
ALFA ROMEO GRIGIO SCURO AR770 1985 1987
ALFA ROMEO GRIGIO CHIARO AR775 1987 1988
ALFA ROMEO NERO AR817 1985 -
ALFA ROMEO LUCI DI BOSCO AR825 1972 1975
ALFA ROMEO GOLD AR826 1972 1975
ALFA ROMEO PONZA BEIGE AR830 1972 1975
ALFA ROMEO SILVER AR755 1983 -
ALFA ROMEO LIGHT BEIGE AR835 1976 1977
ALFA ROMEO GREY AR755 1985 1986
ALFA ROMEO ROBINA AR534 1976 1977
ALFA ROMEO ALFA RED AR501 1968 1971
ALFA ROMEO LIGHT BLUE AR382 1989 1990
ALFA ROMEO BLUE SPAZIO PEARL AR431 1992 -
ALFA ROMEO BLUE LORD AR380 1987 1988
ALFA ROMEO BLUE ALFA AR438 1988 -
ALFA ROMEO BLUE MARE AR445 1987 1990
ALFA ROMEO BLUE SCURO MICA AR460 1994 -
ALFA ROMEO PERVINCA AR463 1994 -
ALFA ROMEO BLU ATOLLO AR473 1994 -
ALFA ROMEO BLU ARMONICO AR492 1995 -
ALFA ROMEO VERDE RESEDA AR384 1986 1988
ALFA ROMEO PLATINO AR501 1990 1990
ALFA ROMEO MAROON AR509 1968 1977 - ALFA ROMEO BURGUNDY AR516 1968 1971
ALFA ROMEO ROSSO AR521 1972 1973
ALFA ROMEO BLUE MARE AR378 1986 1988
ALFA ROMEO ROSSO CORSO AR530 1982 -
ALFA ROMEO BLU ELETTRICO AR368 1983 1984
ALFA ROMEO VENETIAN RED AR536 1978 1981
ALFA ROMEO RAME LIGHT AR540 1982 -
ALFA ROMEO ROSSO VIGILI DEL FUOCO AR542 1982 1988
ALFA ROMEO LUCI DEL BOSCO AR543 1982 1985
ALFA ROMEO OPALE AR545 1983 1985
ALFA ROMEO ROSSO AMARILLIS AR547 1985 1986
ALFA ROMEO ROSSO VENEZIANO AR548 1994 1998
ALFA ROMEO ALFA RED AR530 1988 1989
ALFA ROMEO MEDIUM BLUE AR349 1972 1975
ALFA ROMEO MEDIUM GREY AR776 1989 -
ALFA ROMEO OCCHIO DI TIGRE AR550 1984 1987
ALFA ROMEO BIANCO ARGENTO AR270 1988 1992
ALFA ROMEO VERDE ACIDO PEARL AR302A 1994 1999
ALFA ROMEO VERDE BOTTIGLIA AR303 1994 -
ALFA ROMEO VERDE INGLESE AR306 1993 1993
ALFA ROMEO VERDE TROPICO AR309 1994 1998
ALFA ROMEO VERDE BOSCO AR310 1994 -
ALFA ROMEO VERDE CARAIBI AR320 1994 -
ALFA ROMEO CARACALLO BLUE AR323 1972 1975 - ALFA ROMEO BLUE AR337 1968 1971
ALFA ROMEO MEDIUM BLUE AR370 1985 1988
ALFA ROMEO BROWN AR846 1978 1981
ALFA ROMEO BROWN AR847 1982 -
ALFA ROMEO CHAMPAGNE AR855 1985 1988
ALFA ROMEO BLACK AR905 1984 -
ALFA ROMEO NERO AR909 1982 1987
ALFA ROMEO NERO AR913 1983 1988
ALFA ROMEO AZZURRO POLIZIA AR938 1989 -
ALFA ROMEO MEDIUM BLUE AR940 1985 1990
ALFA ROMEO BLUE CHIARO AR945 1988 1992
ALFA ROMEO OCEAN AR248 1985 1985
ALFA ROMEO BEIGE AR852 1985 1986
ALFA ROMEO CILENTO BROWN AR834 1976 1977
ALFA ROMEO GRIGIO VERDE AR661 1988 1991
ALFA ROMEO NUOVO LUCI DEL BOSCO AR556 1988 1993
ALFA ROMEO NERO AR601 1992 1997
ALFA ROMEO ARANCIO AR602 1972 1975
ALFA ROMEO GRIGIO CHIARO AR612 1994 -
ALFA ROMEO GRIGIO TITANIO AR613 1994 -
ALFA ROMEO BLACK PEARL AR632 1992 -
ALFA ROMEO GRIGIO AR637 1992 1993
ALFA ROMEO GRIGIO C.DI FUC PEARL AR638 1992 1993
ALFA ROMEO GRIGIO LOTHAR PEARL AR642 1992 -
ALFA ROMEO GRIGIO DAKAR PEARL AR643 1992 -
ALFA ROMEO GRIGIO NUVOLA AR644 1992 -
ALFA ROMEO SILVER AR762 1983 1984
ALFA ROMEO GRIGIO QUARTZ AR649 1992 -
ALFA ROMEO RED AR555 1986 1988
ALFA ROMEO LIGHT GREY AR676 1989 -
ALFA ROMEO ARDESIA AR681 1989 1990
ALFA ROMEO GRIGIO AR683 1989 1990
ALFA ROMEO LUCI DEL BOSCO AR710 1982 1985
ALFA ROMEO LIGHT GREY AR712 1968 1971
ALFA ROMEO MEDIUM GREY AR728 1968 1971
ALFA ROMEO VESUVIUS GREY AR742 1972 1975
ALFA ROMEO NISIDA GREY AR743 1972 1975
ALFA ROMEO LIGHT GREY AR748 1976 1982
ALFA ROMEO MEDIUM GREY AR749 1976 1977
ALFA ROMEO GRIGIO CHIARO AR751 1979 1983
ALFA ROMEO GRIGIO SILVERSTONE AR648 1994 -
ALFA ROMEO BLU ONTARIO 446 1998 -
ALFA ROMEO GRIGIO ANTARES/STROMBOLI 651 2003 -
ALFA ROMEO VERDE ORO 378 2003 -
ALFA ROMEO VERDE BOREAL 379 2002 -
ALFA ROMEO BLU VELA 400 1998 2000
ALFA ROMEO BLU VICTORIA PEARL [BACKGROUND] 401 1998 -
ALFA ROMEO BLU VICTORIA PEARL [TOPCOAT] 401 1998 -
ALFA ROMEO AZZURRO FANTASIA 402 1997 2000
ALFA ROMEO AZZURRO NUVOLA PEARL 414 1997 -
ALFA ROMEO BLUE LIGHTNING 427B 2001 -
ALFA ROMEO BLU COSMO PEARL 428 1997 2000
ALFA ROMEO BLU PEGASO 436 2000 -
ALFA ROMEO VERDE ARGO 373 1998 -
ALFA ROMEO BLU
O 442 2002 -
ALFA ROMEO BLUE POSILLIPO 369 1985 1986
ALFA ROMEO BLU ODISSEA PEARL 472 1998 -
ALFA ROMEO BLU FRANCIA 490 1997 -
ALFA ROMEO BLU GOLFO 499 1997 -
ALFA ROMEO GIALLO ZOE 513 1998 -
ALFA ROMEO ROSSO 538 1980 -
ALFA ROMEO GRANATA 546 1983 1984
ALFA ROMEO NERO 601 1988 2000
ALFA ROMEO GRIGIO FONTANA 615 2003 -
ALFA ROMEO GRIGIO GRAPHITE 628 1996 -
ALFA ROMEO GRIGIO LIPARI 639A 2003 -
ALFA ROMEO GRIGIO AFRICA 650 1997 2000
ALFA ROMEO BLU SIRIO PEARL 441 1997 -
ALFA ROMEO BLU REIMS MICA 254 2004 -
ALFA ROMEO VERDE CHIARO AR246 1984 1985
ALFA ROMEO BLACK AR901 1985 1986
ALFA ROMEO GIALLO OPTIONAL 135 1981 1983
ALFA ROMEO ROSSO MIRO PEARL [BACKGROUND] 167 2002 -
ALFA ROMEO ROSSO MIRO PEARL [TOPCOAT] 167 2002 -
ALFA ROMEO BIANCO POLARE 201 1997 2000
ALFA ROMEO BIANCO NUVOLA [BACKGROUND] 212 2003 -
ALFA ROMEO AURORA NUVOLA PEARL 114 1998 -
ALFA ROMEO BIANCO NUVOLA [TOPCOAT] 212 2003 -
ALFA ROMEO LUCE DI BOSCO 235A 2003 -
ALFA ROMEO VERDE ACQUA 242 1984 -
ALFA ROMEO VERDE ACERO 377 2000 -
ALFA ROMEO BIANCO BANKSIA 249 2003 -
ALFA ROMEO PRUGNA SCURO 164 1996 -
ALFA ROMEO GIALLO GINESTRA/BILBAO 258 2001 -
ALFA ROMEO VERDE ACIDO 302A 1994 -
ALFA ROMEO VERDE MINERVA PEARL 315 1998 -
ALFA ROMEO VERDE ARTIC 316 1998 -
ALFA ROMEO VERDE CARAIBI 320A 1994 -
ALFA ROMEO VERDE AMAZZONIA 331 1997 2000
ALFA ROMEO VERDE OASI PEARL [BACKGROUND] 341 1998 -
ALFA ROMEO VERDE OASI PEARL [TOPCOAT] 341 1998 -
ALFA ROMEO VERDE TUNDRA 348 1995 1998
ALFA ROMEO VERDE SARGASSI 353 1997 -
ALFA ROMEO VERDE COVENTRY 361A 2001 -
ALFA ROMEO BLU CHIAIA DI LUNA 245 2004 -
ALFA ROMEO ROSSO AR183 1990 1990
ALFA ROMEO BIANCO CAPADIMONTE AR023 1985 1987
ALFA ROMEO BIANCO FREDDO AR025 1987 1988
ALFA ROMEO CREAM AR103 1968 1971
ALFA ROMEO PIPER YELLOW AR116 1972 1975
ALFA ROMEO PROTOTYPE YELLOW AR119 1972 1975
ALFA ROMEO YELLOW POMPEI AR126 1976 1977
ALFA ROMEO POZZUOLI YELLOW AR127 1976 1977
ALFA ROMEO IVORY AR129 1982 1983
ALFA ROMEO ALFA RED AR130 1989 -
ALFA ROMEO BORDEAUX MICA AR134 1994 -
ALFA ROMEO ROSSO BORDEAUX AR146 1991 -
ALFA ROMEO GRIGIO NETTUNO 656 1998 -
ALFA ROMEO ROSSO WINNER PEARL AR179 1986 -
ALFA ROMEO CAPODIMONTE WHITE (A) AR015 1972 1975
ALFA ROMEO ROSSO PROTEO AR195 1993 2000
ALFA ROMEO BIANCO ARGENTO AR205 1994 -
ALFA ROMEO WHITE FREDDO AR210 1989 1990
ALFA ROMEO PINE GREEN AR216 1968 1971
ALFA ROMEO ENGLISH GREEN AR219 1968 1971
ALFA ROMEO VERDE OLIVE AR235 1976 1977
ALFA ROMEO GREEN AR224 1972 1975
ALFA ROMEO WHITE AR230 1989 1990
ALFA ROMEO FAITO GREEN AR231 1972 1975
ALFA ROMEO GREEN AQUA AR242 1984 -
ALFA ROMEO ROSSO ECOLOGICO 2000 130 2000 -
ALFA ROMEO BEIGE CUMA AR147 1976 1977
ALFA ROMEO MARRONE CASTLE ROCK MICA 740 2004 -
ALFA ROMEO GRIGIO TIEPOLO PEARL 657 2003 -
ALFA ROMEO GRIGIO ECLISSE 659 1998 -
ALFA ROMEO GRIGIO METEORA 677 2001 -
ALFA ROMEO GRIGIO
O 680 2002 -
ALFA ROMEO VERDE GEMMA 682 2000 -
ALFA ROMEO GRIGIO GEO 684A 2003 -
ALFA ROMEO GRIGIO PLATINO 689 2000 -
ALFA ROMEO AZZURRO GABBIA 693 2000 -
ALFA ROMEO VERDE MONTREAUX MICA 693 2004 -
ALFA ROMEO GRIGIO STERLING 694 2000 -
ALFA ROMEO VERDE RACING 709 2003 -
ALFA ROMEO BIANCO AR022 1989 1990
ALFA ROMEO SABBIA DI LUNA 739 2003 -
ALFA ROMEO CAPODIMONTE WHITE (B) AR015 1976 1982
ALFA ROMEO BLU INCA 743 2000 -
ALFA ROMEO GRIGIO NUBE PEARL 771 1991 -
ALFA ROMEO VERDE MIRTO MET 773 2003 -
ALFA ROMEO BLU NOTTE 782A 2003 -
ALFA ROMEO NERO VULCANO PEARL 814 1998 2001
ALFA ROMEO NERO FUOCO 821 1998 -
ALFA ROMEO GRIGIO ARTICO 837 1996 -
ALFA ROMEO NERO
O 846 2002 -
ALFA ROMEO BLU CASUAL 895 2000 -
ALFA ROMEO FARINA WHITE AR008 1968 1971
ALFA ROMEO WHITE SPINO AR013 1976 1977
ALFA ROMEO PINE GREEN AR234 1978 1981
ALFA ROMEO BLU COBALTO 719A 2003 -