To Buy Car Touch Up Paint or Car Aerosol Spray Cans for your Ford please


CLICK HERE

or

RETURN TO HOMEPAGE

Finding Your Ford Paint Code

Ford has a few paint code locations, most commonly in the drivers door. Another common locationis under the bonnet where the bonnet catch is. A Ford Color Code is typically 2 digits long, and can be a letter/number combination. We would also be gratefull if you provide the colour name if known.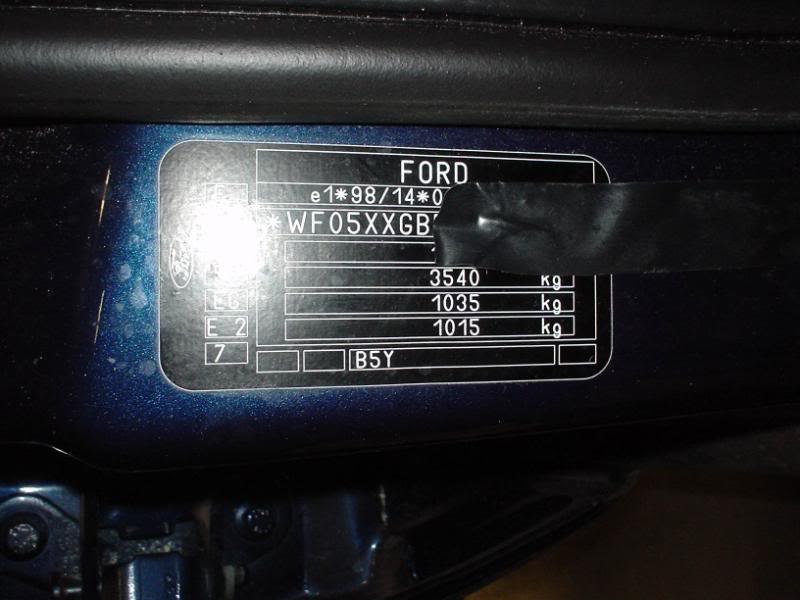 FORD EUROPE AEGEAN BLUE XSC2481C 1992 -
FORD EUROPE AEGEAN BLUE F1/H2/XSC2481C 1992 -
FORD EUROPE AEGEAN BLUE H2/XSC2481 1992 -
FORD EUROPE ALBERTO GREEN XSC2698C 1993 -
FORD EUROPE ALBERTO GREEN 9/93/XSC2698CE 1993 -
FORD EUROPE ALBERTO GREEN 93/XSC2698CE/9 1993 -
FORD EUROPE AMALFI BLUE C/CX3/C3/UO/XSC2368C 1990 -
FORD EUROPE AMALFI BLUE XSC2368C 1990 -
FORD EUROPE AMALFI BLUE C3/UO/XSC2368C/C/CX3 1990 -
FORD EUROPE AMALFI BLUE UO 1990 -
FORD EUROPE AMALFI BLUE CX3/C3/UO/XSC2368C/C 1990 -
FORD EUROPE AMAZON GREEN 8/8A/XSC9614 2000 -
FORD EUROPE AMAZON GREEN PE8/XSC9614 2000 -
FORD EUROPE AMETHYST XSC2346C 1988 1989
FORD EUROPE AMETHYST X9 1988 1989
FORD EUROPE AMPARO BLUE XSC2608C 1996 -
FORD EUROPE AMPARO BLUE 5/XSC2608C 1996 -
FORD EUROPE AMPARO BLUE [FOCUS] A 2002 -
FORD EUROPE AMPARO BLUE PEARL 59 1996 2000
FORD EUROPE ANTIGUA BLUE PEARL BTK3/TK3 1993 -
FORD EUROPE ANTIGUA BLUE PEARL TK3/BTK3 1993 -
FORD EUROPE ANTIQUE BRONZE XSC2164C 1988 1991
FORD EUROPE ANTIQUE BRONZE G9 1988 1991
FORD EUROPE ANTIQUE BRONZE G 1988 1991
FORD EUROPE APOLLO GREEN 6 1978 1979
FORD EUROPE APORTO RED ED/XSC2498A 1996 -
FORD EUROPE APORTO RED Q 1992 -
FORD EUROPE APORTO RED 7/XSC2489A 1996 -
FORD EUROPE APORTO RED U 1992 -
FORD EUROPE APORTO RED U2 1992 -
FORD EUROPE APORTO RED U3 1992 -
FORD EUROPE AQUA FOAM L2 1988 -
FORD EUROPE AQUA FOAM XSC2324C 1988 -
FORD EUROPE AQUA FOAM 09/L/L2/L3/M0/M9 1988 -
FORD EUROPE AQUA FOAM M9 1988 -
FORD EUROPE AQUA FOAM M0 1988 -
FORD EUROPE AQUA FOAM L3 1988 -
FORD EUROPE AQUA FOAM L 1988 -
FORD EUROPE AQUA JADE XSC2240C 1988 1990
FORD EUROPE AQUA JADE L8 1988 1990
FORD EUROPE AQUA JADE L9 1988 1990
FORD EUROPE AQUA JADE L 1988 1990
FORD EUROPE AQUA JADE L0 1988 1990
FORD EUROPE AQUA STAR XSC2411C 1992 -
FORD EUROPE AQUA TEAL V/XSC9615 2000 -
FORD EUROPE AQUA TEAL MGQ/XSC9615 2000 -
FORD EUROPE AQUAMARINE FROST G 1998 -
FORD EUROPE AQUAMARINE FROST G8 1998 -
FORD EUROPE AQUAMARINE FROST PEARL [FOCUS/MONDE L 2002 -
FORD EUROPE AQUAMARINE FROST PEARL [FOCUS/MONDE F 2002 -
FORD EUROPE AQUAMARINE FROST PEARL [KA] L 2002 -
FORD EUROPE AQUARIUS BLUE XSC2347C 1988 1989
FORD EUROPE AQUARIUS BLUE Z9 1988 1989
FORD EUROPE AQUARIUS 24 2004 -
FORD EUROPE AQUARIUS AQ 2004 -
FORD EUROPE AQUARIUS 4CVEWWA 2004 -
FORD EUROPE AQUARIUS I4 2004 -
FORD EUROPE AQUARIUS 4CVE 2004 -
FORD EUROPE ARCTIC BLUE 5/54/XSC2632C 1993 -
FORD EUROPE ARCTIC BLUE 54/XSC2632C/5 1993 -
FORD EUROPE ARCTIC BLUE XSC2632C 1993 -
FORD EUROPE ARIZONA ORANGE MICA Z 1997 -
FORD EUROPE ARIZONA ORANGE PEARL ZT 1998 -
FORD EUROPE ASH BLACK N 1993 -
FORD EUROPE ASH BLACK MA3 1993 -
FORD EUROPE ASH BLACK V4 1993 -
FORD EUROPE ASH BLACK M93 1993 -
FORD EUROPE ASH BLACK N4 1993 -
FORD EUROPE ASH BLACK A/XSC2743C 1994 -
FORD EUROPE ASH BLACK V/XSC2743 1993 -
FORD EUROPE ASH BLACK L4 1993 -
FORD EUROPE ASPEN BLUE TK2/BTK2 1993 -
FORD EUROPE ASPEN BLUE BTK2/TK2 1993 -
FORD EUROPE ASTOR GREY F/XSC2848CM 1996 -
FORD EUROPE ATLANTIC BLUE PEARL XSC2358 1990 -
FORD EUROPE ATLANTIC BLUE PEARL S1 1990 -
FORD EUROPE ATLANTIC BLUE PEARL S 1990 -
FORD EUROPE ATLANTIC BLUE PEARL 58/XSC2358CM 1997 -
FORD EUROPE AUBERGINE PEARL E/XSC2747C 1995 -
FORD EUROPE AURALIS 2 5/XSC2861C 1994 -
FORD EUROPE AURALIS 2 XSC2861 1994 -
FORD EUROPE AURALIS XSC2703C 1994 -
FORD EUROPE AURALIS T/XSC2703C 1994 -
FORD EUROPE AUTUMN GREEN MICA XSC2842CM 1995 -
FORD EUROPE AZTEC GOLD 51/XSC2387C 1991 1992
FORD EUROPE AZTEC GOLD XSC2387C 1991 1992
FORD EUROPE AZURE BLUE T4 1983 1989
FORD EUROPE AZURE BLUE XSC1694C 1983 1989
FORD EUROPE BAHAMA BLUE PEARL F2 1990 1993
FORD EUROPE BAHAMA BLUE PEARL XSC2230 1990 1993
FORD EUROPE BAHAMA BLUE PEARL J0 1990 1993
FORD EUROPE BAHAMA BLUE PEARL F1 1990 1993
FORD EUROPE BAHAMA BLUE PEARL J 1990 1993
FORD EUROPE BAHAMA BLUE PEARL 60/XSC223/F1/F2/J/J0 1990 1993
FORD EUROPE BALLIOL BLUE V2 1992 -
FORD EUROPE BALLIOL BLUE XSC2479 1991 -
FORD EUROPE BALLIOL BLUE V 1992 -
FORD EUROPE BALLIOL BLUE V3 1992 -
FORD EUROPE BALLIOL BLUE XSC2497A 1992 -
FORD EUROPE BAMBOO XSC2344C 1990 -
FORD EUROPE BARDOLINO RED XSC2428C 1990 -
FORD EUROPE BARDOLINO RED M1 1990 -
FORD EUROPE BARDOLINO RED PEARL M3 1991 1993
FORD EUROPE BISCAYNE BLUE 38/XSC2153C/3/37 1986 1993
FORD EUROPE BISCAYNE BLUE 3/37/38/XSC2153C 1986 1993
FORD EUROPE BISCAYNE BLUE XSC2153C 1986 1993
FORD EUROPE BISCAYNE BLUE 37/38/XSC2153C/3 1986 1993
FORD EUROPE BLACK XSC632A 1968 -
FORD EUROPE BLACK FEU4009 2000 2001
FORD EUROPE BLACK A0/A1/A2/A3/A9/A 1968 -
FORD EUROPE BLACK A3/A9/A/A0/A1/A2 1968 -
FORD EUROPE BLACK A1/A2/A3/A9/A/A0 1968 -
FORD EUROPE BLACK A/A0/A1/A2/A3/A9 1968 -
FORD EUROPE BLACK A2/A3/A9/A/A0/A1 1968 -
FORD EUROPE BLACK A9/A/A0/A1/A2/A3 1968 -
FORD EUROPE BLAZE H 2003 -
FORD EUROPE BLAZE PN3CE 2003 -
FORD EUROPE BLAZE H2 2003 -
FORD EUROPE BLAZE H3 2003 -
FORD EUROPE BLAZE 3LNCWWA 2003 -
FORD EUROPE BLUE PRINT X3 2003 -
FORD EUROPE BLUE PRINT X 2003 -
FORD EUROPE BLUE PRINT H 2003 -
FORD EUROPE BLUE PRINT H3 2003 -
FORD EUROPE BLUE PRINT T3 2003 -
FORD EUROPE BLUE PRINT T 2003 -
FORD EUROPE BLUE VIOLET M9 1998 2000
FORD EUROPE BLUE VIOLET (KA) 46/EDG/W9 1998 -
FORD EUROPE BLUEPRINT/SOMMER BLUE H3 2002 -
FORD EUROPE BLUEPRINT/SOMMER BLUE 3CTA 2002 -
FORD EUROPE BLUEPRINT/SOMMER BLUE 3CTAWWA 2002 -
FORD EUROPE BLUEPRINT/SOMMER BLUE [FOCUS] H 2002 -
FORD EUROPE BLUEPRINT/SOMMER BLUE [KA] 3 2002 -
FORD EUROPE BLUEPRINT/SOMMER BLUE [KA] T 2002 -
FORD EUROPE BLUEPRINT/SOMMER BLUE [KA] H 2002 -
FORD EUROPE BLUSH PINK XSC2686C 1994 -
FORD EUROPE BRIGHT ISLAND BLUE MET MUVEWWA 2002 -
FORD EUROPE BRIGHT ISLAND BLUE MET MUV/XSC9520 2002 -
FORD EUROPE BRIGHT ISLAND BLUE MET [MONDEO] 5 2002 -
FORD EUROPE BRIGHT ISLAND BLUE 5/XSC9520 2000 -
FORD EUROPE BRIGHT ISLAND BLUE [KA] 5 2002 -
FORD EUROPE BRIGHT ISLAND BLUE [MONDEO] 51 2002 -
FORD EUROPE BRIGHT YELLOW 5FMAWWA 2003 -
FORD EUROPE BROOKLAND GREEN XSC2207C 1986 1987
FORD EUROPE BURGUNDY RED E 1986 1992
FORD EUROPE BURGUNDY RED E0 1986 1992
FORD EUROPE BURGUNDY RED E1 1986 1992
FORD EUROPE BURGUNDY RED E7 1986 1992
FORD EUROPE BURGUNDY RED XSC2097A 1990 -
FORD EUROPE BURGUNDY RED E9 1986 1992
FORD EUROPE CALABRESE GREEN Y2 1993 -
FORD EUROPE CALABRESE GREEN XSC2476C 1993 -
FORD EUROPE CAMBRIDGE GREEN FEU6005 1998 -
FORD EUROPE CAPRI BLUE 2CNA 2002 -
FORD EUROPE CAPRI BLUE PNMCN 2002 -
FORD EUROPE CAPRI BLUE L 2002 -
FORD EUROPE CAPRI BLUE X 2002 -
FORD EUROPE CAPRI BLUE L1 2002 -
FORD EUROPE CAPRI BLUE PNMC 2002 -
FORD EUROPE CAPRI BLUE (KA) 2CNAWWA 2002 -
FORD EUROPE CAPRI BLUE [FOCUS] L2 2002 -
FORD EUROPE CAPRI BLUE [KA] X 2002 -
FORD EUROPE CAPRI BLUE [KA] X2 2002 -
FORD EUROPE CASSIS 8/XSC1915C 1986 1988
FORD EUROPE CASSIS RED XSC1915 1983 1997
FORD EUROPE CAYMAN BLUE MICA D/XSC2629CM 1996 -
FORD EUROPE CAYMAN BLUE PEARL Q3 1993 -
FORD EUROPE CAYMAN BLUE PEARL H 1993 -
FORD EUROPE CAYMAN BLUE PEARL H3 1993 -
FORD EUROPE CAYMAN BLUE PEARL 2/H/H3/Q/Q2/Q3/Q4 1993 -
FORD EUROPE CAYMAN BLUE PEARL XSC2696C 1993 -
FORD EUROPE CAYMAN BLUE PEARL Q4 1993 -
FORD EUROPE CAYMAN BLUE PEARL Q2 1993 -
FORD EUROPE CAYMAN BLUE PEARL Q/Q2 1993 -
FORD EUROPE CERAMIC WHITE 2VGA 2002 -
FORD EUROPE CERAMIC WHITE (KA) Q 2002 -
FORD EUROPE CERAMIC WHITE (KA) 2VGAWWA 2002 -
FORD EUROPE CHESTNUT XSC2022C 1985 1988
FORD EUROPE CHESTNUT J 1985 1988
FORD EUROPE CHESTNUT J6 1985 1988
FORD EUROPE CHIANTI RED MICA X/XSC2635CM 1994 -
FORD EUROPE CHIANTI RED PEARL 74/XSC2635CM/7 1994 -
FORD EUROPE CHIANTI RED PEARL 7/74/XSC2635CM 1994 -
FORD EUROPE CHROME YELLOW BZ 2004 -
FORD EUROPE CITRUS GOLD S9 2000 -
FORD EUROPE CITRUS GOLD ARK/XSC9015 2000 -
FORD EUROPE CITRUS GOLD S 2000 -
FORD EUROPE CITRUS GOLD [KA] X 2000 -
FORD EUROPE COBALT BLUE XSC1271 1979 1984
FORD EUROPE COLLEGE BLUE XSC2486C 1990 -
FORD EUROPE COLLEGE BLUE KH 1992 -
FORD EUROPE COLORADO RED C/XSC3012 2000 -
FORD EUROPE COLORADO RED NDT/XSC3012 2000 -
FORD EUROPE COLORADO RED (FOCUS/MONDEO) CR 2003 -
FORD EUROPE COLORADO RED [FOCUS/MONDEO] C 2002 -
FORD EUROPE COLORADO RED [FOCUS] M 2000 -
FORD EUROPE COLORADO RED [KA] M 2000 -
FORD EUROPE COLORADO RED [KA] NDTAWWA 2002 -
FORD EUROPE COLORADO RED [TRANSIT] NDTA 2002 -
FORD EUROPE COLUMBIA SILVER FEU9711 1999 -
FORD EUROPE COLUMBIA SILVER 112/YTPCWWA 1999 -
FORD EUROPE COOL WHITE XSC4012 1999 -
FORD EUROPE COOL WHITE 6 1999 -
FORD EUROPE COPPER GLOW PEARL C/XSCVCRE 1997 -
FORD EUROPE CORAL G 1993 -
FORD EUROPE CORAL G3 1993 -
FORD EUROPE CORAL XSC2701C 1993 -
FORD EUROPE CRYSTAL BLUE U/U7/XSC2078C 1986 1989
FORD EUROPE CRYSTAL BLUE U7 1986 1989
FORD EUROPE CRYSTAL BLUE XSC2078C 1986 1989
FORD EUROPE CUIRASS J/XSC2858 1996 -
FORD EUROPE CUIRASS XSC2858 1996 -
FORD EUROPE CUIRASS J8 1996 2000
FORD EUROPE CUIRASS R9 1996 -
FORD EUROPE CUIRASS L/XSC2858C 1996 -
FORD EUROPE CYPRESS GREEN 6/XSC1697C 1983 1986
FORD EUROPE CYPRESS GREEN XSC1697C 1983 1986
FORD EUROPE DAMSON BLUE XSC2766C 1995 -
FORD EUROPE DAMSON BLUE M/XSC2766C 1995 -
FORD EUROPE DARK AMETHYST PEARL GCYEWWA 1999 -
FORD EUROPE DARK AUBERGINE MICA XSC2747C 1995 -
FORD EUROPE DARK AUBERGINE MICA 7/E/XSC2747CM 1995 -
FORD EUROPE DARK BLUE D/KD/R/BK/BKP 1976 -
FORD EUROPE DARK BLUE XSC1146A 1976 -
FORD EUROPE DARK BLUE BK/BKP/D/KD/R 1976 -
FORD EUROPE DARK BLUE KD 1976 -
FORD EUROPE DARK BLUE BKP/D/KD/R/BK 1976 -
FORD EUROPE DARK BLUE R 1976 -
FORD EUROPE DARK TRUE BLUE Z 1999 -
FORD EUROPE DARK TRUE BLUE T 1999 -
FORD EUROPE DARK TRUE BLUE KLZA 1999 -
FORD EUROPE DARK TRUE BLUE KLZ/XSC5016 2000 -
FORD EUROPE DARK TRUE BLUE M9 1999 -
FORD EUROPE DARK TRUE BLUE Z2 1999 -
FORD EUROPE DARK TRUE BLUE BO/XSC5016 2000 -
FORD EUROPE DARK TRUE BLUE T1 1999 -
FORD EUROPE DARK TRUE BLUE D 1999 -
FORD EUROPE DARK TRUE BLUE Z1 1999 -
FORD EUROPE DARK TRUE BLUE B2 1999 -
FORD EUROPE DARK TRUE BLUE TO 1999 -
FORD EUROPE DARK TRUE BLUE B1 1999 -
FORD EUROPE DARK TRUE BLUE D1 1999 -
FORD EUROPE DARK TRUE BLUE D2 1999 -
FORD EUROPE DARK TRUE BLUE T2 1999 -
FORD EUROPE DARK TRUE BLUE B 1999 -
FORD EUROPE DARK TRUE BLUE [FOCUS] B 2002 -
FORD EUROPE DARK TRUE BLUE [FUSION] B 2003 -
FORD EUROPE DARK TRUE BLUE [KA] Z 2000 -
FORD EUROPE DARK TRUE BLUE [MONDEO] D 2002 -
FORD EUROPE DEAUVILLE BLUE T2 1992 -
FORD EUROPE DEAUVILLE BLUE Y 1992 -
FORD EUROPE DEAUVILLE BLUE XSC2482C 1992 -
FORD EUROPE DEAUVILLE BLUE T 1992 -
FORD EUROPE DEEP NAVY 84 2004 -
FORD EUROPE DEEP NAVY V3/V 2004 -
FORD EUROPE DEEP NAVY 4CWA 2004 -
FORD EUROPE DEEP NAVY 4CWAWWA 2004 -
FORD EUROPE DEEP NAVY V/V3 2004 -
FORD EUROPE DEEP NAVY 0 2004 -
FORD EUROPE DEEP NAVY 04 2004 -
FORD EUROPE DEEP ORANGE SJ 1998 -
FORD EUROPE DEEP ROSSO MICA R4 2004 -
FORD EUROPE DEEP ROSSO MICA 4SVE 2004 -
FORD EUROPE DEEP ROSSO MICA 94 2004 -
FORD EUROPE DEEP ROSSO MICA 4SVEWWA 2004 -
FORD EUROPE DEEP ROSSO MICA L4 2004 -
FORD EUROPE DEEP ROSSO MICA R 2004 -
FORD EUROPE DEEP ROSSO MICA I4 2004 -
FORD EUROPE DEEP ROSSO MICA 9 2004 -
FORD EUROPE DEEP ROSSO MICA 34 2004 -
FORD EUROPE DEEP ROSSO MICA I 2004 -
FORD EUROPE DEEP ROSSO MICA L 2004 -
FORD EUROPE DEEP ROSSO MICA 3 2004 -
FORD EUROPE DEEP VIOLET JS 1998 -
FORD EUROPE DELTA BLUE XSC1889 1983 -
FORD EUROPE DIAMOND WHITE XSC691A 1972 1990
FORD EUROPE DIAMOND WHITE 10345/XSC691A 1972 1990
FORD EUROPE DIAMOND WHITE B/BK3/B0/B1/B2/B3/B9 1972 2000
FORD EUROPE DIAMOND WHITE B0/B1/B2/B3/B9/B/BK3 1994 -
FORD EUROPE DIAMOND WHITE B1/B2/B3/B9/B/BK3/B0 1972 2000
FORD EUROPE DIAMOND WHITE BK3/B0/B1/B2/B3/B9/B 1972 2000
FORD EUROPE DIAMOND WHITE B2/B3/B9/B/BK3/B0/B1 1972 2000
FORD EUROPE DIAMOND WHITE B3/B9/B/BK3/B0/B1/B2 1972 2000
FORD EUROPE DIAMOND WHITE B9/B/BK3/B0/B1/B2/B3 1972 2000
FORD EUROPE DIAMOND WHITE B9/B/BK3/B0/B1/B2/B3 1972 2000
FORD EUROPE DIAMOND WHITE (FOCUS) W8 2003 -
FORD EUROPE DUNE GOLD BKG4/KG4 1993 -
FORD EUROPE DUNE GOLD KG4/BKG4 1993 -
FORD EUROPE DUSKY ROSE PEARL 2/XSC2726C 1996 -
FORD EUROPE DUSKY ROSE PEARL XSC2726C 1995 -
FORD EUROPE DYNAMIC RED 3RSE 2002 -
FORD EUROPE DYNAMIC RED 3RSEWWA 2002 -
FORD EUROPE EBONY BLACK FEU4008 1998 2000
FORD EUROPE EBONY BLACK Z 1998 -
FORD EUROPE EBONY XSC2409C 1989 1991
FORD EUROPE EBONY PEARL G 1991 -
FORD EUROPE EBONY PEARL G3 1991 -
FORD EUROPE EBONY PEARL 7/71/XSC2409CM/G/G3 1991 -
FORD EUROPE EBONY PEARL 71/XSC2409CM/G/G3/7 1991 -
FORD EUROPE ECLIPSE BLACK BGNO/GNO 1993 -
FORD EUROPE ECLIPSE BLACK GNO/BGNO 1993 -
FORD EUROPE ELECTRIC CURRENT PEARL T3 1992 -
FORD EUROPE ELECTRIC CURRENT PEARL T 1992 -
FORD EUROPE ELECTRIC CURRENT PEARL T2 1992 -
FORD EUROPE ELECTRIC CURRENT PEARL XSC2707C 1992 -
FORD EUROPE ELECTRIC GREEN PEARL 3/XSCSBYE 1997 -
FORD EUROPE ENVY PEARL G2 2003 -
FORD EUROPE ENVY PEARL PN3CA 2003 -
FORD EUROPE ENVY PEARL G3 2003 -
FORD EUROPE ENVY PEARL G 2003 -
FORD EUROPE ENVY/VERONA GRUEN MICA. 3GYCWWA 2003 -
FORD EUROPE FIRNWOOD BLUE 91/XSC2396C/44 1991 1992
FORD EUROPE FIRNWOOD BLUE 44/91/XSC2396C 1991 1992
FORD EUROPE FIRNWOOD XSC2396C 1989 1991
FORD EUROPE FLAMBEAU RED G1 1990 1992
FORD EUROPE FLAMBEAU RED 40/XSC2341C/G1/G2 1990 1992
FORD EUROPE FLAMBEAU RED XSC2341C 1990 1992
FORD EUROPE FLAMBEAU RED G2 1990 -
FORD EUROPE FLARE 3EUCWWA 2003 -
FORD EUROPE FLARE Z 2003 -
FORD EUROPE FLARE 3EUC 2003 -
FORD EUROPE FLARE Z3 2003 -
FORD EUROPE FLARE R3 2003 -
FORD EUROPE FLARE R 2003 -
FORD EUROPE FLEURIE RED PEARL G4/XSC2624 1993 -
FORD EUROPE FLEURIE RED PEARL 8/83/XSC2624CM/G4 1993 -
FORD EUROPE FLEURIE RED PEARL 83/XSC2624CM/G4/8 1993 -
FORD EUROPE FLEURIE RED PEARL XSC2624C 1993 -
FORD EUROPE FLINT GREY XSC2228C 1988 1990
FORD EUROPE FLINT GREY T9 1988 1990
FORD EUROPE FLINT GREY T 1988 1990
FORD EUROPE FLINT GREY T0 1988 1990
FORD EUROPE FRENCH BLUE A 2003 -
FORD EUROPE FRENCH BLUE PN2AY 2003 -
FORD EUROPE FRENCH BLUE A2 2003 -
FORD EUROPE FRENCH BLUE A3 2003 -
FORD EUROPE GALAXY BLUE XSC2101 1990 -
FORD EUROPE GARNET RED Z 1998 -
FORD EUROPE GARNET RED [FOCUS/MONDEO] H 1998 -
FORD EUROPE GARNET RED [KA] H 1998 -
FORD EUROPE GEMINI BLUE E 1977 1979
FORD EUROPE GLACIER BLUE XSC1690B 1982 1984
FORD EUROPE HARVEST GOLD B2 1999 -
FORD EUROPE HEATH PEARL 58/XSC9313 1997 -
FORD EUROPE HEATH PEARL BFP 1997 -
FORD EUROPE ICE 3PLCWWA 2003 -
FORD EUROPE ICE PN3CB 2003 -
FORD EUROPE ILLUSION SILVER PEARL BLJO/LJO 1993 -
FORD EUROPE ILLUSION SILVER PEARL LJO/BLJO 1993 -
FORD EUROPE IMERIAL BLUE [FOCUS] Q 2002 -
FORD EUROPE IMERIAL BLUE [FOCUS] Q2 2002 -
FORD EUROPE IMPERIAL BLUE PEARL L5 1993 2001
FORD EUROPE IMPERIAL BLUE PEARL XSC2681C 1993 -
FORD EUROPE IMPERIAL BLUE PEARL H3 1993 -
FORD EUROPE IMPERIAL BLUE PEARL H2 1993 -
FORD EUROPE IMPERIAL BLUE PEARL H 1993 -
FORD EUROPE INDIA YELLOW FEU1007 1998 -
FORD EUROPE INFRA RED PEARL 2R5EWWA 2002 -
FORD EUROPE INFRA RED PEARL [MONDEO] R3 2002 -
FORD EUROPE INFRA RED PEARL [MONDEO] R 2002 -
FORD EUROPE INK BLUE 3CYC 2003 -
FORD EUROPE INK BLUE (FOCUS) IB 2003 -
FORD EUROPE JADE GREEN XSC1698C 1982 1985
FORD EUROPE JADE GREEN 8/XSC1698C 1982 1985
FORD EUROPE JAVA BLUE PEARL C3 1993 -
FORD EUROPE JAVA BLUE PEARL D 1993 -
FORD EUROPE JAVA BLUE PEARL C 1993 -
FORD EUROPE JAVA BLUE PEARL D4 1993 -
FORD EUROPE JAVA BLUE PEARL D5 1993 1996
FORD EUROPE JAVA BLUE PEARL XSC2544C 1993 -
FORD EUROPE JAVA BLUE PEARL F3 1993 -
FORD EUROPE JAVA BLUE PEARL F 1993 -
FORD EUROPE JEWEL GREEN XSC2876C 1996 -
FORD EUROPE JEWEL GREEN MICA [FOCUS] G 2002 -
FORD EUROPE JEWEL GREEN MICA [FOCUS] B2 2002 -
FORD EUROPE JEWEL GREEN MICA [FOCUS] B 2002 -
FORD EUROPE JEWEL GREEN MICA [KA] 2876WE 2002 -
FORD EUROPE JEWEL GREEN MICA [KA] B 2002 -
FORD EUROPE JEWEL VIOLET PEARL L/XSC2741CM 1993 -
FORD EUROPE JEWEL VIOLET PEARL XSC2741C 1993 -
FORD EUROPE JUICE GREEN MET [FOCUS] W 2002 -
FORD EUROPE JUICE GREEN MET [FOCUS] XSC2790C 2002 -
FORD EUROPE JUICE GREEN MET [FOCUS] W1 2002 -
FORD EUROPE JUICE GREEN (MONDEO) 3D4 1994 2001
FORD EUROPE JUICE GREEN [FOCUS] W2 2002 -
FORD EUROPE JUICE GREEN MICA 3/XSC2790CM 1994 -
FORD EUROPE JUPITERROT XSC1087 1976 1979
FORD EUROPE KAKADU/PACIFIC GREEN MET [KA] 2W/E8/M8 1998 -
FORD EUROPE KARELIA GREY XSC2451C 1992 -
FORD EUROPE KARELIA GREY Z2 1992 -
FORD EUROPE KINGFISHER BLUE XSC2293C 1986 1989
FORD EUROPE KINGFISHER BLUE Z9 1986 1989
FORD EUROPE LIGHT NORDIC GREEN I9/IA/V9 1998 -
FORD EUROPE LIGHT SAPPHIRE BLUE MET [COUGER/KA] LV 2002 -
FORD EUROPE LIGHT SAPPHIRE BLUE MET [FOCUS] T 2002 -
FORD EUROPE LIGHT SAPPHIRE BLUE MET [KA] Y 2002 -
FORD EUROPE LIGHT SAPPHIRE BLUE [FOCUS] T9 2000 -
FORD EUROPE LIGHT SAPPHIRE BLUE [KA] 3 2002 -
FORD EUROPE LIGHT SAPPHIRE MLTCWWA 2000 -
FORD EUROPE LIGHT SAPPHIRE 3/39/XSC9519 2000 -
FORD EUROPE LODEN GREEN MICA 3/XSC2744C 1995 -
FORD EUROPE MACHINE SILVER MET 2QTC 2002 -
FORD EUROPE MACHINE SILVER MET 12 2002 -
FORD EUROPE MACHINE SILVER MET 11 2002 -
FORD EUROPE MACHINE SILVER MET [KA] 1 2002 -
FORD EUROPE MACHINE SILVER MET [MONDEO] 1 2002 -
FORD EUROPE MACHINE SILVER MET [MONDEO] 2QTCWWA 2002 -
FORD EUROPE MACHINE SILVER PNUQT 2002 -
FORD EUROPE MACHINE SILVER D2 2002 -
FORD EUROPE MACHINE SILVER (FOCUS) S3 2003 -
FORD EUROPE MACHINE SILVER [FOCUS] D 2002 -
FORD EUROPE MACHINE SILVER [FOCUS] D1 2002 -
FORD EUROPE MACHINE SILVER [MONDEO] 72 2002 -
FORD EUROPE MACHINE SILVER [MONDEO] 7 2002 -
FORD EUROPE MAGENTA PEARL XSC2159C 1990 -
FORD EUROPE MAGNUM GREY MET [FOCUS] K 2002 -
FORD EUROPE MAGNUM GREY MET [FUSION] K2 2003 -
FORD EUROPE MAGNUM GREY MET [KA] G1 2002 -
FORD EUROPE MAGNUM GREY MET [KA] G 2002 -
FORD EUROPE MAGNUM GREY G2 2002 -
FORD EUROPE MAGNUM GREY K 2002 -
FORD EUROPE MAGNUM GREY G1 2002 -
FORD EUROPE MAGNUM GREY K1 2002 -
FORD EUROPE MAGNUM GREY K2 2002 -
FORD EUROPE MAGNUM GREY M2 2002 -
FORD EUROPE MAGNUM GREY M1 2002 -
FORD EUROPE MAGNUM GREY PNUMV 2002 -
FORD EUROPE MAGNUM GREY [FUSION] K1 2003 -
FORD EUROPE MAGNUM GREY [FUSION] M2 2003 -
FORD EUROPE MAGNUM GREY [FUSION] M 2003 -
FORD EUROPE MAGNUM GREY [FUSION] PNUMV 2003 -
FORD EUROPE MAGNUM GREY [KA] M 2002 -
FORD EUROPE MAGNUM GREY [KA] G2 2002 -
FORD EUROPE MAGNUM GREY [MONDEO] M 2002 -
FORD EUROPE MAGNUM GREY [MONDEO] 2MWEWWA 2002 -
FORD EUROPE MALLARD GREEN PEARL L 1992 -
FORD EUROPE MALLARD GREEN PEARL 43/L/L4/Y2/4/42 1992 -
FORD EUROPE MALLARD GREEN PEARL Y2 1992 -
FORD EUROPE MALLARD GREEN PEARL 4/42/43/L/L4/Y2 1992 -
FORD EUROPE MALLARD GREEN PEARL 42/43/L/L4/Y2/4 1992 -
FORD EUROPE MALLARD GREEN PEARL XSC2683C 1992 -
FORD EUROPE MALLARD GREEN PEARL L4 1992 -
FORD EUROPE MARINE BLUE V4 2004 -
FORD EUROPE MARINE BLUE V 2004 -
FORD EUROPE MARITIME BLUE F0/F7/F9/F 1986 1990
FORD EUROPE MARITIME BLUE F 1986 1990
FORD EUROPE MARITIME BLUE F7 1986 1990
FORD EUROPE MARITIME BLUE XSC2009 1989 1990
FORD EUROPE MARITIME BLUE F9 1986 1990
FORD EUROPE MARMARA BLUE D 1993 -
FORD EUROPE MARMARA BLUE XSC2564C 1993 -
FORD EUROPE MARMARA BLUE D3 1993 -
FORD EUROPE MATISSE BLUE 00/01/02/09/XSC2246C 1988 -
FORD EUROPE MATISSE BLUE 09/XSC2246C/00/01/02 1988 -
FORD EUROPE MATISSE BLUE 01/02/09/XSC2246C/00 1988 -
FORD EUROPE MATISSE BLUE XSC2246C 1988 -
FORD EUROPE MAYA GREEN PEARL XSC2812CM 1994 -
FORD EUROPE MEADOW GREEN XSC2542 1993 -
FORD EUROPE MEADOW GREEN E3 1993 -
FORD EUROPE MEADOW GREEN E 1993 -
FORD EUROPE MEDITERANEAN BLUE MICA [ESCAPE] M1 2003 -
FORD EUROPE MEDIUM CHARCOAL GREEN PEARL W8 1997 2001
FORD EUROPE MEDIUM CHARCOAL GREEN PEARL W9 1997 -
FORD EUROPE MEDIUM CHARCOAL GREY 58 2001 -
FORD EUROPE MEDIUM CHARCOAL GREY [KA] L 2001 -
FORD EUROPE MEDIUM HARVEST GLOW ARR 1998 -
FORD EUROPE MEDIUM HARVEST GOLD [MONDEO] T 1998 -
FORD EUROPE MEDIUM HARVEST GOLD [MONDEO] A 1998 -
FORD EUROPE MEDIUM STEEL BLUE [MONDEO] 2 2002 -
FORD EUROPE MEDIUM STEEL BLUE [MONDEO] L 2003 -
FORD EUROPE MELINA BLUE MICA XSC2870C 1996 -
FORD EUROPE MELINA BLUE MICA 7/XSC2870CM 1996 -
FORD EUROPE MERCURY GREY G 1986 1992
FORD EUROPE MERCURY GREY Q7 1986 1992
FORD EUROPE MERCURY GREY Q9 1986 1992
FORD EUROPE MERCURY GREY Q1 1986 1992
FORD EUROPE MERCURY GREY 3Y/XSC2076C 1986 1992
FORD EUROPE MERCURY GREY MN 1986 1992
FORD EUROPE MERCURY GREY XSC2076C 1990 -
FORD EUROPE MERCURY GREY Q0 1986 1992
FORD EUROPE MERCURY GREY Q 1986 1992
FORD EUROPE
A GREY PEARL BLK5/LK5 1993 -
FORD EUROPE
A GREY PEARL LK5/BLK5 1993 -
FORD EUROPE METROPOLIS BLUE MET C2 2002 -
FORD EUROPE METROPOLIS BLUE MET [FOCUS] A2 2002 -
FORD EUROPE METROPOLIS BLUE MET [MONDEO] C 2002 -
FORD EUROPE METROPOLIS BLUE SZ 2002 -
FORD EUROPE METROPOLIS BLUE C2QCWWA 2002 -
FORD EUROPE METROPOLIS BLUE PNMCQ 2002 -
FORD EUROPE METROPOLIS BLUE A2 2002 -
FORD EUROPE METROPOLIS BLUE C1 2002 -
FORD EUROPE METROPOLIS BLUE 2CQCWWA 2002 -
FORD EUROPE METROPOLIS BLUE A 2002 -
FORD EUROPE METROPOLIS BLUE V1 2002 -
FORD EUROPE METROPOLIS BLUE A1 2002 -
FORD EUROPE METROPOLIS BLUE V 2002 -
FORD EUROPE METROPOLIS BLUE [KA] PNMC 2002 -
FORD EUROPE METROPOLIS BLUE (FOCUS) MB 2003 -
FORD EUROPE METROPOLIS BLUE (FOCUS) A8 2003 -
FORD EUROPE METROPOLIS BLUE [FOCUS] C 2002 -
FORD EUROPE METROPOLIS BLUE [KA] V2 2002 -
FORD EUROPE METROPOLIS BLUE [KA] 2CQC 2002 -
FORD EUROPE METROPOLIS BLUE [MONDEO] Q 2002 -
FORD EUROPE MINERAL BLUE XSC1901C 1984 1986
FORD EUROPE MINERAL BLUE 5/55/XSC1901C/K 1984 1986
FORD EUROPE MINERAL BLUE 55/XSC1901C/K/5 1984 1986
FORD EUROPE MINERAL BLUE K 1984 1986
FORD EUROPE MINERAL GREY ZSTEWHA 2004 -
FORD EUROPE MINERAL GREY TK 2004 -
FORD EUROPE MINT GREEN D1 1998 -
FORD EUROPE MINT GREEN U/XSC2737C 1994 -
FORD EUROPE MINT GREEN U4/XSC2737C 1994 -
FORD EUROPE MINT GREEN U/XSC2737C 1994 -
FORD EUROPE MISTRAL BLUE MICA XSC2753C 1995 -
FORD EUROPE MISTRAL BLUE MICA F/XSC2735CM 1996 -
FORD EUROPE MISTRAL BLUE MICA 8/XSC2753CM 1995 -
FORD EUROPE MISTRAL BLUE PEARL F5 1995 2000
FORD EUROPE MONTANA GREEN DH6/BDH6 1993 -
FORD EUROPE MONTANA GREEN BDH6/DH6 1993 -
FORD EUROPE MOONDUST SILVE (FUSION) ZJNCWWA 2003 -
FORD EUROPE MOONDUST SILVER 63/M/M6/ZJ/6/61/62 1991 -
FORD EUROPE MOONDUST SILVER ZJNC 1991 -
FORD EUROPE MOONDUST SILVER 61/62/63/M/M6/ZJ/6 1991 -
FORD EUROPE MOONDUST SILVER M 1991 -
FORD EUROPE MOONDUST SILVER S7 1990 -
FORD EUROPE MOONDUST SILVER 62/63/M/M6/ZJ/6/61 1991 -
FORD EUROPE MOONDUST SILVER ZJ 1991 -
FORD EUROPE MOONDUST SILVER M6 1991 -
FORD EUROPE MOONDUST SILVER 6/61/62/63/M/M6/ZJ 1991 -
FORD EUROPE MOONDUST SILVER XSC2431C 1990 -
FORD EUROPE MOONDUST SILVER [FUSION] ZJNC 2003 -
FORD EUROPE MOONSTONE 56/XSC1903C/K/K5/N0 1985 1990
FORD EUROPE MOONSTONE K5 1985 1990
FORD EUROPE MOONSTONE K 1985 1990
FORD EUROPE MOONSTONE N0 1985 1990
FORD EUROPE MOONSTONE XSC1903C 1985 1990
FORD EUROPE MUSCAT GOLD XSC2532C 1993 -
FORD EUROPE NANTUCKET GREY A/XSC2755C 1994 -
FORD EUROPE NANTUCKET GREY 1/XSC2755C 1994 -
FORD EUROPE NEPTUNE GREEN MET [KA] C 2002 -
FORD EUROPE NEPTUNE GREEN N 2002 -
FORD EUROPE NEPTUNE GREEN SKQCWWA 2002 -
FORD EUROPE NEPTUNE GREEN N2 2002 -
FORD EUROPE NEPTUNE GREEN [FOCUS] X2 2002 -
FORD EUROPE NEPTUNE GREEN [FOCUS] S 2002 -
FORD EUROPE NEPTUNE GREEN [FOCUS] NG 2003 -
FORD EUROPE NEPTUNE GREEN [FOCUS] X 2002 -
FORD EUROPE NEPTUNE GREEN [FUSION] C2 2002 -
FORD EUROPE NEPTUNE GREEN [FUSION] C 2003 -
FORD EUROPE NEPTUNE GREEN [FUSION] C1 2003 -
FORD EUROPE NEPTUNE GREEN [KA] PNSKQ 2002 -
FORD EUROPE NEPTUNE GREEN [KA] X 2002 -
FORD EUROPE NEPTUNE GREEN [MONDEO] 2KQCWWA 2002 -
FORD EUROPE NEUTRAL GREY ZK8AAXG 2000 -
FORD EUROPE NEW APORTO RED XSC2489 1990 -
FORD EUROPE NIMBUS GREY 7/XSC1801C 1983 1986
FORD EUROPE NIMBUS GREY XSC1801C 1983 1986
FORD EUROPE NORDIC GREEN XSC2334 1990 -
FORD EUROPE NORDIC GREEN PEARL 32/33/4/41/44/3/31 1991 -
FORD EUROPE NORDIC GREEN PEARL 31/32/33/4/41/44/3 1991 -
FORD EUROPE NORDIC GREEN PEARL 44/3/31/32/33/4/41 1991 -
FORD EUROPE NORDIC GREEN PEARL 4/41/44/3/31/32/33 1991 -
FORD EUROPE NORDIC GREEN PEARL 41/44/3/31/32/33/4 1991 -
FORD EUROPE NORDIC GREEN PEARL 33/4/41/44/3/31/32 1991 -
FORD EUROPE NORDIC GREEN PEARL 3/31/32/33/4/41/44 1991 -
FORD EUROPE NOUVEAU RED PEARL XSC2472C 1991 -
FORD EUROPE NOUVEAU RED PEARL X3 1992 -
FORD EUROPE NOUVEAUX RED PEARL E2 1994 -
FORD EUROPE OASIS BLUE FK1 1993 1998
FORD EUROPE OATMEAL XSC2340C 1990 -
FORD EUROPE OATMEAL 20/XSC2340C 1990 -
FORD EUROPE OBSIDIAN PEARL 4/43/XSC2629CM 1993 -
FORD EUROPE OBSIDIAN PEARL 43/XSC2629CM/4 1993 -
FORD EUROPE OBSIDIAN PEARL XSC2629C 1993 -
FORD EUROPE OCTANE BLUE MICA 4CTEWWA 2004 -
FORD EUROPE OCTANE BLUE MICA 4CTE 2004 -
FORD EUROPE OCTANE BLUE MICA 0 2004 -
FORD EUROPE OCTANE BLUE MICA 03 2004 -
FORD EUROPE OLYMPIC GOLD 89/XSC2231C/8/80/88 1988 1990
FORD EUROPE OLYMPIC GOLD 88/89/XSC2231C/8/80 1988 1990
FORD EUROPE OLYMPIC GOLD 80/88/89/XSC2231C/8 1988 1990
FORD EUROPE OLYMPIC GOLD 8/80/88/89/XSC2231C 1988 1990
FORD EUROPE OLYMPIC GOLD XSC2231C 1988 1990
FORD EUROPE ONTARIO BLUE KZ/O/XSC2713A 1996 -
FORD EUROPE ORANGE BRONZE XSC2794C1 1994 -
FORD EUROPE OYSTER SILVER S 2002 -
FORD EUROPE OYSTER SILVER S2 2002 -
FORD EUROPE OYSTER SILVER (FOCUS) OS 2003 -
FORD EUROPE OYSTER SILVER [FOCUS] Q 2002 -
FORD EUROPE OYSTER SILVER [FUSION] S2 2003 -
FORD EUROPE OYSTER SILVER [FUSION] 2PNC 2003 -
FORD EUROPE OYSTER SILVER [FUSION] PNUPN 2003 -
FORD EUROPE OYSTER SILVER [MONDEO] Q 2002 -
FORD EUROPE OYSTER SILVER [MONDEO] 2PNCWWA 2002 -
FORD EUROPE PACIFIC BLUE PEARL J2 1990 -
FORD EUROPE PACIFIC BLUE PEARL J0 1990 -
FORD EUROPE PACIFIC BLUE PEARL J3 1990 -
FORD EUROPE PACIFIC BLUE PEARL J 1990 -
FORD EUROPE PACIFIC BLUE PEARL XSC2360C 1990 -
FORD EUROPE PACIFIC BLUE PEARL 42/J/J0/J2/J3/S0/40 1990 -
FORD EUROPE PACIFIC BLUE PEARL 40/42/J/J0/J2/J3/S0 1990 -
FORD EUROPE PACIFIC BLUE PEARL S0 1990 -
FORD EUROPE PACIFIC BLUE PEARL 50/XSC2360CM 1990 -
FORD EUROPE PACIFIC GREEN T9 1998 -
FORD EUROPE PANTHER BLACK MICA (FOCUS) BK 2003 -
FORD EUROPE PANTHER BLACK PEARL G/XSC2851CM 1995 -
FORD EUROPE PAPRIKA RED MICA XSC2749C 1995 -
FORD EUROPE PAPRIKA RED MICA 5/XSC2749CM 1995 -
FORD EUROPE PARIS BLUE 3/35/C/2S/2SP 1983 1992
FORD EUROPE PARIS BLUE 35/C/2S/2SP/3 1983 1992
FORD EUROPE PARIS BLUE XSC1900C 1983 1992
FORD EUROPE PARIS BLUE 2S/2SP/3/35/C 1983 1992
FORD EUROPE PARIS BLUE C/2S/2SP/3/35 1983 1992
FORD EUROPE PARIS BLUE 2SP/3/35/C/2S 1983 1992
FORD EUROPE PEPPER RED MICA XSC2761C 1994 -
FORD EUROPE PEPPER RED MICA 1/XSC2761CM 1994 -
FORD EUROPE PEPPER RED PEARL (FOCUS) R6 2003 -
FORD EUROPE PETROL BLUE MICA XSC2763C 1994 -
FORD EUROPE PETROL BLUE MICA C/D/XSC2763M 1994 -
FORD EUROPE PIMAGO XSC2699C 1993 -
FORD EUROPE PITCH BLACK C3 2003 -
FORD EUROPE PITCH BLACK C 2003 -
FORD EUROPE PITCH BLACK PN3BW 2003 -
FORD EUROPE PITCH BLACK C2 2003 -
FORD EUROPE PITCH BLACK 3BWAWWA 2003 -
FORD EUROPE PLATINUM 3QNCWWA 2004 -
FORD EUROPE PLATINUM L 2004 -
FORD EUROPE PLATINUM N 2004 -
FORD EUROPE PLATINUM 3QNC 2004 -
FORD EUROPE PLATINUM L4 2004 -
FORD EUROPE PLATINUM N4 2004 -
FORD EUROPE POLARIS GREY N2 1992 -
FORD EUROPE POLARIS GREY XSC2455C 1990 1991
FORD EUROPE POLARIS GREY N3 1992 -
FORD EUROPE POLARIS GREY S 1992 -
FORD EUROPE POLARIS GREY S2 1992 -
FORD EUROPE POLARIS GREY N 1992 -
FORD EUROPE PROVENCE GREEN XSC2638A/S/S2/S3 1992 -
FORD EUROPE PUMICE XSC2627C 1993 -
FORD EUROPE PUMICE Q3 1993 -
FORD EUROPE PUMICE Q/Q3 1993 -
FORD EUROPE PUMICE 8/Q/Q3 1993 -
FORD EUROPE QUARTZ GOLD XSC1941C 1983 1989
FORD EUROPE QUARTZ GOLD 15/XSC1941C/1 1983 1989
FORD EUROPE QUARTZ GOLD 1/15/XSC1941C 1983 1989
FORD EUROPE RADIANT RED XSC2251A 1990 -
FORD EUROPE RADIANT RED R9 1988 2001
FORD EUROPE RADIANT RED P3 1988 -
FORD EUROPE RADIANT RED C 1988 2001
FORD EUROPE RADIANT RED P2 1988 -
FORD EUROPE RADIANT RED P1 1988 -
FORD EUROPE RADIANT RED P 1988 -
FORD EUROPE RADIANT RED EM 1996 -
FORD EUROPE RADIANT RED P0 1988 -
FORD EUROPE RAVEN XSC1936C 1984 1990
FORD EUROPE RAVEN T9 1984 1990
FORD EUROPE RAVEN 9/94/95/XSC1936C/T9 1984 1990
FORD EUROPE RAVEN 95/XSC1936C/T9/9/94 1984 1990
FORD EUROPE RAVEN 94/95/XSC1936C/T9/9 1984 1990
FORD EUROPE RED HOT D 2003 -
FORD EUROPE RED HOT PN3BX 2003 -
FORD EUROPE RED HOT D2 2003 -
FORD EUROPE RED HOT D3 2003 -
FORD EUROPE RED HOT/ROSSO ROT 3RYAWWA/D/PN3BX 2003 -
FORD EUROPE REFLEX SILVER 4QKC 2004 -
FORD EUROPE REFLEX SILVER 34 2004 -
FORD EUROPE REFLEX SILVER 3 2004 -
FORD EUROPE REGAL RED O 1986 1987
FORD EUROPE REGAL RED XSC2080C 1986 1987
FORD EUROPE REGENCY RED 3A/3AP/44/XSC1803C 1983 1992
FORD EUROPE REGENCY RED XSC1803C 1983 1992
FORD EUROPE REGENCY RED 44/XSC1803C/3A/3AP 1983 1992
FORD EUROPE REGENCY RED 3AP/44/XSC1803C/3A 1983 1992
FORD EUROPE RIOJA RED PEARL AH3/BAH3 1993 -
FORD EUROPE RIOJA RED PEARL BAH3/AH3 1993 -
FORD EUROPE ROSEWOOD RED XSC2276C 1988 1990
FORD EUROPE ROSSO RED M 1984 1988
FORD EUROPE ROSSO RED XSC1933A 1984 1988
FORD EUROPE ROSSO RED R5 1984 1988
FORD EUROPE ROSSO RED R 1984 1988
FORD EUROPE ROSSO RED RA 1984 1988
FORD EUROPE ROYAL BLUE PEARL XSC2708C 1993 -
FORD EUROPE ROYAL TASMAN BLUE PEARL [BACKGROUND G1 2003 -
FORD EUROPE ROYAL TASMAN BLUE PEARL [TOPCOAT] G1 2003 -
FORD EUROPE SABLE 5/58/T/T8 1987 1990
FORD EUROPE SABLE 58/T/T8/5 1987 1990
FORD EUROPE SABLE XSC2170C 1987 1990
FORD EUROPE SABLE T 1987 1990
FORD EUROPE SABLE T8 1987 1990
FORD EUROPE SAFFRON/MAIZE XSC1517A 1981 2001
FORD EUROPE SAMAKAND PEARL XSC2810 1995 2000
FORD EUROPE SAMARKAND MICA Q/XSC2810CM 1995 -
FORD EUROPE SAND XSC2791C 1994 -
FORD EUROPE SANDSTONE XSC2337C 1990 1992
FORD EUROPE SANDSTONE R0 1990 1992
FORD EUROPE SATIN GOLD N 1987 1990
FORD EUROPE SATIN GOLD XSC2172C 1987 1990
FORD EUROPE SATIN GOLD N8 1987 1990
FORD EUROPE SATIN SILVER 29/XSC9019 2000 -
FORD EUROPE SEAGRASS GREEN 68/XSC2239C 1988 -
FORD EUROPE SEAGRASS GREEN XSC2239C 1988 -
FORD EUROPE SILICIA GOLD XSC2089C 1986 1988
FORD EUROPE SILICIA GOLD S 1986 1988
FORD EUROPE SILICIA GOLD S7 1986 1988
FORD EUROPE SILICIA GOLD S9 1986 1988
FORD EUROPE SILVER ASH 6 1996 2000
FORD EUROPE SILVER ASH/STARDUST SILVER A6/6 1995 -
FORD EUROPE SILVER LEAF 82/XSC2467C/81 1991 1992
FORD EUROPE SILVER LEAF 81/82/XSC2467C 1991 1992
FORD EUROPE SILVER LEAF XSC2467C 1991 1992
FORD EUROPE SILVER XSC2045 1985 1990
FORD EUROPE SILVER SAGE P/XSC2018C 1985 1987
FORD EUROPE SILVER SAGE XSC2018C 1985 1987
FORD EUROPE SMOKE STONE XSC2361C 1991 -
FORD EUROPE SMOKESTONE MICA MET [KA] K2 1999 -
FORD EUROPE SMOKESTONE PEARL M2 1990 -
FORD EUROPE SMOKESTONE PEARL M 1990 -
FORD EUROPE SMOKESTONE PEARL M3 1990 -
FORD EUROPE SMOKESTONE PEARL M1 1990 -
FORD EUROPE SMOKESTONE PEARL M0 1990 -
FORD EUROPE SOLAR SILVER 2/XSC2787C 1996 -
FORD EUROPE SPACE BLACK PEARL F/F8 1998 -
FORD EUROPE SPRING GREEN PEARL XSC2740C 1993 -
FORD EUROPE SPRING GREEN PEARL 9M3/93/XSC2740C 1993 -
FORD EUROPE SPRING GREEN PEARL 93/XSC2740C/9M3 1993 -
FORD EUROPE SPRING VIOLET MICA G/XSC258CM 1996 -
FORD EUROPE SPRING VIOLET PEARL RX2 1992 -
FORD EUROPE SPRING VIOLET PEARL XSC2568C 1992 -
FORD EUROPE SPRING VIOLET PEARL R2 1992 -
FORD EUROPE SPRING VIOLET PEARL R3 1992 -
FORD EUROPE SPRUCE GREEN 24M 2002 -
FORD EUROPE SPRUCE GREEN 4 2001 -
FORD EUROPE SPRUCE GREEN PTCEWWA 2001 -
FORD EUROPE STARDUST XSC2724C 1993 -
FORD EUROPE STARDUST 63/XSC2724 1993 -
FORD EUROPE STATE BLUE MICA F/XSC2772CM 1995 -
FORD EUROPE STATE BLUE MICA [KA] W 1995 -
FORD EUROPE STATE BLUE MICA [MONDEO] W 1995 -
FORD EUROPE STATE BLUE PEARL XSC2772 1995 -
FORD EUROPE STATE BLUE PEARL H/XSC2772 1995 -
FORD EUROPE STATE BLUE PEARL [FOCUS] B9 2002 -
FORD EUROPE STEEL BLUE N 1999 -
FORD EUROPE STEEL BLUE N9 1999 -
FORD EUROPE STONE MICA 6/XSC2833CM 1996 -
FORD EUROPE STORM 3CQCWWA 2003 -
FORD EUROPE STORM F 2003 -
FORD EUROPE STORM PN3BZ 2003 -
FORD EUROPE STORM F2 2003 -
FORD EUROPE STORM F3 2003 -
FORD EUROPE STRATO SILVER V9 1976 1992
FORD EUROPE STRATO SILVER U7 1976 1992
FORD EUROPE STRATO SILVER U8 1976 1992
FORD EUROPE STRATO SILVER V 1976 1992
FORD EUROPE STRATO SILVER V0 1976 1992
FORD EUROPE STRATO SILVER L2 1976 1992
FORD EUROPE STRATO SILVER V6 1976 1992
FORD EUROPE STRATO SILVER XSC1056C 1976 1992
FORD EUROPE STRATO SILVER M2 1976 1992
FORD EUROPE STRATO SILVER U6 1976 1992
FORD EUROPE STREET SILVER MET E 2003 -
FORD EUROPE STREET SILVER MET E2 2003 -
FORD EUROPE STREET SILVER MET E3 2003 -
FORD EUROPE STREET SILVER MET PN3BX 2003 -
FORD EUROPE STREET SILVER MET [KA] 3QLCWWA/E/PI/K 2003 -
FORD EUROPE STREET SILVER E2 2003 -
FORD EUROPE STREET SILVER E3 2003 -
FORD EUROPE STREET SILVER PN3BY 2003 -
FORD EUROPE STREET SILVER E 2003 -
FORD EUROPE SUMI BLACK 2AYA 2002 -
FORD EUROPE SUMI BLACK 2AYAWWA 2002 -
FORD EUROPE TASMAN BLUE XSC2155C 1990 1991
FORD EUROPE TASMAN BLUE PEARL K2 1988 1993
FORD EUROPE TASMAN BLUE PEARL K9 1988 1993
FORD EUROPE TASMAN BLUE PEARL K3 1988 1993
FORD EUROPE TASMAN BLUE PEARL K1 1988 1993
FORD EUROPE TASMAN BLUE PEARL K0 1988 1993
FORD EUROPE TASMAN BLUE PEARL K 1988 1993
FORD EUROPE TASMAN BLUE PEARL 4U/K/K0/K1/K2/K3/K9 1988 1993
FORD EUROPE TASMAN BLUE PEARL 44/XSC2155C 1988 1993
FORD EUROPE TECHNO SILVER S1 2002 -
FORD EUROPE TECHNO SILVER S2 2002 -
FORD EUROPE TECHNO SILVER 2PMC 2002 -
FORD EUROPE TECHNO SILVER 2PMCWWA 2002 -
FORD EUROPE TECHNO SILVER (FOCUS) TS 2003 -
FORD EUROPE THISTLE PURPLE PEARL E/JMYE 1998 -
FORD EUROPE TONIC/KRISTALL BLUE [FOCUS] W4/W 2003 -
FORD EUROPE TONIC/KRISTALL BLUE [FOCUS] 8/83 2003 -
FORD EUROPE TONIC/KRISTALL BLUE [FOCUS] 83/8 2003 -
FORD EUROPE TONIC/KRISTALL BLUE [FOCUS] TO 2003 -
FORD EUROPE TONIC/KRISTALL BLUE [FOCUS] Z3/Z 2003 -
FORD EUROPE TONIC/KRISTALL BLUE [FOCUS] 3DTCWWA 2003 -
FORD EUROPE TONIC/KRISTALL BLUE [FOCUS] W/W4 2003 -
FORD EUROPE TONIC/KRISTALL BLUE [FOCUS] Z/Z3 2003 -
FORD EUROPE TONIC/KRISTALL BLUE [FOCUS] 3DTC 2003 -
FORD EUROPE TOURMALINE GREEN PEARL 4/9/93/XSC2547CM 1993 -
FORD EUROPE TOURMALINE GREEN PEARL XSC2547C 1993 -
FORD EUROPE TOURMALINE GREEN PEARL 93/XSC2547CM/4/9 1993 -
FORD EUROPE TOURMALINE GREEN PEARL 9/93/XSC2547CM/4 1993 -
FORD EUROPE TOURMALLARD PEARL Z5 1995 -
FORD EUROPE TOURMALLARD PEARL XSC2756C 1995 -
FORD EUROPE TROPIC TURQUOIS XSC2090C 1986 1988
FORD EUROPE TROPIC TURQUOISE 27/XSC2090C 1986 1988
FORD EUROPE ULTRAMARINE PEARL W 1995 -
FORD EUROPE VERMILLION RED XSC2061A 1984 1992
FORD EUROPE VERMILLION RED 3T/XSC2061A 1984 1992
FORD EUROPE VERONA GREEN XSC2398 1990 -
FORD EUROPE VERONA GREEN C2/N1/XSC2398C/C1 1991 -
FORD EUROPE VERONA GREEN C1/C2/N1/XSC2398C 1991 -
FORD EUROPE VERONA GREEN N1 1991 -
FORD EUROPE VITREOUS GREEN XSC2789C 1995 -
FORD EUROPE VITRO MET (FIESTA/FUSION] 32 2003 -
FORD EUROPE VITRO MET (MONDEO) 3 2002 -
FORD EUROPE VITRO MET [FUSION] 3HRC 2003 -
FORD EUROPE VITRO MET [FUSION] 3HRCWWA 2002 -
FORD EUROPE VITRO MET [KA] 3 2003 -
FORD EUROPE VITRO MET [MONDEO] 3 2002 -
FORD EUROPE VITRO (FOCUS) U 2003 -
FORD EUROPE VITRO (FOCUS) V5 2003 -
FORD EUROPE VITRO (FOCUS) U3 2003 -
FORD EUROPE VITRO (FUSION) 33 2002 -
FORD EUROPE VITRO (KA) Z 2002 -
FORD EUROPE VITRO (KA) 3 2002 -
FORD EUROPE WEDGEWOOD BLUE XSC2439 1990 -
FORD EUROPE WEDGEWOOD BLUE 2/21/22/23/E/KG 1991 1993
FORD EUROPE WEDGEWOOD BLUE 21/22/23/E/KG/2 1991 1993
FORD EUROPE WEDGEWOOD BLUE 23/E/KG/2/21/22 1991 1993
FORD EUROPE WEDGEWOOD BLUE KG/XSC2439A 1996 -
FORD EUROPE WEDGEWOOD BLUE E 1991 1995
FORD EUROPE WEDGEWOOD BLUE 22/23/E/KG/2/21 1991 1993
FORD EUROPE WILD BERRY PEARL XSC2555C 1993 -
FORD EUROPE WILLOW GREEN XSC2083C 1986 1988
FORD EUROPE WILLOW GREEN X7 1986 1988
FORD EUROPE WILLOW GREEN X 1986 1988
FORD EUROPE WINDSOR BLUE PEARL XSC2786C 1995 -
FORD EUROPE ZINC YELLOW XSC2742 1993 2001
FORD EUROPE ZINC YELLOW UA3/XSC2742A 1993 -