To Buy Car Touch Up Paint or Car Aerosol Spray Cans for your Honda please


CLICK HERE

or

RETURN TO HOMEPAGE

Finding Your Honda Paint Code

Honda has a few paint code locations, most commonly under the bonnet on top of the suspension mounting on the passenger side. Another common location is in the passenger door sill corner. A Honda Color Code is typically a letter,four numbers then a letter, for example B700M.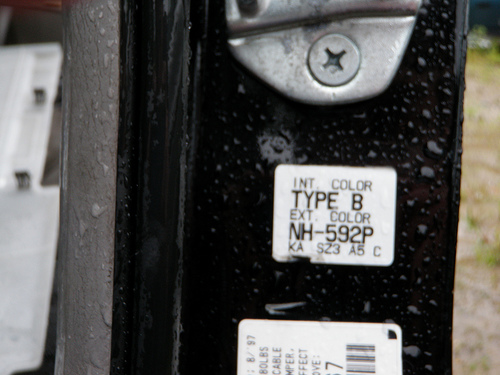 HONDA SPLASH SILVER NH626M 1998 -
HONDA CLIONE SILVER NH656M 2002 -
HONDA STORM SILVER NH642M 2000 -
HONDA STARLIGHT SILVER NH638M 2001 -
HONDA BRILLIANT WHITE PEARL NH636P 2000 -
HONDA SILVER STONE NH630M 1999 -
HONDA ST. MORITZ SILVER NH62M 1979 - - HONDA PREMIUM WHITE PEARL[TOPCOAT] NH624P 1999 -
HONDA COMBAT GRAY NH627M 1998 -
HONDA GRAPHITE PEARL NH658P 2003 -
HONDA QUANTUM GRAY NH629M 1999 -
HONDA SAGE BRUSH MICA NH662P 2004 -
HONDA GRACIOUS BEIGE NH663M 2003 -
HONDA COSMIC GREY MICA NH674P 2004 -
HONDA MAGNESIUM NH675M-L 2004 -
HONDA MAGNESIUM NH675M-S/NH675M 2004 -
HONDA PREMIUM WHITE PEARL[BACKGROUND] NH624P 1999 -
HONDA MOON ROCK MICA NH676M 2004 -
HONDA MINERAL GREY NH613M 1997 -
HONDA ASPEN WHITE MICA [BACKGROUND] NH677P-H 2004 -
HONDA ASPEN WHITE MICA [TOPCOAT] NH677P-H 2004 -
HONDA FLAME RED R50 1984 -
HONDA NEW UM MEDIUM GREEN MICA NH679M-B 2004 -
HONDA MAGNESIUM NH675M/NH675M-S 2004 -
HONDA PLATINUM WHITE PEARL NH609P 1997 -
HONDA CAYMAN WHITE PEARL NH585P 1994 -
HONDA TRAFALGAR GREY NH586M 1995 -
HONDA PLATINUM NH587M 1995 -
HONDA STARLIGHT BLACK PEARL NH592P 1996 -
HONDA STARLIGHT BLACK PEARL NH592P-3 1996 -
HONDA ZINC SILVER NH595M 1996 -
HONDA CITRUS SILVER NH597M 1996 -
HONDA LAUSANNE SILVER NH59M 1977 -
HONDA WHITE DIAMOND PEARL BACKGROUND NH603P 1997 -
HONDA WHITE DIAMOND PEARL TOPCOAT NH603P 1997 -
HONDA QUARTZ NH615M 1999 -
HONDA PIRATE BLACK PEARL NH605P 1996 -
HONDA SATIN SILVER NH623M 1998 -
HONDA SHETLAND WHITE NH61 1982 -
HONDA ATHLETE GREY NH611M 1997 -
HONDA REGENT SILVER NH612M 1998 -
HONDA REGENT SILVER NH612M-3 1998 -
HONDA WHEEL SILVER NH75M 1987 -
HONDA TITAN SILVER NH614M 1998 -
HONDA CLARET RED R49M 1984 -
HONDA QUARTZ NH615M-4 1999 -
HONDA MOONSTONE SILVER NH616M 1998 -
HONDA MAGNUM SILVER NH617M 1998 -
HONDA SHETLAND WHITE NH61Z 1979 -
HONDA MAGNUM GREY PEARL NH604P 1997 -
HONDA VERSAILLES MAROON R34M 1978 -
HONDA NEW OPAL SILVER MET MICA NH695M 2004 -
HONDA DARK AMETHYST PEARL PB74P 1996 -
HONDA REGENCY RED R48M 1984 1985
HONDA PRISM LAVENDER PB75M 1996 -
HONDA DOMINICAN RED R46 1983 -
HONDA ROYAL GRAPE PEARL PB76P 1998 -
HONDA LAVENDER MIST PB77M 2000 -
HONDA LAVENDER MIST PB77M 2003 -
HONDA BERRY PURPLE PB78M 2003 -
HONDA PURPLISH BLUE PB79M 2003 -
HONDA QUASAR GREY PEARL PB72P 1994 -
HONDA RADIANT RED R103 1994 -
HONDA BAY BLUE PB70 1993 -
HONDA ELYSEES BRONZE R35M 1978 -
HONDA VALENCIA RED R36M 1979 -
HONDA CARIBBEAN RED R37 1979 -
HONDA TUDOR RED R38M 1980 -
HONDA VICTORIA RED R39 1980 1986
HONDA RHODES RED R41M 1981 1983
HONDA PAISLEY RED R43M 1985 1986
HONDA ARUBA RED R44M 1982 1983
HONDA PALM GREEN PEARL G90P 1997 -
HONDA VOGUE SILVER NH583M 1995 -
HONDA CLEAR BLUE SILVER PB80M 2004 -
HONDA GRAPHITE GREY NH91M 1984 1985
HONDA BLUISH WHITE MICA [TOPCOAT] NH683P 2004 -
HONDA SPARKLE GRAY MICA NH684P 2004 -
HONDA CELESTIAL SILVER NH685M 2004 -
HONDA GREY NH686M 2004 -
HONDA SILVER MOSS NH691M 2004 -
HONDA NORFOLK SILVER NH74M 1981 -
HONDA GREY NH77M 1981 1983
HONDA ARCTIC SILVER NH79M 1982 1983
HONDA SLATE GREY NH81M 1982 1983
HONDA GREEK WHITE NH82 1983 -
HONDA MIDNIGHT PURPLE PEARL PB73P 1995 -
HONDA MIRAGE SILVER NH84M 1983 1989
HONDA BLUISH WHITE MICA [BACKGROUND] NH683P 2004 -
HONDA GRAPHITE GREY MET NH91M-3 1983 1987
HONDA GRAPHITE GREY NH91M-4 1987 1991
HONDA GOTHIC GREY NH92M 1984 1990
HONDA NIGHT HAWK BLACK PEARL [JAZZ] NH92PX/B92P 2003 -
HONDA QUARTZ SILVER NH94M 1984 -
HONDA BLADE SILVER NH95M 1986 1990
HONDA HIGHLAND BLUE PB55M 1977 -
HONDA CIRRUS BLUE PB62M 1976 -
HONDA LIVERPOOL BLUE PB66M 1980 -
HONDA MARSEILLE BLUE PB67 1985 1990
HONDA URBAN GREY NH83M 1983 1986
HONDA MUSCAT SILVER GY23M 2003 -
HONDA IRON GREY N031 1994 -
HONDA FICUS GREEN PEARL G98P 1998 -
HONDA CASCADE GREEN PEARL G99P 1998 -
HONDA SHANTUNG BEIGE GMF 1986 1989
HONDA TOLEDO GREEN GY13M 1987 -
HONDA SAMBA GREEN PEARL GY15P 1992 -
HONDA MIDORI GREEN PEARL GY16P 1996 -
HONDA IVY GREEN PEARL GY18P 1998 -
HONDA LIME GREEN GY19M 1998 -
HONDA CHATREUSE GY20M 1998 -
HONDA HOCKENHIM GREEN PEARL G96P 1998 -
HONDA CITRUS YELLOW GY22M 2000 -
HONDA CLOVER GREEN PEARL G95P-4 1998 -
HONDA SILKY LEAF GY24M 2004 -
HONDA STUART GREEN GY7M 1979 -
HONDA GREEN GY9 1984 1993
HONDA BRITISH RACING GREEN HNA 1992 1994
HONDA AZURE BLUE JNW 1987 1990
HONDA STEEL GREY LMZ 1989 1992
HONDA STRATA GREY LNJ 1986 1988
HONDA WESTMINSTER LUQ 1994 -
HONDA SILVER LEAF MME 1982 1988
HONDA LAGUNA G91M-4 1999 -
HONDA LEAF GREEN GY21M 1998 -
HONDA EUCALYPTUS GREEN PEARL G83P-3 1996 -
HONDA SHERWOOD GREEN PEARL G78P-3 1994 -
HONDA SHERWOOD GREEN PEARL G78P 1993 -
HONDA NAPLES GOLD YR524M 1998 -
HONDA SICILIAN RED PEARL R500P 1997 -
HONDA BAYERN GREEN PEARL G79P 1993 1997
HONDA EVERGLADE GREEN G80M 1994 -
HONDA WOODLAND GREEN PEARL G81P 1993 -
HONDA CYPRESS GREEN PEARL G82P 1996 -
HONDA CYPRESS GREEN PEARL G82P-3 1996 -
HONDA CYPRESS GREEN PEARL G82P-4 1996 -
HONDA VERMONT GREEN PEARL G97P 1998 -
HONDA EUCALYPTUS GREEN PEARL G83P 1995 -
HONDA LIGHT SILVER N105 1994 -
HONDA THYME GREEN PEARL G84P 1996 -
HONDA BAIKAL GREEN G86P 1996 -
HONDA DARK EMERALD PEARL G87P 1998 -
HONDA DARK EMERALD PEARL G87P-3 1998 -
HONDA DARK EMERALD PEARL G87P-4 1998 -
HONDA EMERALD MIST PEARL G88P 1997 -
HONDA SEQUOIA GREEN PEARL G89P 1998 -
HONDA LAGUNA G91M 1999 -
HONDA SPRUCE GREY PEARL G92P 1997 -
HONDA CLOVER GREEN PEARL G95P 1998 -
HONDA CYPRESS GREEN PEARL G82P-5 1996 -
HONDA GRANDPRIX WHITE NH565 1992 -
HONDA PULSAR SILVER MMW 1987 1991
HONDA WHITE DIAMOND NH540 1989 1994
HONDA NEUTRON WHITE PEARL TOPCOAT NH545P 1996 -
HONDA KAISER SILVER NH546M 1991 1995
HONDA BERLINA BLACK NH547 1991 1997
HONDA VOGUE SILVER NH550M 1990 1997
HONDA MOONLIGHT PEARL NH551P 1990 -
HONDA SEBRING SILVER NH552M 1992 1994
HONDA SEBRING SILVER NH552M 2001 -
HONDA PHANTOM GREY PEARL NH561P 1992 -
HONDA FROST WHITE NH538 1989 1997
HONDA PHANTOM GREY PEARL NH561P-5 1993 1995
HONDA PEWTER GREY NH537M 1990 1997
HONDA NIGHT GLOW NH566M 1993 1994
HONDA SERENE SILVER NH567M 1993 1994
HONDA MILOS WHITE NH569 1992 -
HONDA QUICKSILVER NH570M 1993 -
HONDA EMBLEM GRAY NH573M 1998 -
HONDA THUNDER GREY NH575M 1993 1997
HONDA NIGHTSHADE GREY PEARL NH577P 1994 -
HONDA NIGHTSHADE GREY PEARL NH577P-3 1994 1995
HONDA TAFFETA WHITE NH578 1994 -
HONDA TOUCHSTONE GREY NH579M 1994 -
HONDA PHANTOM GREY PEARL NH561P-4 1992 1995
HONDA EBONY BLACK NH514M 1988 1989
HONDA LIGHT SILVER N107 1993 -
HONDA WHITE NH0 1992 -
HONDA BLACK NH1 1993 1998
HONDA ROSS WHITE NH196 1994 1999
HONDA SPARKLER BLACK PEARL NH343P 1993 -
HONDA PRISM SILVER NH39M 1972 1975
HONDA ASTURIAS GREY NH502M 1988 1990
HONDA GRANADA BLACK NH503P 1986 1997
HONDA WHITE PEARL NH504P 1989 1990
HONDA FORMAL BLACK NH505 1993 -
HONDA FROST WHITE NH538-5 1990 1997
HONDA POLAR WHITE NH512 1987 1988
HONDA CHARCOAL GREY NH581M 1994 -
HONDA SIRIUS WHITE PEARL TOPCOAT NH515P 1987 -
HONDA NOBLE SILVER NH516M 1988 1991
HONDA MIDLAND SILVER NH517 1972 1975
HONDA SILVER LEAF NH520M 1987 -
HONDA STRATA GREY NH521M 1987 -
HONDA FLINT BLACK NH526M 1988 1991
HONDA ANTIQUE GREY NH529M 1989 1990
HONDA CHARCOAL GRANITE NH531M 1990 -
HONDA STEEL GREY NH535M 1990 -
HONDA SOLAR SILVER NH536M 1996 -
HONDA OLYMPIA WHITE NH509 1986 1989
HONDA WARM CHARCOAL PEARL YR511P 1996 -
HONDA GREECE SILVER YR526M 1998 -
HONDA CAPPUCHINO BROWN YR501M 1990 1991
HONDA GOLDEN GLOW PEARL YR502P 1991 -
HONDA ROSEWOOD BROWN YR503M 1991 1997
HONDA CASHMERE SILVER YR505M 1992 -
HONDA CASHMERE SILVER YR505M-3 1993 1995
HONDA GOLD BEIGE YR507M 1996 -
HONDA HEATHER MIST YR508M 1994 1998
HONDA HEATHER MIST YR508M-3 1996 -
HONDA GRANITE SILVER PEARL YR509P 1995 -
HONDA LAVANNA BROWN YR47M 1981 -
HONDA ROMANESQUE BRONZE PEARL YR511P 1995 -
HONDA PROVENCE BEIGE YR45M 1981 -
HONDA PASSION ORANGE PEARL YR513M 1996 -
HONDA IMOLA ORANGE PEARL YR514P 1996 -
HONDA MOONLIGHT BEIGE YR516M 1998 -
HONDA NUTWOOD BROWN PEARL YR517P 1997 -
HONDA SIENA ORANGE PEARL YR519P 1998 -
HONDA ALMERIA BEIGE YR51M 1982 1983
HONDA MESA BEIGE YR520M 1999 -
HONDA MESA BEIGE YR520M-4 1999 -
HONDA CHAMPAGNE BEIGE YR523M 1998 -
HONDA TOPAZ SILVER YR521M 1997 -
HONDA CANYON GOLD YR50M 1982 1983
HONDA CHEYENNE GOLD YR27M 1976 -
HONDA SUNBURST YELLOW Y57M 1998 -
HONDA SPARKLE YELLOW Y59M 1998 2000
HONDA INCA PEARL Y61P 2001 -
HONDA CORONA GOLD PEARL Y62P 2001 -
HONDA ORCHID YELLOW Y63 2002 -
HONDA NEW INDY YELLOW MICA [BACKGROUND] Y65P 2004 -
HONDA NEW INDY YELLOW MICA [TOPCOAT] Y65P 2004 -
HONDA YELLOW MICA [BACKGROUND] Y66M 2004 -
HONDA YELLOW MICA [TOPCOAT] Y66P 2004 -
HONDA SUPER GOLD YR112MU 1994 1999
HONDA BERWICK BROWN YR49M 1982 1983
HONDA CANTERBERY BROWN YR24M 1975 1976
HONDA SHORELINE MIST YR528M 1999 -
HONDA ATHENS GOLD YR28M 1978 -
HONDA CORDOBA BROWN YR30M 1978 -
HONDA WELLINGTON GOLD YR33M 1978 -
HONDA NASHVILLE ORANGE YR34 1979 - - HONDA CATHERINE BROWN YR35M 1979 1980
HONDA MIKEME GOLD YR36M 1979 1981
HONDA SYDNEY BROWN YR37M 1980 -
HONDA LONGLEET GOLD YR41M 1980 -
HONDA OSLO IVORY YR43 1982 -
HONDA SUNFORD ORANGE YR44M 1983 -
HONDA EDINBURGH BROWN YR19M 1972 1975
HONDA ALMOND CREAM YR88 1988 1989
HONDA TITANIUM YR525M 2000 -
HONDA WHEEL SILVER YR73M 1987 -
HONDA ASCOT GREY YR74M 1986 1988
HONDA BRISTOL GREY YR76M 1987 1989
HONDA VULCANIC GREY YR78M 1988 1990
HONDA SAVANNAH GREY YR79M 1986 1990
HONDA BAHAMA GOLD YR82M 1988 1991
HONDA SHANTUNG BEIGE YR83M 1986 1989
HONDA MARSHALL SILVER YR85M 1991 -
HONDA LAGUNA GOLD YR87M 1988 1989
HONDA BARLEE BROWN YR66M 1984 1985
HONDA LAGUNA GOLD YR87M-4 1988 1990
HONDA ELLICE BROWN YR65M 1985 1986
HONDA HONEY BEIGE YR89M 1988 1991
HONDA LYNX BRONZE YR90M 1987 -
HONDA NEW SILVER BEIGE YR91M 1988 1990
HONDA TUSCANY TAUPE YR92M 1988 1990
HONDA SEATTLE SILVER YR94M 1990 1991
HONDA BEIGE YR94M-3 1992 -
HONDA LUXOL BROWN YR95M 1988 1991
HONDA PULSAR SILVER YR97M 1987 1991
HONDA DAYTONA RED 80234 1984 -
HONDA SAGE GREEN G77M-3 1994 -
HONDA LAGUNA GOLD YR87M-3 1988 1990
HONDA SANDSTONE YR542M 2004 -
HONDA SAVOY BROWN YR52M 1983 -
HONDA BLAZE GOLD YR531M 1999 -
HONDA FRESH COPPER YR532M 1999 -
HONDA DESERT SILVER YR534M 2002 -
HONDA MOJAVE MIST YR535M 2002 -
HONDA NEW IMOLA ORANGE MICA [BACKGROUND] YR536P 2003 -
HONDA NEW IMOLA ORANGE MICA [TOPCOAT] YR536P 2002 -
HONDA MARBLE BEIGE PEARL YR537P 2002 -
HONDA DESERT MIST YR538M 2003 -
HONDA SUNSET ORANGE PEARL YR539P 2003 -
HONDA DARK SILVER YR67M 1984 1986
HONDA SMASH ORANGE PEARL YR540P 2003 -
HONDA INDY YELLOW PEARL Y52P 1992 -
HONDA PLASIR IVORY YR544 2003 -
HONDA VANILLA CREME YR546 2003 -
HONDA CARAMEL CREME YR548 2003 -
HONDA YELLOWISH RED YR551M 2004 -
HONDA BOSTON BROWN YR55M 1983 -
HONDA SUEDE BEIGE YR58 1984 -
HONDA MISTY BEIGE YR59M 1984 -
HONDA CHAMPAGNE BEIGE YR60M 1984 -
HONDA SUNBIRD ORANGE YR62M 1983 1985
HONDA COPPER BROWN YR63M 1984 1985
HONDA DESERT TAN YR54 1983 -
HONDA BORDEAUX RED R78P 1992 1997
HONDA SUNLIGHT YELLOW Y56 1998 -
HONDA CRIMSON RED R69 1989 -
HONDA NAVAJO RED R70M 1988 1990
HONDA NAVAJO RED R70M-3 1988 1990
HONDA TORINO RED PEARL R72P 1989 1997
HONDA FLAME RED R73 1989 1994
HONDA CORDOVAN RED R74P 1989 1990
HONDA CORDOVAN RED MET R74P-3 1990 1991
HONDA SONOMA RED PEARL R75P 1990 -
HONDA SONOMA RED PEARL R75P-3 1990 -
HONDA CHIANTI RED R67M 1988 1989
HONDA FORMULA RED R77 1994 -
HONDA CARDINAL RED R66M 1989 -
HONDA BORDEAUX RED R78P-3 1992 -
HONDA FESTIVAL RED R80 1991 1992
HONDA MILANO RED R81 1992 -
HONDA CASSIS RED PEARL R82P 1991 1993
HONDA SPECTRA RED PEARL R83P 1991 1992
HONDA NIGHTFIRE RED PEARL R84P 1994 -
HONDA CAIRNS CORAL R85 1992 -
HONDA CAMELLIA RED PEARL R86P 1992 -
HONDA CRANBERRY RED PEARL R87P 1994 -
HONDA BEAUJOLAIS RED PEARL R89P 1993 1994
HONDA CAMBRIDGE RED PEARL R76P 1989 1990
HONDA CHIANTI RED PEARL R517P 2002 -
HONDA VERSUVIO RED R502 1998 -
HONDA RUBY RED PEARL R504P 1997 -
HONDA BURNING RED PEARL R505P 1997 -
HONDA FIREPEPPER RED PEARL R507P 2000 -
HONDA MONZA RED PEARL R508P 1998 -
HONDA ORIENTAL RED R509M 1998 -
HONDA PHOENIX RED R51 1984 1985
HONDA NEW FORMULA RED R510 1999 -
HONDA MEROT RED PEARL R512P 1999 -
HONDA RALLYE RED R513 2001 -
HONDA TARGA RED R68 1984 1988
HONDA IRIS RED PEARL R516P 2002 -
HONDA GARNET RED PEARL R91P 1994 -
HONDA RADIANT RUBY PEARL R518P 2002 -
HONDA RED ROCK PEARL R519P 2002 -
HONDA ROYAL RUBY RED PEARL R522P 2003 -
HONDA DARK CARDINAL RED MICA R523P 2003 -
HONDA ARGYLL RED R55M 1986 1987
HONDA LISBON RED R57M 1986 1987
HONDA CHATEAU RED R61M 1988 1989
HONDA RIO RED R63 1987 1991
HONDA OPORTO R64M 1987 -
HONDA PERSIAN RED PEARL R65P 1988 1990
HONDA CORAL RED PEARL R515P 2002 -
HONDA PALE RASPBERRY RP35M 2003 -
HONDA STEALTH GREY PEARL RP24P 1994 -
HONDA DARK CURRENT PEARL RP25P 1996 -
HONDA DARK CURRENT PEARL RP25P 1996 -
HONDA SPANISH ROSE RP28P 1996 -
HONDA RAISIN PEARL RP29P 1998 -
HONDA RAISIN PEARL RP29P-3 1998 -
HONDA URBANIGHT PEARL RP30P 1999 -
HONDA SIGNET SILVER RP31M 1999 -
HONDA DARK GRAY RP329 2001 -
HONDA VINTAGE PLUM PEARL RP32P 2000 -
HONDA CARMEN RED R90 1994 -
HONDA AMETHYST PURPLE PEARL RP34P 2002 -
HONDA HORIZON GREY RP21M-5 1995 -
HONDA RAISIN MAUVE PEARL RP36P 2002 -
HONDA GRAYISH MAUVE MICA RP38M 2004 -
HONDA CREAM WHITE W101 1994 -
HONDA LIVORNO BEIGE Y39 1979 -
HONDA CYPRESS YELLOW Y43 1983 -
HONDA GALLE YELLOW Y44 1983 -
HONDA SUNFLOWER YELLOW Y46 1984 1986
HONDA BARBADOS YELLOW Y49 1988 1990
HONDA SORBET CREAM Y51 1988 1990
HONDA LEMANS RED R501 1996 -
HONDA VINTAGE PLUM PEARL RP32P-4 2000 -
HONDA ROMA RED R97-4 1996 -
HONDA CARNIVAL YELLOW Y53 1991 1992
HONDA FIRENZE RED PEARL R92P 1995 -
HONDA MATADOR/NAVAJO RED PEARL R93P 1995 -
HONDA SAN MARINO RED R94 1995 -
HONDA SAN MARINO RED R94-3 1997 -
HONDA ISLAND CORAL PEARL R95P 1996 -
HONDA ISLAND CORAL PEARL R95P-3 1996 -
HONDA ISLAND CORAL PEARL R95P-4 1996 -
HONDA ISLAND CORAL PEARL R95P-5 1996 -
HONDA INZA RED PEARL R96P 1998 -
HONDA AMETHYST RP23M 1992 -
HONDA INZA RED PEARL R96P-5 1996 -
HONDA FURANO LAVENDER RP22 1991 1994
HONDA HORIZONTAL PURPLE RP14M 1983 -
HONDA JOYFUL PINK RP15 1985 1992
HONDA MELLOW PURPLE RP16M 1987 1988
HONDA RED PINK RP17 1989 1990
HONDA REGAL PLUM PEARL RP18P 1991 1994
HONDA TWILIGHT BLUE RP19M 1991 -
HONDA VINYARD GREY RP20M 1991 -
HONDA HORIZON GREY RP21M 1992 -
HONDA HORIZON GREY RP21M-3 1994 -
HONDA HORIZON GREY RP21M-4 1995 -
HONDA PALAZOO RED PEARL R902P 1999 -
HONDA INZA RED PEARL R96P-4 1998 -
HONDA BLAZE PEACOCK PEARL 702 1994 -
HONDA CRANBERRY PEARL 758 1994 -
HONDA COTTON 52933 1991 -
HONDA HONDA BLACK 52960 1992 -
HONDA MIDNIGHT 54909 1993 -
HONDA BRAEBURN RED PEARL 57120 1998 -
HONDA LONGLEET GOLD 70037 1983 -
HONDA CORAL 70040 1983 -
HONDA CORAL 70142 1983 -
HONDA CORAL 70147 1983 1984
HONDA LONGLEET GOLD 70165 1983 1984
HONDA SMOKE 52925 1992 -
HONDA ROWAN BROWN 70193 1984 -
HONDA QUICKSILVER 52920 1991 1992
HONDA TOREADOR 70939 1994 -
HONDA LIGHT SILVER 714 1994 -
HONDA DARK EMERALD PEARL 715 1995 -
HONDA CLARET RED 731 1993 -
HONDA VIRIDIAN GREEN PEARL 732 1994 -
HONDA CREAM WHITE 752 1994 -
HONDA LIGHT SILVER 753/N105 1994 -
HONDA RADIANT RED 756/R103 1994 -
HONDA GOLD GREEN PEARL 757 1994 -
HONDA SPANISH OLIVE 40074 1991 -
HONDA MYSTIQUE BROWN 70170 1984 1985
HONDA BOLD AS BRASS 50306 1991 -
HONDA NELSON BLUE B21 1984 -
HONDA HAMPSTEAD GREEN 40298 1981 1982
HONDA FOREST GREEN 40309 1982 -
HONDA SABLE GREEN 40371 1983 1984
HONDA TRIDENT GREEN 40394 1984 1990
HONDA SABLE GREEN 40425 1983 -
HONDA CALM GREEN 40439 1983 1984
HONDA CYPRESS GREEN 40508 1987 -
HONDA ASPEN GREEN 40826 1985 1990
HONDA ELECTRIC GREEN 40874 1987 -
HONDA POPPY 52932 1991 1992
HONDA TOBACCO ROAD 50184 1994 1998
HONDA BRONZE BLUE PEARL 760 1994 -
HONDA ARABIAN SAND 50646 1980 -
HONDA MISTRAL BEIGE 50814 1982 -
HONDA DESERT TAN 50895 1984 -
HONDA ALMERIA BEIGE 50896 1983 1984
HONDA JAZZ YELLOW 50906 1984 -
HONDA SAND 50925 1984 -
HONDA SPARKLING BEIGE 50974 1985 1991
HONDA SPARKLING BEIGE 51030 1986 1987
HONDA CASHMERE GOLD 51078 1989 -
HONDA ELECTRIC YELLOW 52072 1987 1990
HONDA SEASPRAY 40876 1988 -
HONDA BENMORE BLUE 93944 1998 -
HONDA HUNTSMAN GREEN PEARL 757 1991 -
HONDA IRON GREY 849 1994 -
HONDA NIGHTFIRE RED PEARL 916 1993 1995
HONDA GALA RED 92580 1997 -
HONDA CALYPSO BLUE PEARL 92589 1995 -
HONDA TEKAPO BLUE 92806 1998 -
HONDA WAKATIPU GOLD 92831 1998 -
HONDA SUNFLOWER YELLOW 92938 1997 -
HONDA PLATINUM/SEBRING SILVER PEARL 92953 1998 -
HONDA BLACKCURRANT PEARL 93791 1998 -
HONDA PASSPORT BLUE 833 1994 -
HONDA WANAKA BLUE 93943 1998 -
HONDA EBONY BLACK 826 1993 -
HONDA THAI SILK 99270 1987 -
HONDA CANAL BLUE PEARL B035P 2000 -
HONDA TREVI BLUE B10M 1978 1982
HONDA LOIRE BLUE B11M 1978 -
HONDA PEARL ATLANTIS BLUE B142P 1993 1998
HONDA INVERNESS BLUE/BLACK B14M 1979 -
HONDA MONTPARNASSE BLUE B15M 1979 -
HONDA WINDMERE BLUE B16M 1980 -
HONDA ANGTHANG BLUE B17M 1980 -
HONDA AMAL BLUE B20M 1981 -
HONDA WOODHILL GREEN 93919 1998 -
HONDA BLACK CHERRY PEARL 80504 1985 1986
HONDA CABERNET RED 80118 1982 -
HONDA REGAL 80183 1980 -
HONDA DAYTONA RED 80189 1983 1988
HONDA VICTORIA RED 80246 1990 -
HONDA TOREADOR RED 80295 1987 -
HONDA ROSE 80299 1987 1988
HONDA REGENCY RED 80320 1982 -
HONDA ARUBA RED 80362 1982 1983
HONDA RHODOS RED 80392 1983 1985
HONDA BRIGHT SILVER 835 1997 -
HONDA COUNTRY ROSE 80489 1985 -
HONDA CHAMELEON 30920 1988 -
HONDA GRAPE 80574 1987 -
HONDA ROSE 80575 1987 -
HONDA COTTON CANDY 80582 1987 1990
HONDA PEACH MELBA 80594 1988 -
HONDA WILD ROSE 80595 1987 -
HONDA THAI SILK 80601 1987 -
HONDA BLOSSOM 80604 1987 1990
HONDA ELECTRIC PEACH 80651 1988 -
HONDA HONDA LILAC 80826 1990 -
HONDA GARNET RED 80827 1989 1990
HONDA MODENA RED 80397 1984 -
HONDA EBONY BLACK 001/826 1994 -
HONDA CINNAMON 07889 1981 -
HONDA CARNABY YELLOW 00011 1979 -
HONDA SHETLAND WHITE 01859 1984 -
HONDA IVORY 01896 1985 -
HONDA ASTRAL BLUE 02984 1993 -
HONDA CAMERON GREEN 04915 1970 -
HONDA BRIMSTONE 07832 1977 -
HONDA COPPER FIRE 07832 1980 1993
HONDA DEEP BRONZE 07846 1980 -
HONDA GILT 07857 1979 -
HONDA COPPER FIRE MK2 07872 1981 -
HONDA SAN REMO GREEN 40236 1979 -
HONDA GRAPE 80293 1987 -
HONDA SAGE GREEN G77M 1993 -
HONDA MIDAS GOLD 07891 1981 1982
HONDA GALAXY BLUE 20708 1990 -
HONDA COPPER GOLD 07877 1981 -
HONDA DAWN GREY 20247 1986 1991
HONDA ICE BLUE 20336 1986 -
HONDA VIOLA BLUE 20342 1987 -
HONDA SILVER BLUE 20354 1987 1988
HONDA CARIBBEAN BLUE 20356 1987 1991
HONDA ELECTRIC BLUE/OUTRAGEOUS BLUE 20429 1987 1990
HONDA VIOLA BLUE 20431 1987 -
HONDA SILVER BLUE 20447 1987 -
HONDA VIOLET 20459 1987 -
HONDA STRATOS BLUE 20196 1984 -
HONDA BISCAYNE BLUE 20707 1989 1991
HONDA HORIZONTAL PURPLE 20173 1983 1984
HONDA BLUE SILVER 20829 1991 -
HONDA SILVER CHARCOAL 30404 1980 -
HONDA GOTHIC GREY 30451 1993 -
HONDA STARSTRUCK 30494 1987 -
HONDA EXECUTIVE GREY 30548 1983 -
HONDA BLACK 30608 1985 1986
HONDA STARSTRUCK 30690 1987 -
HONDA HOLYSMOKE 30691 1987 1990
HONDA NIGHT SKY 30699 1987 -
HONDA STONE SILVER 30919 1988 -
HONDA MONTREAL BLUE 20484 1987 -
HONDA KAYANGAN RED 14850 [BACKGROUND] 1993 -
HONDA NORFOLK SILVER 09643 1982 -
HONDA SILVER GOLD 09646 1983 -
HONDA SAN MORITZ 09680 1981 1982
HONDA ARCTIC SILVER 09687 1981 1982
HONDA STRATOS BLUE 09917 1983 1986
HONDA NIGHT SKY 09944 1987 -
HONDA SNOW WHITE 10023 1984 1990
HONDA LEGEND GREY 10891 1992 -
HONDA BORNITE 10895 1992 -
HONDA CUPPUCHINO BROWN 12874 1992 -
HONDA ICE BLUE 20242 1983 1985
HONDA KAYANGAN RED MAT/C 14850 1993 -
HONDA COBALT 52926 1991 1992
HONDA RICH GOLD 16852 1993 -
HONDA MIDORI GREEN 180 1996 -
HONDA PLATINUM/SEBRING SILVER PEARL 180 1998 -
HONDA POLAR WHITE 1885 1994 -
HONDA DARK BLUE 20007 1979 -
HONDA DENIM BLUE 20029 1981 -
HONDA QUARTZ BLUE 20044 1982 1983
HONDA ICE BLUE 20068 1985 -
HONDA WEDGEWOOD 20096 1981 1988
HONDA WINDSOR BLUE 20161 1981 1983
HONDA BRIGHT COPPER RED 14842 1992 -
HONDA CRICKET BLUE GREEN BG35M 1994 -
HONDA TAHITIAN GREEN PEARL BG28P 1990 -
HONDA AZTEC GREEN PEARL BG29P 1991 1992
HONDA ARCADIA GREEN PEARL BG30P 1991 1996
HONDA GREEN PEARL BG31P 1992 -
HONDA MALACHITE GREEN PEARL BG31P 1992 -
HONDA MALACHITE GREEN PEARL BG31P-3 1994 -
HONDA ESTORIL TURQUOISE PEARL BG32P 1992 -
HONDA PARADISE BLUE GREEN PEARL BG33P 1993 -
HONDA PARADISE BLUE GREEN PEARL BG33P-3 1995 -
HONDA PARADISE BLUE GREEN PEARL BG33P-4 1995 -
HONDA FLUORITE SILVER BG51M 2002 -
HONDA AZURE BLUE GREEN PEARL BG34P 1993 -
HONDA HAMPSHIRE GREEN BG26M 1989 1990
HONDA SAPPHIRE SILVER BG37M 1996 -
HONDA CARDIFF BLUE GREEN PEARL BG40P 1999 2000
HONDA ICED TEAL PEARL BG41P 1999 -
HONDA ICED TEAL PEARL BG41P-4 1999 -
HONDA SEYCHELLE GREEN PEARL BG42P 1998 -
HONDA AQUAMINT OPAL BG45M 1998 -
HONDA TROPIC JADE PEARL BG47P 1999 -
HONDA LIGHT EMERALD PEARL BG48P 1999 -
HONDA LAKE SHORE PEARL BG49P 1999 -
HONDA CRYSTAL SILVER B91M 1997 -
HONDA PARADISE BLUE GREEN PEARL BG33P-5 1994 -
HONDA YORKSHIRE GREEN BG13M 1982 1983
HONDA CRYSTAL SILVER B91M 1997 -
HONDA NIGHT HAWK BLACK PEARL B92P 1997 -
HONDA NIGHT HAWK BLACK PEARL [JAZZ] B92P/NH92PX 2003 -
HONDA MONTEREY BLUE PEARL B93P 1998 -
HONDA MIDNIGHT BLUE B94 1998 -
HONDA ELECTRON BLUE PEARL B95P 1999 -
HONDA ETERNAL BLUE PEARL B96P 1998 -
HONDA VOLTAGE BLUE B97M 1999 -
HONDA AQUAMARINE BLUE B98M 1999 -
HONDA ATLANTIC BLUE PEARL B99P 2000 -
HONDA TAHITIAN GREEN PEARL BG28P 1990 1991
HONDA SABLE GREEN BG12M 1980 1982
HONDA HAMPSHIRE GREEN BG26M-3 1990 1991
HONDA CALM GREEN BG14M 1984 -
HONDA HARVEST GREEN BG15M 1985 1986
HONDA TEAL GREEN BG16M 1984 -
HONDA MONTEREY GREEN BG20M 1988 1989
HONDA MONTEREY GREEN BG20M 1988 1989
HONDA MONTEREY GREEN BG20M-3 1988 1989
HONDA LORRAINE GREY BG21M 1988 1990
HONDA JASPER GREEN BG22M 1989 1990
HONDA BRITTANY BLUE GREEN BG23M 1990 1995
HONDA MERMADE BLUE BG24 1989 -
HONDA CRYSTAL TURQUOISE BG52M 2002 -
HONDA HAMSTEAD GREEN BG11M 1980 -
HONDA ALSAGE GREY G65M 1989 1990
HONDA MATCHA CREME G520M 2003 -
HONDA JADE GREEN G523M 2004 -
HONDA BASEL GREEN G52M 1982 -
HONDA IBAR. GREEN G53M 1981 1993
HONDA PORTLAND GREEN G54M 1984 1985
HONDA STAFFORD GREEN G56M 1986 1987
HONDA CREMONA OLIVE G57M 1988 2000
HONDA FOREST GREEN G58M 1986 1993
HONDA SHANNON GREY G59M 1988 1989
HONDA LA MER GREEN G60M 1988 1991
HONDA HAVASU BLUE BG50M 2002 -
HONDA JADE GREEN G63M 1989 -
HONDA PLASER GREEN G518 2003 -
HONDA BARCELONA GREEN PEARL G66P 1990 -
HONDA SABRINA GREY G68M 1990 -
HONDA MUNSTER GREEN G69M 1990 1991
HONDA CHARLOTTE GREEN PEARL G70P 1993 -
HONDA LAUSANNE GREEN PEARL G71P 1991 1996
HONDA BRITISH RACING GREEN G72M 1992 -
HONDA OPAL GREEN G73M 1991 1996
HONDA OPAL GREEN G73M-3 1992 1993
HONDA CANTERBURY GREEN G75M 1992 -
HONDA BAYLEAF GREEN G76 1992 -
HONDA GENEVA GREEN PEARL G62P 1991 1997
HONDA AQUA GREEN G502M 2000 -
HONDA LYNX BRONZE BMF 1987 -
HONDA OPORTO RED CMP 1982 1987
HONDA TARGA RED CNE 1984 1988
HONDA NIGHTFIRE RED PEARL COQ 1993 1995
HONDA HUNTSMAN GREEN PEARL G103 1991 -
HONDA GREEN PEARL G156P 2003 -
HONDA VIRIDIAN GREEN PEARL G406 1994 -
HONDA COLORADO GREEN G48M 1977 -
HONDA SAN REMO GREEN G49M 1978 -
HONDA SPRAY GREEN G500M 1998 -
HONDA RICHMOND GREEN G51M 1979 -
HONDA FIRN G501M-4 1999 -
HONDA HONDA FIREFLY 52921 1992 -
HONDA AMAZON GREEN PEARL G503P 2001 -
HONDA ISLAND GREEN PEARL G505M 2000 -
HONDA MINT OPAL GREEN G506M 2000 -
HONDA NOBLE GREEN PEARL G508P 2002 -
HONDA SHEFFIELD GREEN G50M 1979 -
HONDA EVERGREEN PEARL G510P 2003 -
HONDA GALAPAGOS GREEN G511M 2002 -
HONDA MIST OPAL GREEN G513M 2003 -
HONDA DEEP GREEN MICA G516P 2004 -
HONDA SIERRA BLUE B22M 1981 -
HONDA COOL JADE SILVER G517M 2004 -
HONDA FIRN G501M 1999 -
HONDA MELBOURNE BLUE B50M 1988 1991
HONDA METEOR SILVER B522M 2003 -
HONDA ATLANTIC BLUE B48M 1987 1995
HONDA LAUREL BLUE B49M 1988 1990
HONDA LAUREL BLUE B49M-3 1988 1990
HONDA IRON BLUE B500M 2000 -
HONDA CIRCUIT BLUE PEARL B501P 1999 -
HONDA INDIGO BLUE PEARL B502P 2001 -
HONDA AQUA BRONZE OPEL B505M 2001 -
HONDA ICE BLUE B506M 2002 -
HONDA ARCTIC BLUE PEARL B507P 2001 -
HONDA SUPERIOR BLUE B47M 1988 1991
HONDA EFFECT BLUE B509M 2002 -
HONDA DARK BLUE PEARL B46M 1988 1992
HONDA MELBOURNE BLUE B50M 1988 1991
HONDA LONG BEACH BLUE PEARL [BACKGROUND] B510P 2002 -
HONDA LONG BEACH BLUE PEARL [TOPCOAT] B510P 2002 -
HONDA TOURMARLINE BLUE B511M 2002 -
HONDA MAGNETIC BLUE B512M 2002 -
HONDA NUERBURGRING BLUE B513M 2002 -
HONDA AERIAL BLUE B515M 2002 -
HONDA MIDNIGHT BLUE PEARL B518P-4 2003 -
HONDA VIVID BLUE PEARL B520P 2003 -
HONDA SKY BLUE B521 2003 -
HONDA ZIRCON BLUE B508M 2002 -
HONDA MONTREAL BLUE B35M 1985 1990
HONDA PYRENNEES BLUE B24 1984 1985
HONDA WINDSOR BLUE B23M 1981 1983
HONDA SPEARMINT GREEN G519M 2003 -
HONDA SUPER SONIC BLUE PEARL B90P 1997 -
HONDA LINDSEY BLUE B25M 1982 1983
HONDA AVIGNON BLUE B26M 1982 1985
HONDA BERMUDA BLUE B27 1983 -
HONDA MIDNIGHT BLUE B29M 1984 1985
HONDA STRATOS BLUE B30M 1984 1988
HONDA ASTRAL BLUE B31M 1984 -
HONDA SUPERIOR BLUE B47M 1988 1991
HONDA SONIC BLUE B33M 1984 1985
HONDA MONTREAL BLUE B35M-4 1990 -
HONDA MONTREAL BLUE B35M 1985 1990
HONDA MONTREAL BLUE B35M-3 1988 1990
HONDA FLORENCE BLUE B37M 1986 1988
HONDA FLORENCE BLUE B37M-3 1986 1989
HONDA FLORENCE BLUE B37M-4 1987 1989
HONDA CAPITOL BLUE B38 1986 1987
HONDA ANTIGUA BLUE B41 1987 -
HONDA HARBOUR BLUE B43M 1989 -
HONDA AZURE BLUE B44M 1986 1992
HONDA MADISON BLUE B45P 1987 -
HONDA BALTIC BLUE B32 1984 -
HONDA MYSTIC BLUE PEARL B80P 1997 -
HONDA MONTE CARLO BLUE PEARL B66P 1992 -
HONDA ATLANTIS BLUE GREEN PEARL B67P 1992 1993
HONDA PACIFIC BLUE PEARL B68P 1993 -
HONDA NOCTURNE BLUE PEARL B69P 1995 -
HONDA TAHITI BLUE PEARL B72P 1995 -
HONDA CYCLONE BLUE B73M 1995 -
HONDA CYCLONE BLUE B73M-3 1996 -
HONDA CYCLONE BLUE B73M-4 1996 -
HONDA CYCLONE BLUE B73M-5 1996 -
HONDA ADRIATIC BLUE PEARL B74P 1996 -
HONDA BRIGHTON BLUE B65M 1993 -
HONDA DOLPHINE BLUE PEARL B78P 1996 -
HONDA ORLEANS BLUE PEARL B77P 1995 -
HONDA MYSTIC BLUE PEARL B80P-3 1997 -
HONDA COMET BLUE B81M 1996 -
HONDA PAUL RICHARD BLUE B82 1996 -
HONDA ICEBERG SILVER B83M 1996 -
HONDA AQUA AIR SILVER B525M 2004 -
HONDA MONTREAL BLUE B35M 1986 1987
HONDA DEEP VELVET BLUE PEARL B89P-4 1999 -
HONDA DEEP VELVET BLUE PEARL B89P 1998 -
HONDA SUPER MARINE BLUE PEARL B84P 1996 -
HONDA ZEPHYR BLUE B88M 1997 -
HONDA CRESCENT SILVER B75M 1995 -
HONDA CELESTIAL BLUE PEARL B53P 1991 -
HONDA FIJI BLUE MICA B529P 2004 -
HONDA WIEN BLUE PEARL B52P 1990 -
HONDA PASSPORT BLUE B801 1994 -
HONDA FRESCO BLUE PEARL B64P 1993 -
HONDA BLUE B528M 2004 -
HONDA ABYSS BLUE MICA B527P 2004 -
HONDA AQUA AIR SILVER B526M 2003 -
HONDA NEW UM MEDIUM BLUE B530M-B 2004 -
HONDA PERSEUS AQUA B531M 2004 -
HONDA STEEL BLUE B533M-B 2004 -
HONDA COBALT BLUE PEARL B54P 1991 1997
HONDA COBALT BLUE PEARL B54P 1991 1997
HONDA COBALT BLUE PEARL B54P-3 1992 -
HONDA BUCKINGHAM BLUE PEARL B59P 1991 1996
HONDA HARVARD BLUE PEARL B63P 1991 1993
HONDA CAPTIVA BLUE PEARL B62P 1991 1993
HONDA PERSEUS AQUA B531M 2004 -
HONDA CARIBBEAN BLUE PEARL B61P 1991 1995
HONDA CONCORD BLUE PEARL B58M 1991 -
HONDA MAIN BLUE PEARL B57P 1990 1991
HONDA SAXONY BLUE B56M-4 1991 -
HONDA SAXONY BLUE B56M-3 1991 -
HONDA SAXONY BLUE B56M 1991 1997