To Buy Car Touch Up Paint or Car Aerosol Spray Cans for your Jaguar please


CLICK HERE

or

RETURN TO HOMEPAGE

Finding Your Jaguar Paint Code

Jaguar has one main area for a paint code, check the passenger door sill or the passenger door jamb. If this cant be found then check under the bonnet. A Jaguar Color Code is typically 3 digits long and is after the work PAINT, this can also be a letter/number combination.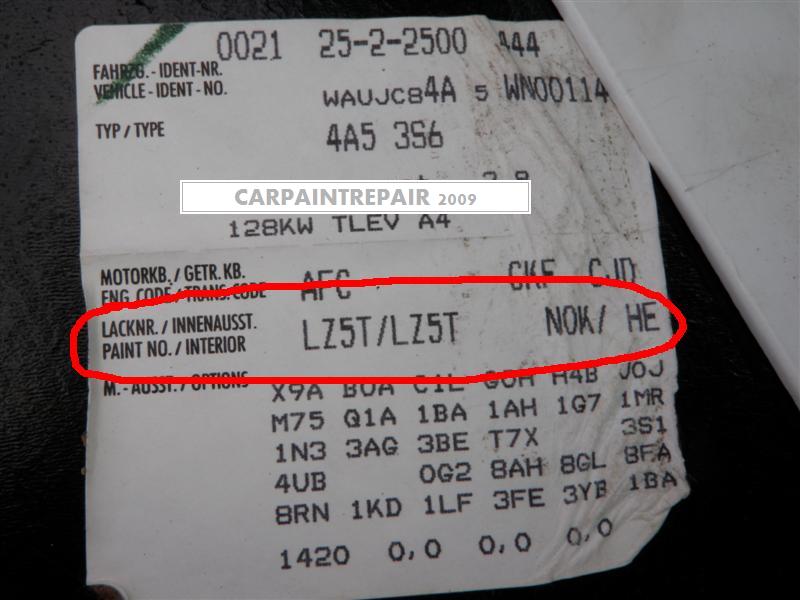 JAGUAR KINGFISHER BLUE HFE/799 1994 -
JAGUAR RADIANCE CHB 2004 -
JAGUAR JAGUAR RACING GREEN HEN/701 1986 1987
JAGUAR JADE GREEN PEARL HEV/735 1990 -
JAGUAR MOORLAND GREEN HET/717 1986 1987
JAGUAR JAGUAR RACING GREEN HER/705 1985 1986
JAGUAR CATKIN PEARL HFD/777 1991 1992
JAGUAR AEGEAN HDS/852 1994 1998
JAGUAR FILIGREE GOLD GDJ 1985 1986
JAGUAR SOVEREIGN GOLD GDF 1987 1988
JAGUAR GEORGIAN GOLD GDE 1988 2000
JAGUAR ROSE BRONZE FDL/795 1994 -
JAGUAR GREEN SAND FDA/252 1973 1974
JAGUAR RADIANCE PEARL CHB/1975 2004 -
JAGUAR BROOKLANDS GREEN HFG/753 1990 -
JAGUAR COBALT BLUE JDM/286 1979 1982
JAGUAR BURNISHED PEARL EDD/837 1996 -
JAGUAR SPRUCE GREEN PEARL HGL/1823 1998 -
JAGUAR BLUE JDS/853 1994 1998
JAGUAR GRENADIER RED CEH/332 1986 1987
JAGUAR BLUE GREY GREEN JBC/1947 2002 -
JAGUAR SALSA CHA/1964 2003 -
JAGUAR PISTACHIO MICA HHC/1976 2003 -
JAGUAR JAGUAR RACING GREEN PEARL HGZ/1957 2002 -
JAGUAR PHOENIX JAG/1924 1998 2001
JAGUAR AEGEAN BLUE PEARL HGN/1932 2001 -
JAGUAR SHERWOOD GREEN PEARL HFK/835 1996 1997
JAGUAR EMERALD HGG/1895 1998 -
JAGUAR ALPINE PEARL HGF/1880 1998 2000
JAGUAR SHERWOOD HGE/1835 1998 -
JAGUAR BRITISH RACING GREEN HGD/1753 1997 -
JAGUAR SHERWOOD GREEN PEARL HFR/835 1996 -
JAGUAR PEPPERMINT HFM/831 1993 -
JAGUAR ASPEN GREEN HGP/1945 2002 -
JAGUAR METEORITE 911/MDT 1997 -
JAGUAR CARNELIAN/TARTAN RED CDE/CDJ 1978 1986
JAGUAR PHOENIX CAL/1924 1998 -
JAGUAR ROMAN BRONZE PEARL BDE/1921 2000 -
JAGUAR OPALESCENT SILVER GREY B0204 1968 -
JAGUAR SATURN ORANGE ANZ/764 1993 -
JAGUAR MAHOGANY ANY/802 1993 -
JAGUAR BURGUNDY CEL/329 1984 2000
JAGUAR SATIN BEIGE AGA/747 1988 -
JAGUAR MAROON CDR/854 1994 1998
JAGUAR MADEIRA PEARL 881/CGF 1997 -
JAGUAR AMARANTH PEARL 862/KDJ 1997 -
JAGUAR MISTRAL 861/JHA 1997 -
JAGUAR SEA FROST PEARL 860/MDS 1997 -
JAGUAR ANTHRACITE PEARL 859/PDX 1996 -
JAGUAR WHITE GOLD 838/SDT 1996 1996
JAGUAR SHERWOOD GREEN PEARL 835/HFK 1996 1997
JAGUAR SANDSTONE AGB/763 1993 -
JAGUAR SIGNAL RED CFC 1987 1996
JAGUAR JUPITER CGJ/1898 2000 -
JAGUAR MADEIRA PEARL CGH/1881 1997 2001
JAGUAR CARNIVAL RED CGG/1811 1997 -
JAGUAR MADEIRA PEARL CGF/881 1998 -
JAGUAR CABERNET MICA CGE/819 1996 -
JAGUAR CARNIVAL RED MICA CFS/811 1996 -
JAGUAR FLAMENCO PEARL CFH/765 1992 1993
JAGUAR SIGNAL RED CDF/258 1971 -
JAGUAR CRIMSON CFF/772 1988 1989
JAGUAR CARNELIAN/TARTAN RED CDJ/CDE 1978 1986
JAGUAR REGENCY RED PEARL CFA/734 1989 -
JAGUAR CRIMSON CEV 1987 1989
JAGUAR TUNGSTEN JEX/718 1986 1987
JAGUAR BORDEAUX RED CEK/340 1986 1987
JAGUAR MISTRAL JHJ/1861 1997 -
JAGUAR RED CDS/855 1994 1998
JAGUAR TITIAN CGP/1909 2000 -
JAGUAR MOROCCO RED PEARL CFG/778 1992 -
JAGUAR ICE BLUE MDP/821 1994 -
JAGUAR TITANIUM LGC/810 1996 -
JAGUAR SPINDRIFT NEE/1732 1998 -
JAGUAR WHITE PEARL NDT/832 1993 -
JAGUAR PLATINUM MDZ/1916 2000 -
JAGUAR METEORITE SILVER MDX/1911 1998 2000
JAGUAR SEAFROST PEARL MDV/1860 1998 -
JAGUAR WHITE ONYX NEG/1942 2000 2001
JAGUAR SEA FROST PEARL MDS/860 1998 -
JAGUAR BLACK PDF 1981 1984
JAGUAR SILVER FROST MDK/750 1992 -
JAGUAR SILVER BIRCH MDJ 1987 1988
JAGUAR TALISMAN SILVER MDF/336 1986 -
JAGUAR SLATE PEARL LHL/1943 2001 -
JAGUAR QUARTZ GREY LHK/1926 2002 -
JAGUAR TITANIUM PEARL LGL/1810 1998 -
JAGUAR WESTMINSTER BLUE JHG/1712 1998 -
JAGUAR METEORITE MDT/911 1998 -
JAGUAR MIDNIGHT PEARL PEF/1959 2003 -
JAGUAR LAVENDER 833/JGR 1993 1997
JAGUAR DORCHESTER GREY LDP/342 1986 1987
JAGUAR TURQUOISE UDB/827 1994 -
JAGUAR TOPAZ SEC/1820 1997 -
JAGUAR WHITE GOLD SDT/838 1995 -
JAGUAR TOPAZ SDN/820 1994 -
JAGUAR PORCELAIN NEF/1918 1999 -
JAGUAR TUSCANY BRONZE PEARL SDD/754 1990 -
JAGUAR STEEL GREY II LGB/873 1996 -
JAGUAR ANTHRACITE PEARL PED/1859 2000 -
JAGUAR ANTHRACITE PEARL PED/1859 1998 -
JAGUAR ANTHRACITE PEARL PDX/859 1996 -
JAGUAR NAUTILUS MICA PDV/824 1994 -
JAGUAR BLACK PDT/807 1993 -
JAGUAR BLACK CHERRY PEARL PDP/737 1990 1992
JAGUAR BLACK PDH/333 1986 1987
JAGUAR LIGHT OYSTER SDE/751 1990 -
JAGUAR LAVENDER JGR/833 1993 -
JAGUAR STEEL GREY III LGF/897 1996 -
JAGUAR LAZURITE JHM/1905 2000 -
JAGUAR ANTIGUA PEARL JHH/1840 1998 -
JAGUAR AQUAMARINE PEARL JHF/1839 1998 -
JAGUAR SAPPHIRE BLUE JHE/1806 1997 -
JAGUAR MISTRAL JHA/1861 1997 -
JAGUAR ZIRCON JHV/1927 2002 -
JAGUAR AQUAMARINE MICA JGY/838 1996 -
JAGUAR BLUE PRYSUM MICA JHY/1947 2003 -
JAGUAR AMETHYST BLUE JGP/829 1994 -
JAGUAR DARK BLUE PEARL JGM/818 1996 -
JAGUAR BLUE GREY PEARL JGJ/800 1996 -
JAGUAR CRYSTAL BLUE JGH/799 1993 -
JAGUAR SAPPHIRE JGE/806 1994 -
JAGUAR BLUE DIAMOND JFN/743 1990 -
JAGUAR SOLENT BLUE JFJ/715 1986 1987
JAGUAR ANTIGUA BLUE PEARL JGZ/840 1996 -
JAGUAR STORM GREY MICA KDV 2004 -
JAGUAR GREY LGA/851 1994 1998
JAGUAR WARM GREY MICA LFC/826 1996 -
JAGUAR TURQUOISE GREY PEARL LFB/825 1996 -
JAGUAR TITANIUM MICA LFA/810 1994 -
JAGUAR STEEL GREY MICA LEV/783 1994 -
JAGUAR SAVOY GREY LEK/731 1990 -
JAGUAR PACIFIC BLUE JHM/1905 2000 -
JAGUAR REGENT GREY LDR 1983 1986
JAGUAR ARCTIC BLUE JFE/337 1986 1987
JAGUAR AMARANTH PEARL KDK/1862 1997 2000
JAGUAR AMARANTH PEARL KDJ/862 1998 -
JAGUAR MAROON JSC158 1996 -
JAGUAR BLUE JSC156 1996 -
JAGUAR CORONADO JJS/2019 2003 -
JAGUAR AEGEAN/ADRIATIC BLUE MICA JJM 2001 -
JAGUAR ULTRA VIOLET PEARL JJF 2004 -
JAGUAR GUNmetaL PEARL LEH/740 1990 -
JAGUAR COTSWOLD YELLOW 212/FDE 1979 1980
JAGUAR JAGUAR RACING GREEN PEARL 1957/HGZ 2002 -
JAGUAR GREEN SAND 252/FDA 1973 1974
JAGUAR OLD ENGLISH WHITE 250/NDB 1958 1979
JAGUAR DENIM BLUE 249/JAH 1981 1982
JAGUAR CHAMPAGNE BEIGE 248/LMK 1981 1982
JAGUAR SILVER FROST 216/MDD 1979 1980
JAGUAR REGENCY RED 257/TDD 1958 1979
JAGUAR RED 271/CCF 1980 1984
JAGUAR WHITE PEARL 832/NDT 1993 1997
JAGUAR DAMSON RED 211/CDG 1981 1982
JAGUAR CORONADO 2019 2003 -
JAGUAR RADIANCE 1975 2004 -
JAGUAR STORM GREY MICA 1972 2004 -
JAGUAR SALSA 1964/CHA 2003 -
JAGUAR SAGE GREEN 314/HEG 1984 -
JAGUAR TUDOR WHITE 215/NDC 1981 1983
JAGUAR INDIGO 301/JEB 1980 1984
JAGUAR MINERAL BLUE 311/JEJ 1981 1982
JAGUAR CLARET 310/CEA 1981 1982
JAGUAR KINGFISHER 309/JED 1981 1982
JAGUAR SABLE 308/PDF 1981 1982
JAGUAR SAPPHIRE BLUE 307/JEC 1981 1982
JAGUAR CORONET GOLD 306/GDB 1981 1982
JAGUAR BRITISH RACING GREEN 254/HDJ 1976 1978
JAGUAR GARNET RED 303/CDN 1981 1982
JAGUAR ASPEN 1945/HGP 2002 -
JAGUAR GROSVENOR BROWN 298/AEB 1981 1982
JAGUAR SEBRING RED 287/CDJ 1981 1982
JAGUAR COBALT BLUE 286/JDM 1979 1982
JAGUAR RACING GREEN 281/HDN 1979 1982
JAGUAR SILVER SAND 280/GDA 1975 1982
JAGUAR MISTLETOE 278/HDK 1983 -
JAGUAR CARAMEL 275/ADA 1977 1982
JAGUAR EVERGREEN 304/HEF 1981 1982
JAGUAR MIDNIGHT PEARL 1959/PEF 2003 -
JAGUAR WESTMINSTER BLUE 1712/JHG 1998 -
JAGUAR SAPPHIRE BLUE 1806/JHE 1997 -
JAGUAR STEEL LEC 1985 1986
JAGUAR ANTHRACITE PEARL 1859/PED 2000 -
JAGUAR SLATE PEARL 1943/LHL 2001 -
JAGUAR ZIRCON 1927/JHV 2002 -
JAGUAR QUARTZ GREY 1926/LHK 2002 -
JAGUAR PHOENIX 1924/CAL 1998 -
JAGUAR PLATINUM 1916/MDZ 2000 -
JAGUAR EMERALD 1895/HGG 2002 -
JAGUAR SEAFROST PEARL 1860/MDV 1998 -
JAGUAR PORTLAND BEIGE 299/AEA 1981 1982
JAGUAR ANTHRACITE PEARL 1859/PED 1998 -
JAGUAR ANTIGUA PEARL 1840/JHH 1998 -
JAGUAR AQUAMARINE PEARL 1839/JHF 1998 -
JAGUAR SHERWOOD 1835/HGE 1998 -
JAGUAR SPRUCE GREEN PEARL 1823/HGL 1998 -
JAGUAR TITANIUM PEARL 1810/LGL 1998 -
JAGUAR SAPPHIRE BLUE 1806/JHE 2002 -
JAGUAR EMERALD 1895/HGG 1998 -
JAGUAR GUNmetaL PEARL 740/LEH 1990 -
JAGUAR TUSCANY BRONZE PEARL 754/SDD 1990 -
JAGUAR BROOKLANDS GREEN 753/HFG 1990 -
JAGUAR LIGHT OYSTER 751/SDE 1990 -
JAGUAR SILVER FROST 750/MDK 1992 1997
JAGUAR SIGNAL RED 748/CFC 1988 -
JAGUAR CHESTNUT 292/BDA 1979 1982
JAGUAR TUNGSTEN 718/JEX 1986 1987
JAGUAR REGENT GREY 315/LDR 1984 -
JAGUAR FLAMENCO PEARL 765/CFH 1991 1992
JAGUAR BLACK CHERRY PEARL 737/PDP 1990 1992
JAGUAR JADE GREEN PEARL 735/HEV 1990 -
JAGUAR REGENCY RED PEARL 734/CFA 1989 -
JAGUAR SPINDRIFT 732/NDM 1995 -
JAGUAR SAVOY GREY 731/LEK 1990 -
JAGUAR GLACIER WHITE 721/NDK 1988 -
JAGUAR SAPPHIRE 719/JEY 1985 1986
JAGUAR BLUE DIAMOND 743/JFN 1990 -
JAGUAR MAHOGANY 802/ANY 1993 1997
JAGUAR PEPPERMINT 831/HFM 1993 1997
JAGUAR TURQUOISE PEARL 827/UDB 1994 -
JAGUAR WARM GREY 826/LFC 1996 -
JAGUAR NAUTILUS PEARL 824/PDV 1994 -
JAGUAR SPRUCE GREEN PEARL 823/HFL 1994 -
JAGUAR ICE BLUE PEARL 821/MDP 1994 -
JAGUAR TOPAZ PEARL 820/SDN 1994 -
JAGUAR SANDSTONE 763/AGB 1993 1997
JAGUAR SAPPHIRE 806/JGE 1994 -
JAGUAR SATURN ORANGE 764/ANZ 1993 1997
JAGUAR CRYSTAL BLUE 799/JGH 1993 1997
JAGUAR STEEL GREY PEARL 783/LEV 1994 -
JAGUAR KINGFISHER 779/HFE 1992 1997
JAGUAR MOROCCO RED PEARL 778/CFG 1992 1997
JAGUAR PLATINUM 775/LEP 1992 1997
JAGUAR CRIMSON 772/CFF 1988 1989
JAGUAR GLACIER WHITE 742/NDP 1988 -
JAGUAR CARNIVAL RED PEARL 811/CFS 1995 -
JAGUAR TALISMAN SILVER 336/MDF 1986 1987
JAGUAR CLOVE 398/AMS 1981 1982
JAGUAR RHODIUM SILVER 396/MDE 1981 1982
JAGUAR SANDPIPER 345/AFL 1986 1987
JAGUAR AMARANTH 343/CEJ 1986 1987
JAGUAR DORCHESTER GREY 342/LDP 1986 1987
JAGUAR SOVEREIGN GOLD 341/GDF 1986 1987
JAGUAR OPALINE 423/HMW 1981 1982
JAGUAR MOORLAND GREEN 717/HET 1986 1987
JAGUAR ARCTIC BLUE 337/JFE 1986 1987
JAGUAR SATIN BEIGE 747/AGA 1988 -
JAGUAR GRENADIER RED 332/CEH 1986 1987
JAGUAR CLARENDON BLUE 326/JER 1983 1984
JAGUAR ANTELOPE 322/AFM 1984 -
JAGUAR CIRRUS GREY 320/ANC 1984 -
JAGUAR CRANBERRY 316/CEE 1981 1983
JAGUAR CLIPPER BLUE 338/JFC 1986 1987
JAGUAR JAGUAR RACING GREEN 705/HER 1985 1986
JAGUAR SOLENT BLUE 715/JFJ 1986 1987
JAGUAR CRIMSON 714/CEV 1986 1987
JAGUAR SAVOY GREY 713/LED 1986 1987
JAGUAR WESTMINSTER BLUE 712/JFG 1986 1987
JAGUAR SATIN BEIGE 711/AFV 1986 1987
JAGUAR ALPINE GREEN 709/HES 1986 1987
JAGUAR STEEL 708/LEC 1985 1986
JAGUAR MOONRAKER 424/JNF 1982 -
JAGUAR WINDSOR BLUE 706/JEV 1985 1986
JAGUAR SILVER BIRCH 716/MDJ 1986 1987
JAGUAR BLACK 333/PDH 1986 1987
JAGUAR CURLEW 704/AFT 1985 1986
JAGUAR DOVE GREY 702/LEB 1986 1987
JAGUAR JAGUAR RACING GREEN 701/HEN 1986 1987
JAGUAR NIMBUS WHITE 700/NDJ 1986 1987
JAGUAR ZIRCON 471/JMJ 1982 -
JAGUAR PRIMULA 442/FMP 1982 -