To Buy Car Touch Up Paint or Car Aerosol Spray Cans for your Nissan please


CLICK HERE

or

RETURN TO HOMEPAGE

Finding Your Nissan Paint Code

Nissan paint codes can be found under the bonnet on the bulk head (at the back) of the engine bay, other locations are the drivers door at the bottom of the door. Some Xtrail models and Tino models can be found in the footwell under the carpet cut out (near the handle that slides the seat back). A Nissan Color Code is typically 3 or 4 digits long, but can also be a letter/number combination.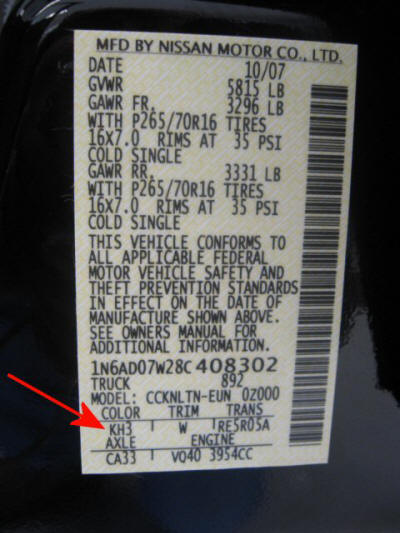 NISSAN ABYSSE GREEN Z33 2003 -
NISSAN AMARILLO RENFE 41A 1993 1994
NISSAN ANNIVERSARY GOLD CLR731 1984 -
NISSAN ANTARCTICA WHITE CLR911 1977 1979 - NISSAN ANTIQUE BRONZE CLR235 1990 1991
NISSAN ANTIQUE BRONZE CLR235 1990 1991
NISSAN ANTIQUE GOLD 513 1978 -
NISSAN APPLE GREEN PEARL JT0 1998 -
NISSAN AQUA BLUE PEARL B12 2002 -
NISSAN AQUAMARINE FROST DK2 1992 -
NISSAN AQUAMARINE FROST PN/DK2 1992 -
NISSAN AQUAMINT - - -
NISSAN ARNHEM IVORY CLR806 1974 1975 - NISSAN ARNHEM RED CLR318 1977 1978 - NISSAN ASPEN WHITE PEARL WK0 1994 1998
NISSAN ASTRO SILVER 09942 1983 1988
NISSAN ATHLETE SILVER KV2 1998 -
NISSAN ATLANTIS BLUE 452B 1996 -
NISSAN AUBERGINE LP4 1994 -
NISSAN AURORA GLOW 40512/371M 1988 -
NISSAN AUSSIE BLUE BL7 1991 1992
NISSAN AUSSIE RED AL5 1991 1992
NISSAN AUTUMN COPPER CS2 1998 -
NISSAN AUTUMN SUNBURST PEARL AR0 1996 -
NISSAN AZUL PARIS 51A 1991 1994
NISSAN AZURE BLUE 99242/463M 1985 1986
NISSAN AZURE GLOW CLR567 1990 -
NISSAN AZURITE 903 1971 -
NISSAN AZZURO 331B 1994 -
NISSAN BAHAMA BROWN CLR213 1981 1982
NISSAN BAHIA RED 465 2003 -
NISSAN BAROLO RED C71 2002 -
NISSAN BAY SIDE BLUE TV2 1999 -
NISSAN BEACON RED CLR319 1983 1985
NISSAN BEAUJOLAIS 80217/0511 1981 1982
NISSAN BEECH BRONZE 00011 1981 -
NISSAN BEIGE 031 1981 1982
NISSAN BEIGE EH0 1989 1990
NISSAN BEIGE 928 1980 -
NISSAN BEIGE 131 1981 1982
NISSAN BEIGE 130 1984 -
NISSAN BEIGE 422 1985 1986
NISSAN BEIGE 30 1981 1982
NISSAN BEIGE 451 1985 1986
NISSAN BEIGE CAVA 06A 1990 -
NISSAN BEIGE 575 1986 1987
NISSAN BEIGE CV2 1999 -
NISSAN BEIGE 010 1981 1982
NISSAN BEIGE CP1 1995 -
NISSAN BEIGE ES4 1998 -
NISSAN BEIGE CV4 2000 -
NISSAN BEIGE EV5 1998 -
NISSAN BEIGE 101 1981 1982
NISSAN BEIGE JK1 1991 1997
NISSAN BEIGE 449 1985 1986
NISSAN BEIGE CR0 1996 -
NISSAN BEIGE EV0 1998 -
NISSAN BEIGE MIST ES0 1998 -
NISSAN BEIGE PEARL CG4 1990 -
NISSAN BEIGE PEARL KX6 2002 -
NISSAN BEIGE SILK CK0 1991 -
NISSAN BEIGE WHITE 40 1981 1982
NISSAN BERMUDA BLUE BX2 2001 -
NISSAN BERRY RED MICA A14 2004 -
NISSAN BLACK GTO 1996 -
NISSAN BLACK KH3 1989 1990
NISSAN BLACK UA/GTO 1996 -
NISSAN BLACK 505 1980 1988
NISSAN BLACK GLOW CLR115 1987 1988
NISSAN BLACK 891 1981 1986
NISSAN BLACK 21A 1989 -
NISSAN BLACK 638 1980 -
NISSAN BLACK 532/N532 1985 1986
NISSAN BLACK 732 1991 1992
NISSAN BLACK GN0 1993 -
NISSAN BLACK 30704/0603 1988 -
NISSAN BLACK MICA Z11 2000 -
NISSAN BLACK OPAL CLR113 1988 -
NISSAN BLACK PEARL GV1 1998 -
NISSAN BLACKWATCH GREEN CLR633 1981 -
NISSAN BLUE 335 1984 1985
NISSAN BLUE Z39 2003 -
NISSAN BLUE B02 2001 -
NISSAN BLUE Z51 2003 -
NISSAN BLUE 489 2003 -
NISSAN BLUE 707 1988 -
NISSAN BLUE BY5 2001 -
NISSAN BLUE BT2 1996 -
NISSAN BLUE 934 1986 1987
NISSAN BLUE 734 1987 1992
NISSAN BLUE 688 1978 -
NISSAN BLUE 680 1981 1982
NISSAN BLUE 678 1979 -
NISSAN BLUE 252 1980 -
NISSAN BLUE BX5 2001 -
NISSAN BLUE BV7 1998 -
NISSAN BLUE 642 1979 1980
NISSAN BLUE 660 1986 1991
NISSAN BLUE 133 1983 -
NISSAN BLUE 2 MICA BS8 1997 -
NISSAN BLUE BLACK 826 1980 -
NISSAN BLUE FROST CLR541 1980 -
NISSAN BLUE GLOW CLR565 1989 1990
NISSAN BLUE GLOW CLR569 1990 -
NISSAN BLUE GREEN F20 2003 -
NISSAN BLUE GREEN CLR625 1976 -
NISSAN BLUE GREEN 514 1985 1991
NISSAN BLUE GREEN FN4 1993 1997
NISSAN BLUE GREEN DK6 1992 -
NISSAN BLUE GREEN FS0 1996 -
NISSAN BLUE GREY 553 1985 1986
NISSAN BLUE GREY 123 1985 1986
NISSAN BLUE GREY 003 1983 -
NISSAN BLUE LAPIS BK8 1993 -
NISSAN BLUE LIGHT CLR563 1989 -
NISSAN BLUE 20A 1989 -
NISSAN BLUE 715 1980 -
NISSAN BLUE BX4 2001 -
NISSAN BLUE LB01 1989 1993
NISSAN BLUE B16 2002 -
NISSAN BLUE BG2 1994 1998
NISSAN BLUE 212 1976 1980
NISSAN BLUE 231 1983 1984
NISSAN BLUE 241 1976 1977
NISSAN BLUE 595 1986 1987
NISSAN BLUE BW1 1999 -
NISSAN BLUE BX1 2001 -
NISSAN BLUE 115 1972 -
NISSAN BLUE BP0 1995 -
NISSAN BLUE BT3 1997 2000
NISSAN BLUE 364 1976 1977
NISSAN BLUE 924 1980 -
NISSAN BLUE 364/893 1979 -
NISSAN BLUE 621 1978 -
NISSAN BLUE BR2 1995 -
NISSAN BLUE BR8 1996 -
NISSAN BLUE BR9 1995 -
NISSAN BLUE 815 1979 2000
NISSAN BLUE 1W3 1999 -
NISSAN BLUE 334 1984 1985
NISSAN BLUE PEARL BL6 1991 -
NISSAN BLUE PEARL TV5 1998 -
NISSAN BLUE PEARL BT8 1998 -
NISSAN BLUE PEARL BT4 1998 -
NISSAN BLUE PEARL TH5 1989 1990
NISSAN BLUE PEARL TK3 1992 -
NISSAN BLUE PEARL B17 2002 -
NISSAN BLUE PEARL 728 1986 1988
NISSAN BLUE REEF GLOW CLR581 1992 -
NISSAN BLUE SILVER TH0 1993 -
NISSAN BLUE SMOKE 20215 1984 -
NISSAN BLUEISH BLACK BG8 1987 1992
NISSAN BLUEISH GREEN FJ1 1994 1998
NISSAN BLUEISH PURPLE PEARL BL1 1993 -
NISSAN BLUESTONE TJ1 1993 1997
NISSAN BLUISH BLACK MICA B20 2003 -
NISSAN BLUISH BLACK PEARL KJ6 1990 1992
NISSAN BLUISH GREEN MET FN1 1994 -
NISSAN BLUISH GREEN FJ1 1994 -
NISSAN BLUISH GREEN PEARL FN2 1994 -
NISSAN BLUISH GREEN PEARL FN2 1994 -
NISSAN BLUISH GREEN PEARL FN2 1994 -
NISSAN BLUISH GREY KN2 1994 -
NISSAN BLUISH SILVER KT2 1997 -
NISSAN BLUISH SILVER KG1 1987 2000
NISSAN BOREAL GREY 632 2003 -
NISSAN BRICK RED 80490 1985 -
NISSAN BRIGHT BLUE BX7 2001 -
NISSAN BRIGHT RED 526 1985 1986
NISSAN BRIGHT RED Z52 2003 -
NISSAN BRIGHT RED 719 2003 -
NISSAN BRIGHT YELLOW 411 1978 - - NISSAN BRILLIANT BLUE PEARL TV3 1999 -
NISSAN BRITISH RACING GREEN CLR623 1977 - - NISSAN BRONZE GRAY KX0 2001 -
NISSAN BRONZE EX1 2001 -
NISSAN BROWN CR1 1996 -
NISSAN BROWN 824 1980 -
NISSAN BROWN AJ0 1989 1991
NISSAN BROWN DARK OLIVE 332 1984 1985
NISSAN BROWN GREY 331 1984 1985
NISSAN BROWN GREY 215 1983 1984
NISSAN BROWN 842 1980 -
NISSAN BROWN 134 1973 -
NISSAN BROWN CY0 2000 -
NISSAN BROWN 114 1972 -
NISSAN BROWN CG0 1987 1990
NISSAN BROWN 810 1980 1982
NISSAN BROWN 236 1976 1977
NISSAN BROWN LC07 1989 1993
NISSAN BROWN 07A 1990 -
NISSAN BROWN 609 1979 -
NISSAN BROWN 942 1971 1972
NISSAN BROWN PEARL CK1 1991 1992
NISSAN BROWN PEARL CR2 1996 -
NISSAN BROWN PEARL CP2 1995 -
NISSAN BROWN PEARL C15 2002 -
NISSAN BROWN SILVER CJ7 1989 1997
NISSAN BROWNISH GREY K22 2003 -
NISSAN BROWNISH GREY AG0 1987 -
NISSAN BROWNISH GREY CK5 1991 -
NISSAN BROWNISH ORANGE R12 2003 -
NISSAN BUMPER GREY 31076 1990 1991
NISSAN BURBERRY AW7 2000 -
NISSAN BURGUNDY GLOW CLR321 1986 1988
NISSAN BURGUNDY PEARL AH2 1990 -
NISSAN BURGUNDY WINE PEARL AL0 1992 -
NISSAN BURGUNDY WINE PEARL ALO 1992 1997
NISSAN BURNT CHERRY PEARL AX0 2001 -
NISSAN BURNT ORANGE CLR222 1984 1985
NISSAN CABERNET PEARL CLR327 1989 1990
NISSAN CABERNET PEARL CLR333 1990 -
NISSAN CAFE LATE C30 2004 -
NISSAN CALYPSO RED JX 1995 1999
NISSAN CANE BEIGE 50768 1984 -
NISSAN CANTEEN GREEN D13 2003 -
NISSAN CARAMEL BROWN PEARL CT0 1998 -
NISSAN CARNATION RED 312/521 1962 1964 - NISSAN CASABLANCA WHITE D13 2002 -
NISSAN CASCADE BLUE CLR540 1980 -
NISSAN CASPIAN GREEN 351B 1996 -
NISSAN CENTURY GREEN DX1 2000 2002
NISSAN CHAMOIS GLOW CLR820 1989 1990
NISSAN CHAMOIS EY1 2002 -
NISSAN CHAMPAGNE GLOW CLR814 1986 1988
NISSAN CHAMPAGNE GLOW CLR814 1986 1988
NISSAN CHAMPAGNE OYSTER 80241 1983 1984
NISSAN CHARCOAL GREEN PEARL JJ1 1999 -
NISSAN CHARCOAL GREEN PEARL JT1 1999 -
NISSAN CHARCOAL 30446/552M 1984 1986
NISSAN CHARCOAL 511B 1991 -
NISSAN CHARCOAL MIST KS0 1998 -
NISSAN CHARTREUSE 615 1978 -
NISSAN CHATEAU PEARL /RED PEARL 643B/92320 1995 -
NISSAN CHATEAU PEARL /RED PEARL 92320/643B 1995 -
NISSAN CHATEAU SILVER 99237 1985 -
NISSAN CHESTNUT BROWN PEARL CV7 2000 -
NISSAN CHIANTI RED LP5 1995 -
NISSAN CHINA BLUE BW8 1999 -
NISSAN CINNAMON SPICE CLR217 1981 1982
NISSAN CINNAMON SPICE CK3 1992 1994
NISSAN CLASSIC WHITE 171S/10046 1987 -
NISSAN CLASSIC WHITE CLR915 1980 1988
NISSAN CLAY CW0 1999 -
NISSAN CLEAR RED AR1 1997 -
NISSAN COCOON GREEN MICA D30 2004 -
NISSAN COLONIAL RED 6645/80571 1987 -
NISSAN COMMERCIAL BLUE 652 1970 1973
NISSAN COMO BLUE BY1 2003 -
NISSAN COMO BLUE BY1 2001 -
NISSAN COPPER GLOW CLR212 1980 -
NISSAN COPPER C10 2004 -
NISSAN COPPER 930 1981 -
NISSAN COPPER 80251/653M 1985 -
NISSAN COPPER 620 1978 -
NISSAN COPPER ORANGE PEARL RT2 1998 -
NISSAN CORNFLOWER BLUE T12 2002 -
NISSAN CRANBERRY PEARL AT4 1998 -
NISSAN CRANBERRY PEARL AT4 2000 -
NISSAN CREAM 685 1980 -
NISSAN CREAM 206 1974 1975 - NISSAN CRIMSON RED AL4 1991 -
NISSAN CRYSTALLINE 495B/52672 1991 1993
NISSAN CYPRESS GREEN CLR620 1992 -
NISSAN DARK BLUE 040 1984 1985
NISSAN DARK BLUE 111 1984 1985
NISSAN DARK BLUE 544 1985 1986
NISSAN DARK BLUE 576 1986 -
NISSAN DARK BLUE 518 1976 1984
NISSAN DARK BLUE TJ0 1990 -
NISSAN DARK BLUE BS4 1997 -
NISSAN DARK BLUE GREEN 496 1985 1986
NISSAN DARK BLUE 462 1986 1987
NISSAN DARK BLUE BV5 1998 -
NISSAN DARK BLUE 3H4/BG7 1988 -
NISSAN DARK BLUE 232 1983 1984
NISSAN DARK BLUE CLR554 1985 1986
NISSAN DARK BLUE 124 1981 1982
NISSAN DARK BLUE BG7 1988 -
NISSAN DARK BLUE BS0 1996 -
NISSAN DARK BLUE BGO 1990 -
NISSAN DARK BLUE 245 1984 1987
NISSAN DARK BLUE MICA B31 2004 -
NISSAN DARK BLUE MICA BW6 1999 -
NISSAN DARK BLUE PEARL BJ9 1989 1990
NISSAN DARK BLUE PEARL TH2 1989 1992
NISSAN DARK BLUE PEARL BW9 1999 -
NISSAN DARK BLUE PEARL 724 1993 -
NISSAN DARK BLUE PEARL BW5 1999 -
NISSAN DARK BLUE PEARL BM1 1992 -
NISSAN DARK BLUE PEARL BM8 1993 -
NISSAN DARK BLUE PEARL BN6 1994 2000
NISSAN DARK BLUE PEARL BP9 1995 -
NISSAN DARK BLUE PEARL TH1 1989 -
NISSAN DARK BLUE PEARL BS3 1996 -
NISSAN DARK BLUE PEARL TH1 2001 -
NISSAN DARK BLUE PEARL BJ4 1990 1993
NISSAN DARK BLUE PEARL J724/20827 1990 -
NISSAN DARK BROWN 015 1981 1982
NISSAN DARK BROWN 466 1985 1986
NISSAN DARK BROWN 817 1979 1986
NISSAN DARK BROWN PEARL CV6 1998 -
NISSAN DARK GRAY 545 1985 1990
NISSAN DARK GRAY KG2 1991 -
NISSAN DARK GRAY PEARL KP1 1995 -
NISSAN DARK GRAY PEARL KK0 1991 2000
NISSAN DARK GRAYISH BLUE PEARL BM3 1993 -
NISSAN DARK GRAYISH PURPLE PEARL LP6 1995 -
NISSAN DARK GREEN BLUE PEARL BN0 1995 -
NISSAN DARK GREEN DHO 1993 1997
NISSAN DARK GREEN DK1 1991 1996
NISSAN DARK GREEN 816 1979 -
NISSAN DARK GREEN DH0 1993 -
NISSAN DARK GREEN FP0 1994 1998
NISSAN DARK GREEN 021 1981 1982
NISSAN DARK GREEN 228 1983 1984
NISSAN DARK GREEN 423 1985 1986
NISSAN DARK GREEN 240 1976 1977
NISSAN DARK GREEN 174 1978 -
NISSAN DARK GREEN MICA DT2 1997 -
NISSAN DARK GREEN PEARL DP0 1994 -
NISSAN DARK GREEN PEARL JV0 1998 -
NISSAN DARK GREEN PEARL DP0 1994 -
NISSAN DARK GREEN PEARL DR3 1995 -
NISSAN DARK GREEN PEARL DP0 1994 -
NISSAN DARK GREEN PEARL DV3 1998 -
NISSAN DARK GREY 933 1980 -
NISSAN DARK GREY BLUE 448 1985 1986
NISSAN DARK GREY 578 1986 1987
NISSAN DARK GREY 247 1984 1986
NISSAN DARK GREY 720 1979 -
NISSAN DARK GREY KH2 1989 1990
NISSAN DARK GREY 027 1981 1983 - NISSAN DARK GREY KI0 1990 1995
NISSAN DARK GREY 128 1973 -
NISSAN DARK GREY 606 1978 -
NISSAN DARK GREY 418 1985 1990
NISSAN DARK GREY KN8 1993 -
NISSAN DARK GREY 463/3H4 1985 1986
NISSAN DARK GREY 218 1983 1984
NISSAN DARK GREY 3H4/463 1988 1990
NISSAN DARK GREY 12874 1992 -
NISSAN DARK GREY PEARL KT4 1998 -
NISSAN DARK GREY PEARL KJ5 1991 1996
NISSAN DARK GREY PEARL KH4 1989 1994
NISSAN DARK GREYISH GREEN DR4 1995 2000
NISSAN DARK MAROON 931 1981 1991
NISSAN DARK OLIVE GREEN PEARL JS1 1996 -
NISSAN DARK OLIVE PEARL ES1 1996 -
NISSAN DARK PORTOFINO BLUE PEARL BP5 1994 -
NISSAN DARK PURPLE LG0 1987 1992
NISSAN DARK PURPLE PEARL LP2 1995 -
NISSAN DARK PURPLE PEARL LR3 1995 -
NISSAN DARK PURPLISH BLUE PEARL KN6 1994 -
NISSAN DARK RED 328 1984 1985
NISSAN DARK RED 808 1979 -
NISSAN DARK RED BROWN CL2 1992 1995
NISSAN DARK RED BROWN PEARL CM0 1993 -
NISSAN DARK RED 329 1984 1985
NISSAN DARK RED 723 1988 -
NISSAN DARK RED 643 1986 1987
NISSAN DARK RED PEARL AJ6 1991 1993
NISSAN DARK REDDISH BROWN AH6 1988 1990
NISSAN DARK REDDISH PURPLE PEARL LN0 1994 -
NISSAN DARK SHADOW GREY KX5 2001 -
NISSAN- DARK TOURMALINE PEARL FS1 1998 -
NISSAN DARK WINE 011 1981 1982
NISSAN DARK YELLOW EH3 1993 1997
NISSAN DARK YELLOW GREEN JK0 1993 -
NISSAN DEEP AQUA 157 1973 -
NISSAN DEEP BRONZE GREEN CLR606 1980 -
NISSAN DEEP GREEN 141 1974 1975
NISSAN DEEP PLUM 201 1973 -
NISSAN DEEP RED 80274/661M 1986 -
NISSAN DEEP RED PEARL AH1 1989 1997
NISSAN DEEP ROSE PINK PEARL AT9 1997 -
NISSAN DEEP SHERBROOKE GREEN CLR634 1980 -
NISSAN DEEP SILVER (MK 11) CLR040 1981 -
NISSAN DEEP SILVER CLR038 1980 -
NISSAN DEEP VIOLET LR1 1995 -
NISSAN DEEP WATER BLUE MICA B18 2004 -
NISSAN DEEP WEDGEWOOD KT5 1998 -
NISSAN DELFT BLUE 471/567 1964 1972 - NISSAN DESERT GLOW CLR223 1986 1987
NISSAN DESERT MIST 7996/0303 1981 -
NISSAN DESERT VIOLET PEARL JC 1997 2000
NISSAN DIAMOND LUSTRE CLR042 1983 -
NISSAN DRIFTWOOD GLAZE CLR819 1989 1990
NISSAN DUBLIN GREEN 40986/301B 1991 -
NISSAN ELECTRIC CURRENT RED PEARL AK1 1992 -
NISSAN EMERALD JK2 1991 1992
NISSAN EMERALD 322B 1992 1997
NISSAN EMERALD PEARL CLR643 1992 -
NISSAN E-MOTION RED MICA A32 2004 -
NISSAN ENIGMA PEARL 92815 1996 -
NISSAN EVERGREEN FROST DP2 1995 -
NISSAN FIREGLOW RED 80249 1985 -
NISSAN FLAMINGO RED 905 1971 1979
NISSAN FLARE RED AY2 2002 -
NISSAN FOREST GREEN DW6 2000 -
NISSAN FRENCH BLUE CLR564 1988 1989
NISSAN FRENCH BLUE 20171/0716 1983 -
NISSAN FROSTED LIME MINT 40433/351M 1984 -
NISSAN FROSTY GOLD CT6 1998 -
NISSAN FROSTY WHITE 01847/151S 1982 1983
NISSAN FUJI WHITE CLR914 1974 1975 - NISSAN GALAXY MICA G10 2004 -
NISSAN GARNET GLOW 80616/681B 1988 -
NISSAN GARNET LUSTRE CLR366 1983 -
NISSAN GARNET PEARL AS1 1996 -
NISSAN GLACIER SILVER KY4 2001 -
NISSAN GLACIER WHITE KK2 1992 -
NISSAN GLADE 40868/373B 1987 -
NISSAN GOLD 906 1972 -
NISSAN GOLD 333 1984 1985
NISSAN GOLD 938 1971 1972 - NISSAN GOLD 246 1984 1987
NISSAN GOLD CLR224 1986 1987
NISSAN GOLD 959 1971 1972
NISSAN GOLD 545 1966 - - NISSAN GOLD 653 1979 -
NISSAN GOLD 690 1979 -
NISSAN GOLD 827 1981 1982
NISSAN GOLD 806 1970 -
NISSAN GOLD 026 1973 -
NISSAN GOLD PEARL ER4 1995 -
NISSAN GOLD PEARL EJ3 1994 -
NISSAN GOLDEN BRONZE 947 1971 1972
NISSAN GOLDEN CHESTNUT CLR234 1990 -
NISSAN GOLDEN CHESTNUT CLR233 1989 1990
NISSAN GOLDEN GLOW CLR228 1987 -
NISSAN GOLDEN SAND 517 1976 1977
NISSAN GOLDEN SANDS CK0 1991 -
NISSAN GRAPHITE BLUE BV2 1998 -
NISSAN GRAPHITE GREY PEARL KL1 1992 -
NISSAN GRAY KP0 1997 -
NISSAN GRAYISH BLUE BL3 1991 -
NISSAN GRAYISH BLUE TH4 1989 1994
NISSAN GRAYISH BLUE PEARL FK1 1991 2000
NISSAN GRAYISH BLUE PEARL BM5 1993 -
NISSAN GRAYISH BROWN C31 2004 -
NISSAN GRAYISH GREEN DN0 1994 -
NISSAN GRAYISH GREEN DJ4 1990 1991
NISSAN GRAYISH GREEN PEARL JM0 1993 -
NISSAN GRAYISH PINK AG1 1987 1991
NISSAN GRAYISH PURPLE LP1 1995 -
NISSAN GRAYISH RED PEARL AL1 1991 1992
NISSAN GREEN 612 1980 -
NISSAN GREEN DX4 2001 -
NISSAN GREEN 661 1979 -
NISSAN GREEN 684 1979 -
NISSAN GREEN 930 1970 - - NISSAN GREEN BLUE BY6 2002 -
NISSAN GREEN DARK GREY 340 1984 1985
NISSAN GREEN GREY 327 1984 1985
NISSAN GREEN DJ2 1992 -
NISSAN GREEN DX5 2001 -
NISSAN GREEN CLR635 1983 -
NISSAN GREEN 242 1974 1975
NISSAN GREEN 40257/0809 1981 -
NISSAN GREEN DR6 1996 -
NISSAN GREEN DP1 1998 -
NISSAN GREEN 113 1972 -
NISSAN GREEN DP1 1994 1998
NISSAN GREEN DJ2 1992 1997
NISSAN GREEN DH6 1989 1990
NISSAN GREEN 243 1974 1975
NISSAN GREEN J31 2004 -
NISSAN GREEN J21 2004 -
NISSAN GREEN 818 1980 -
NISSAN GREEN FV2 1999 -
NISSAN GREEN FX0 2000 -
NISSAN GREEN D10 2002 -
NISSAN GREEN 235 1983 1991
NISSAN GREEN [VERIDIAN] DR5 1995 -
NISSAN GREEN MICA D31 2004 -
NISSAN GREEN PEARL DN1 1994 -
NISSAN GREEN PEARL JM1 1993 -
NISSAN GREEN PEARL DR2 1998 -
NISSAN GREEN PEARL DR2 1995 -
NISSAN GREEN PEARL DW0 1999 -
NISSAN GREEN PEARL DW2 2000 -
NISSAN GREEN SILVER DT1 1998 -
NISSAN GREEN SILVER 515 1985 1986
NISSAN GREEN TEA D11 2004 -
NISSAN GREENISH BLUE BN3 1994 2000
NISSAN GREENISH BLUE PEARL BM9 1993 -
NISSAN GREENISH BLUE PEARL FL1 1993 -
NISSAN GREENISH GRAY KV3 1998 -
NISSAN GREENISH GREY KR5 1996 -
NISSAN GREENISH GREY PEARL KR6 1997 -
NISSAN GREENISH SILVER DH3 1992 -
NISSAN GREENISH SILVER K20 2004 -
NISSAN GREENISH SILVER WK2 1992 1997
NISSAN GREENISH SILVER DH4 1989 1993
NISSAN GREY BLUE BJ3 1992 -
NISSAN GREY BLUE 109 1981 1982
NISSAN GREY BLUE PEARL BL0 1993 -
NISSAN GREY BROWN 209 1984 1985
NISSAN GREY GREEN DL0 1992 -
NISSAN GREY GREEN 628 1993 -
NISSAN GREY 028 1981 1982
NISSAN GREY 700 1971 1972
NISSAN GREY 19A 1989 1992
NISSAN GREY 943 1971 1972
NISSAN GREY K21 2004 -
NISSAN GREY LK10 1991 -
NISSAN GREY KG3 1987 1994
NISSAN GREY KJ4 1988 1992
NISSAN GREY KT6 1998 -
NISSAN GREY KM1 1993 -
NISSAN GREY KR2 1996 -
NISSAN GREY KK1 1991 1994
NISSAN GREY PEARL KS1 1996 -
NISSAN GREY SILVER BEIGE 490 1985 -
NISSAN GREYISH BEIGE BROWN PEARL ET1 1998 -
NISSAN GREYISH BEIGE ES6 2002 -
NISSAN GREYISH BEIGE ES6 1997 -
NISSAN GREYISH BLUE TG1 1988 1991
NISSAN GREYISH BLUE BG1 1987 1991
NISSAN GREYISH BLUE 233 1984 1989
NISSAN GREYISH BLUE PEARL BR5 1996 -
NISSAN GREYISH BLUE STORM TG0 1987 1992
NISSAN GREYISH BLUISH GREEN FN3 1994 -
NISSAN GREYISH BROWN C16 2003 -
NISSAN GREYISH BROWN CG3 1988 -
NISSAN GREYISH BROWN CG6 1988 1992
NISSAN GREYISH DARK BLUE BG4 1987 1989
NISSAN GREYISH GREEN DG1 1993 -
NISSAN GREYISH GREEN 12624 1992 -
NISSAN GREYISH GREEN DS0 1997 -
NISSAN GREYISH PURPLE LS7 1996 -
NISSAN GREYISH SILVER PEARL FL0 1993 -
NISSAN GREYSTONE 30665/571M 1986 -
NISSAN- GUINEA GOLD CLR728 1980 -
NISSAN GUNSMOKE 20335 1986 1988
NISSAN GYMPIE GOLD CLR721 1974 1977 - NISSAN-DATSUN HARBOUR BLUE CLR530 1974 1975
NISSAN-DATSUN HARVEST GOLD ET2 1999 -
NISSAN-DATSUN HAZE BLUE 129 1972 -
NISSAN-DATSUN HERB GREEN DN3 1994 -
NISSAN-DATSUN HONEY GOLD 50746/CLR726 1979 -
NISSAN-DATSUN ICE WHITE Z09 2003 -
NISSAN-DATSUN ICEBURG GREY Z20 2003 -
NISSAN-DATSUN ICEMINT 372B 1997 -
NISSAN-DATSUN IMPULSE YELLOW EV2 1999 -
NISSAN-DATSUN INTENSE BLUE PEARL BV4 1998 -
NISSAN-DATSUN IRONSTONE GLOW CLR085 1990 1991
NISSAN-DATSUN IRONSTONE DL2 1993 1997
NISSAN-DATSUN IVORY EJ1 1989 1991
NISSAN-DATSUN IVORY GLOW CLR813 1986 1987
NISSAN-DATSUN JADE LUSTRE CLR638 1983 -
NISSAN-DATSUN JAVA BLUE PEARL TP1 1995 2000
NISSAN-DATSUN JEWEL GREEN PEARL DK3 1989 1992
NISSAN-DATSUN JEWEL GREEN PEARL PA/DK3 1989 1992
NISSAN-DATSUN JINDABYNE BLUE CLR534 1977 1978
NISSAN-DATSUN JUBILEE BLUE CLR538 1979 -
NISSAN-DATSUN KATOOMBA BLUE CLR533 1977 1978 - NISSAN-DATSUN KHAKI J12 2003 -
NISSAN-DATSUN KHAKI CV9 2000 -
NISSAN-DATSUN KING BLUE Z25 2003 -
NISSAN-DATSUN KRETA BLUE BY7 2002 -
NISSAN-DATSUN KUBOKO WHITE 15200 1989 -
NISSAN-DATSUN LAGOON BLUE CLR560 1987 1988
NISSAN-DATSUN LAPISGREY WK4 1991 1992
NISSAN-DATSUN LAVA AW6 2000 -
NISSAN-DATSUN LAVENDER 023 1981 1986
NISSAN-DATSUN LAZULI BLUE Z01 2000 2002
NISSAN-DATSUN LEAF 719 1980 -
NISSAN-DATSUN LEMANS ORANGE PEARL A17 2002 -
NISSAN-DATSUN LEMON YELLOW Z53 2003 -
NISSAN-DATSUN LIGHT BEIGE PEARL CM1 1993 -
NISSAN-DATSUN LIGHT BLUE 20493 1987 -
NISSAN-DATSUN LIGHT BLUE 646 1979 -
NISSAN-DATSUN LIGHT BLUE BS5 1997 -
NISSAN-DATSUN LIGHT BLUE B10 2002 -
NISSAN-DATSUN LIGHT BLUE BR6 1996 -
NISSAN-DATSUN LIGHT BLUE BS6 1998 -
NISSAN-DATSUN LIGHT BLUE BV3 1998 -
NISSAN-DATSUN LIGHT BLUE 305 1979 -
NISSAN-DATSUN LIGHT BLUE T11 2003 -
NISSAN-DATSUN LIGHT BLUE TV1 1998 -
NISSAN-DATSUN LIGHT BLUE 510 1979 -
NISSAN-DATSUN LIGHT BLUE 106 1981 1982
NISSAN-DATSUN LIGHT BLUE BJ0 1988 1995
NISSAN-DATSUN LIGHT BLUE BJ8 1992 -
NISSAN-DATSUN LIGHT BLUE TH3 1993 -
NISSAN-DATSUN LIGHT BLUE 426 1985 1986
NISSAN-DATSUN LIGHT BLUE BN5 1994 -
NISSAN-DATSUN LIGHT BLUE PEARL BX9 2002 -
NISSAN-DATSUN LIGHT BLUE PEARL TT2 1998 -
NISSAN-DATSUN LIGHT BLUISH GREEN FV3 1998 -
NISSAN-DATSUN LIGHT BROWN 921 1980 -
NISSAN-DATSUN LIGHT BROWN 257 1973 -
NISSAN-DATSUN LIGHT BROWN 51025/761M 1986 -
NISSAN-DATSUN LIGHT BROWN 301 1974 1975
NISSAN-DATSUN LIGHT BROWN 420 1985 1986
NISSAN-DATSUN LIGHT BROWN 811 1980 -
NISSAN-DATSUN LIGHT BROWN PEARL CN0 1993 -
NISSAN-DATSUN LIGHT BROWN PEARL CL0 1991 1993
NISSAN-DATSUN LIGHT BROWN PEARL CJ0 1992 -
NISSAN-DATSUN LIGHT CHARCOAL KV0 1999 -
NISSAN-DATSUN LIGHT CRYSTAL BLUE FROST BK0/MD 1992 -
NISSAN-DATSUN LIGHT CRYSTAL BLUE FROST MD/BK0 1992 -
NISSAN-DATSUN LIGHT CRYSTAL BLUE MA/BK1 1992 1994
NISSAN-DATSUN LIGHT CRYSTAL BLUE BK1 1992 -
NISSAN-DATSUN LIGHT DRIFTWOOD 218 1974 1975 - NISSAN-DATSUN LIGHT GOLD MET E23 2003 -
NISSAN-DATSUN LIGHT GOLD 159 1973 -
NISSAN-DATSUN LIGHT GOLD E12 2002 -
NISSAN-DATSUN LIGHT GOLD EJ0 1988 1992
NISSAN-DATSUN LIGHT GOLD 480 1985 1986
NISSAN-DATSUN LIGHT GOLD EM0 1993 -
NISSAN-DATSUN LIGHT GOLD PEARL EY0 2000 -
NISSAN-DATSUN LIGHT GOLD PEARL CH2 1988 1990
NISSAN-DATSUN LIGHT GOLD PEARL 656 1986 1987
NISSAN-DATSUN LIGHT GRAY KJ0 1989 1992
NISSAN-DATSUN LIGHT GREEN 40501/371M 1987 1988
NISSAN-DATSUN LIGHT GREEN 135 1973 -
NISSAN-DATSUN LIGHT GREEN 104 1981 1982
NISSAN-DATSUN LIGHT GREEN 601 1978 -
NISSAN-DATSUN LIGHT GREEN DV7 1999 -
NISSAN-DATSUN LIGHT GREEN 716 1978 1986
NISSAN-DATSUN LIGHT GREEN JP0 1994 -
NISSAN-DATSUN LIGHT GREEN DN2 1994 -
NISSAN-DATSUN LIGHT GREEN MICA D22 2003 -
NISSAN-DATSUN LIGHT GREEN PEARL FG0 1994 -
NISSAN-DATSUN LIGHT GREY KJ7 1990 1992
NISSAN-DATSUN LIGHT GREY DJ3 1993 1997
NISSAN-DATSUN LIGHT GREY YELLOW PEARL EM1 1993 -
NISSAN-DATSUN LIGHT MOCHA FROST CK3 1992 -
NISSAN-DATSUN LIGHT OCEAN BLUE PEARL BS1 1997 2000
NISSAN-DATSUN LIGHT OLIVE E20 2003 -
NISSAN-DATSUN LIGHT ORANGE CH1 1988 1992
NISSAN-DATSUN LIGHT PARCHMENT GOLD PEARL YV0 2001 -
NISSAN-DATSUN LIGHT PINK RH2 1988 1990
NISSAN-DATSUN LIGHT PURPLE LX1 2000 -
NISSAN-DATSUN LIGHT PURPLE LV2 1998 -
NISSAN-DATSUN LIGHT REDDISH BROWN AH8 1988 1990
NISSAN-DATSUN LIGHT SAPPHIRE LUSTRE CLR549 1983 -
NISSAN-DATSUN LIGHT SILVER BLUE BG9 1990 -
NISSAN-DATSUN LIGHT SILVER KY1 2002 -
NISSAN-DATSUN LIGHT TURQUOISE FW0 1999 -
NISSAN-DATSUN LIGHT TURQUOISE 229 1983 1984
NISSAN-DATSUN LIGHT VIOLET BM7 1993 -
NISSAN-DATSUN LIGHT VIOLET PEARL BN7 1994 -
NISSAN-DATSUN LIGHT YELLOW EW2 1999 -
NISSAN-DATSUN LIGHT YELLOW 511 1990 1992
NISSAN-DATSUN LIGHTENING YELLOW EV1 1998 -
NISSAN-DATSUN MACAROON 70268/671M 1987 -
NISSAN-DATSUN MAGMA RED C70 2003 -
NISSAN-DATSUN MAGMA RED Z35 2003 -
NISSAN-DATSUN MALLARD GREEN FP2 1995 -
NISSAN-DATSUN MARINE GLOW CLR641 1987 -
NISSAN-DATSUN MARINE GREEN DV8 1999 -
NISSAN-DATSUN MAROON AK4 1992 -
NISSAN-DATSUN MAROON 237 1976 1977
NISSAN-DATSUN MAROON PEARL 627 1990 -
NISSAN-DATSUN MAYA CLR723 1974 1975
NISSAN-DATSUN MEDIUM BLUE CLR551 1983 -
NISSAN-DATSUN MEDIUM BLUE 138 1973 -
NISSAN-DATSUN MEDIUM BLUE BV0 1999 -
NISSAN-DATSUN MEDIUM BLUE B21 2003 -
NISSAN-DATSUN MEDIUM BLUE PEARL BW2 2000 -
NISSAN-DATSUN MEDIUM BRONZE 324 1976 1977
NISSAN-DATSUN MEDIUM BROWN 468 1985 1986
NISSAN-DATSUN MEDIUM GREEN 136 1973 -
NISSAN-DATSUN MEDIUM GREY KV1 1999 -
NISSAN-DATSUN MEDIUM LIGHT AUBERGINE LP4 1995 -
NISSAN-DATSUN MEDIUM MOCHA CK4 1989 1992
NISSAN-DATSUN MEDIUM PLATINUM KK4 1992 -
NISSAN-DATSUN MERCURY 70967 1994 1995
NISSAN-DATSUN MEXICAN RED PEARL CK7 1992 -
NISSAN-DATSUN MICA 901 1971 - - NISSAN-DATSUN MIDNIGHT - DARK BLUE 20325/461M 1986 -
NISSAN-DATSUN MIDNIGHT BLACK GL1 1991 1994
NISSAN-DATSUN MIDNIGHT BLACK D68 2003 -
NISSAN-DATSUN MIDNIGHT GLOW CLR554 1986 1987
NISSAN-DATSUN MINERAL TV4 1999 -
NISSAN-DATSUN MINT GLOW CLR639 1986 1987
NISSAN-DATSUN MIST GREEN 321B 1992 1993
NISSAN-DATSUN MIST SILVER KW0 1999 -
NISSAN-DATSUN MOLTEN LAVA MICA AY3 2003 -
NISSAN-DATSUN MONARCO BROWN CLR210/5034 1977 1979
NISSAN-DATSUN MOODY BLUE BS7 1998 -
NISSAN-DATSUN MOONSTONE 70083/772B 1987 -
NISSAN-DATSUN MOUSSE GREEN Z38 2003 -
NISSAN-DATSUN MOUSSE GREEN D90 2003 -
NISSAN-DATSUN MYSTIC GREEN PEARL Z13 2002 -
NISSAN-DATSUN NAVARA GOLD 120C 1986 1987
NISSAN-DATSUN NEPTUNE FY0 2002 -
NISSAN-DATSUN NEW BEIGE CX0 2001 -
NISSAN-DATSUN NEW BEIGE CV0 2000 -
NISSAN-DATSUN NEW BLUE B14 2004 -
NISSAN-DATSUN NEW BLUE BX6 2001 -
NISSAN-DATSUN NEW MEDIUM BLUE BT1 1998 -
NISSAN-DATSUN NEW RED PEARL AX2 2001 -
NISSAN-DATSUN NEW ROMA RED MICA A31 2004 -
NISSAN-DATSUN NEW SAGE J20 2004 -
NISSAN-DATSUN NIGHT GLOW CLR642 1987 -
NISSAN-DATSUN NIKAU/COLUMBIA GREEN PEARL 371 1997 -
NISSAN-DATSUN NISSAN SILVER 09911/551M 1980 1981
NISSAN-DATSUN NORFOLK GREEN 92300 1996 1997
NISSAN-DATSUN NOUVEAU RED II 611B 1993 -
NISSAN-DATSUN NUGGET BROWN CLR211 1980 -
NISSAN-DATSUN NULLABOR BROWN CLR203 1974 1975
NISSAN-DATSUN OBASAN WHITE 01914/0204 1981 -
NISSAN-DATSUN OBSIDIAN KH3 1988 -
NISSAN-DATSUN OCEAN BLUE PEARL BS2 1997 2000
NISSAN-DATSUN OCEAN GLOW CLR551 1991 1995
NISSAN-DATSUN OCEAN GREEN D92 2003 -
NISSAN-DATSUN OCEAN GREEN Z42 2003 -
NISSAN-DATSUN OCHRE YV2 2000 -
NISSAN-DATSUN OLINDA GREEN CLR630 1979 - - NISSAN-DATSUN OLIVE 597 1986 1987
NISSAN-DATSUN OLIVE GRAY JS2 1997 -
NISSAN-DATSUN OLIVE GREEN 472 1985 1986
NISSAN-DATSUN OLIVE GREEN J10 2002 -
NISSAN-DATSUN OLIVE GREEN 944 1971 1972
NISSAN-DATSUN OLIVE GREEN PEARL JP2 1996 -
NISSAN-DATSUN OLIVE GREEN PEARL YV3 2000 -
NISSAN-DATSUN OLIVE GREY DJ0 1989 -
NISSAN-DATSUN OLIVE ET7 1997 -
NISSAN-DATSUN OLIVE EV4 1998 -
NISSAN-DATSUN OLIVE CLR624 1974 1975
NISSAN-DATSUN OLIVE JR0 1995 -
NISSAN-DATSUN OPAL GREY 541B/545 1994 1995
NISSAN-DATSUN ORANGE Z48 2003 -
NISSAN-DATSUN ORANGE A10 2002 -
NISSAN-DATSUN ORANGE 031 2002 -
NISSAN-DATSUN ORANGE 806 1980 -
NISSAN-DATSUN ORANGE RH6 1992 1995
NISSAN-DATSUN ORANGE 415 1994 1998
NISSAN-DATSUN ORANGE 014 1981 1982
NISSAN-DATSUN ORANGE 224 1983 1984
NISSAN-DATSUN ORANGE R10 2002 -
NISSAN-DATSUN ORANGE MICA [BACKGROUND] A30 2004 -
NISSAN-DATSUN ORANGE MICA [TOPCOAT] A30 2004 -
NISSAN-DATSUN ORANGE YELLOW YV1 1998 -
NISSAN-DATSUN OXFORD WHITE QS0 1990 -
NISSAN-DATSUN PACIFIC BLUE BX2 2003 -
NISSAN-DATSUN PACIFIC GLOW CLR553 1986 1987
NISSAN-DATSUN PALE GREEN 156 1973 -
NISSAN-DATSUN PALE LILAC 169 1973 -
NISSAN-DATSUN PALE PLUM LM0 1993 1997
NISSAN-DATSUN PALEAGUA DH5 1991 1992
NISSAN-DATSUN PEARLESCENT WHITE CHO 1990 -
NISSAN-DATSUN PEBBLE BEIGE MET CG2 1991 1996
NISSAN-DATSUN PEPPERMINT GREEN 239 1992 -
NISSAN-DATSUN PERIDOT GREEN 13872 1993 -
NISSAN-DATSUN PEWTER KY2 2001 -
NISSAN-DATSUN PEWTER 09938/563M 1987 -
NISSAN-DATSUN PEWTER 09943/571B 1987 -
NISSAN-DATSUN PINK BEIGE 029 1981 1982
NISSAN-DATSUN PINK AX7 2000 -
NISSAN-DATSUN PINK 330 1984 1985
NISSAN-DATSUN PINKISH ORANGE PEARL AM2 1993 -
NISSAN-DATSUN PLATINUM GLOW CLR080 1990 -
NISSAN-DATSUN PLATINUM GLOW CLR057 1986 1990
NISSAN-DATSUN PLUM 611 1976 1977
NISSAN-DATSUN POLAR WHITE QM1 1993 -
NISSAN-DATSUN POLAR WHITE 1885 1994 -
NISSAN-DATSUN PORTOFINO BP4 1995 -
NISSAN-DATSUN POWDER BLUE C 1972 - - NISSAN-DATSUN POWER BLUE 307 1974 1975
NISSAN-DATSUN PRUSSIAN BLUE 20704/492B 1990 -
NISSAN-DATSUN PUMIC CP0 1995 -
NISSAN-DATSUN PURPLE LR2 1996 -
NISSAN-DATSUN PURPLE GREY E 1992 -
NISSAN-DATSUN PURPLE GREY LK5 1992 1997
NISSAN-DATSUN PURPLE GREY PEARL LK0 1991 1994
NISSAN-DATSUN PURPLE LG1 1987 1989
NISSAN-DATSUN PURPLE 362 1976 1977
NISSAN-DATSUN PURPLE PEARL BR3 1995 -
NISSAN-DATSUN PURPLE PEARL LS6 1997 -
NISSAN-DATSUN PURPLE PEARL LN1 1994 -
NISSAN-DATSUN PURPLE PEARL LK1 1991 1994
NISSAN-DATSUN PURPLE SILVER LH1 1991 -
NISSAN-DATSUN PURPLE SILVER 338 1984 1985
NISSAN-DATSUN PURPLE SILVER 932 1981 1982
NISSAN-DATSUN PURPLE SILVER PEARL LJ0 1993 1997
NISSAN-DATSUN PURPLISH BLUE BK6 1990 1992
NISSAN-DATSUN PURPLISH BLUE TH9 1989 1993
NISSAN-DATSUN PURPLISH BLUE TK2 1991 1994
NISSAN-DATSUN PURPLISH BLUE TL0 1992 -
NISSAN-DATSUN PURPLISH BLUE BV6 1998 -
NISSAN-DATSUN PURPLISH BLUE PEARL BL8 1991 1992
NISSAN-DATSUN PURPLISH BLUE PEARL TJ4 1991 -
NISSAN-DATSUN PURPLISH GREY PEARL KX3 2000 -
NISSAN-DATSUN PURPLISH SILVER KV4 1998 -
NISSAN-DATSUN PURPLISH SILVER KW3 1999 -
NISSAN-DATSUN PURPLISH SILVER LV4 1998 -
NISSAN-DATSUN PURPLISH SILVER LP0 1994 -
NISSAN-DATSUN QUARTZ CLR030 1974 1975
NISSAN-DATSUN RED AV0 1997 2000
NISSAN-DATSUN RED BEIGE CJ2 1990 -
NISSAN-DATSUN RED BROWN 447 1985 1986
NISSAN-DATSUN RED BROWN PEARL CJ1 1990 1992
NISSAN-DATSUN RED GLAZE CLR329 1991 1992
NISSAN-DATSUN RED LIGHT CLR328 1989 -
NISSAN-DATSUN RED AY3 2001 -
NISSAN-DATSUN RED 219 1983 1984
NISSAN-DATSUN RED 470 1985 1989
NISSAN-DATSUN RED 118 1982 1989
NISSAN-DATSUN RED 624 1988 -
NISSAN-DATSUN RED 926 1980 -
NISSAN-DATSUN RED AY4 2001 -
NISSAN-DATSUN RED 18A 1989 1993
NISSAN-DATSUN RED AW4 2000 -
NISSAN-DATSUN RED AH3 1988 -
NISSAN-DATSUN RED 329 1991 -
NISSAN-DATSUN RED AT1 1998 -
NISSAN-DATSUN RED 603 1980 -
NISSAN-DATSUN RED AV3 2002 -
NISSAN-DATSUN RED MICA AY0 2001 -
NISSAN-DATSUN RED MICA PEARL AX3 2000 -
NISSAN-DATSUN RED NIGHTMIST PEARL LP8 1996 -
NISSAN-DATSUN RED PEARL AN0 1994 -
NISSAN-DATSUN RED PEARL AW1 1999 -
NISSAN-DATSUN RED PEARL AJ3 1989 1992
NISSAN-DATSUN RED PEARL AN0 1994 -
NISSAN-DATSUN RED PEARL 726 1986 1987
NISSAN-DATSUN RED PEARL AP0 1994 -
NISSAN-DATSUN RED PEPPER 80786/601S 1990 1991
NISSAN-DATSUN REDDISH BEIGE 225 1983 1993
NISSAN-DATSUN REDDISH BROWN AH7 1988 1990
NISSAN-DATSUN REDDISH BROWN LL1 1993 -
NISSAN-DATSUN REDDISH BROWN PEARL CK2 1991 -
NISSAN-DATSUN REDDISH GRAY PEARL KW1 1999 -
NISSAN-DATSUN REDDISH GREY PEARL KV5 1998 -
NISSAN-DATSUN REDDISH PURPLE PEARL LS1 1996 -
NISSAN-DATSUN RICH RED AW0 1999 -
NISSAN-DATSUN ROSE 80824/691B 1989 1992
NISSAN-DATSUN ROSEWOOD PEARL 56832 1994 2000
NISSAN-DATSUN ROSEWOOD PEARL LS5 1996 -
NISSAN-DATSUN ROSEWOOD PEARL 631B 1993 -
NISSAN-DATSUN ROYAL BLUE 424 1985 1990
NISSAN-DATSUN ROYAL BLUE PEARL BR1 1995 -
NISSAN-DATSUN ROYAL RUBY CLR326 1989 -
NISSAN-DATSUN ROYAL RUBY RED PEARL AX5 2002 -
NISSAN-DATSUN ROYAL RUBY RED PEARL AX5 2003 -
NISSAN-DATSUN RUST 718 1978 -
NISSAN-DATSUN SAFETY YELLOW CLR725 1977 - - NISSAN-DATSUN SALMON ORANGE A11 2002 -
NISSAN-DATSUN SALSA AW8 2000 -
NISSAN-DATSUN SALUKI BROWN CLR204 1974 1975
NISSAN-DATSUN SAND GREY AG3 1987 1990
NISSAN-DATSUN SAND 519 1976 1977
NISSAN-DATSUN SANDSTONE BEIGE CLR809 1980 1983
NISSAN-DATSUN SANDSTONE CS3 1998 -
NISSAN-DATSUN SANDY BROWN 304 1974 1975
NISSAN-DATSUN SANTORINI BLUE 20394/491B 1989 -
NISSAN-DATSUN SAPPHIRE BLUE 20362/472B 1988 -
NISSAN-DATSUN SAPPHIRE PEARL CLR566 1989 1990
NISSAN-DATSUN SAPPHIRE PEARL CLR570 1990 -
NISSAN-DATSUN SATSUMA 80851/692B 1991 -
NISSAN-DATSUN SEA GRASS GREEN J13 2003 -
NISSAN-DATSUN SEDONA CY1 2001 -
NISSAN-DATSUN SHERBROOKE GREEN CLR632 1980 -
NISSAN-DATSUN SIDERAL GREY PEARL B64 2003 -
NISSAN-DATSUN SIENNA BROWN 733 1986 1988
NISSAN-DATSUN SIERRA RED 465/AG2 1985 1986
NISSAN-DATSUN SIERRA RED AG2/465 1990 -
NISSAN-DATSUN SIGNAL YELLOW CLR727 1980 -
NISSAN-DATSUN SILICA GOLD EY2 2002 -
NISSAN-DATSUN SILKY SNOW PEARL WK1 1993 1997
NISSAN-DATSUN SILVER AQUA 137 1973 -
NISSAN-DATSUN SILVER GLOW CLR069 1988 1989
NISSAN-DATSUN SILVER GREY 130 1973 -
NISSAN-DATSUN SILVER KY0 2001 -
NISSAN-DATSUN SILVER K12 2004 -
NISSAN-DATSUN SILVER 549 1986 1987
NISSAN-DATSUN SILVER 589 1992 -
NISSAN-DATSUN SILVER KV8 2001 -
NISSAN-DATSUN SILVER KL2 1992 1995
NISSAN-DATSUN SILVER 729 1987 1994
NISSAN-DATSUN SILVER 673 1986 1987
NISSAN-DATSUN SILVER KL0 1992 -
NISSAN-DATSUN SILVER KV6 1998 -
NISSAN-DATSUN SILVER 663 1978 -
NISSAN-DATSUN SILVER KX2 2000 -
NISSAN-DATSUN SILVER KN0 1993 1995
NISSAN-DATSUN SILVER 649 1979 -
NISSAN-DATSUN SILVER 306 1974 1975
NISSAN-DATSUN SILVER KJ2 1990 1994
NISSAN-DATSUN SILVER 006 1981 1982
NISSAN-DATSUN SILVER 248 1984 1988
NISSAN-DATSUN SILVER 258 1973 -
NISSAN-DATSUN SILVER 596 1986 1987
NISSAN-DATSUN SILVER 210 1983 1984
NISSAN-DATSUN SILVER 1N4 2004 -
NISSAN-DATSUN SILVER 012 1974 1975
NISSAN-DATSUN SILVER 619 1977 1991
NISSAN-DATSUN SILVER LK26 1995 2000
NISSAN-DATSUN SILVER KR4 2001 -
NISSAN-DATSUN SILVER KR4 1996 -
NISSAN-DATSUN SILVER K25 2003 -
NISSAN-DATSUN SILVER KX4 2000 -
NISSAN-DATSUN SILVER 365 1984 1985
NISSAN-DATSUN SILVER [X TRAIL] KX4 2004 -
NISSAN-DATSUN SILVER MOSS 09982/591B 1990 -
NISSAN-DATSUN SILVER PEARL TOPCOAT WK1 1993 -
NISSAN-DATSUN SILVER SHEEN CLR037 1980 -
NISSAN-DATSUN SILVER YELLOW PEARL JJ0 1989 1990
NISSAN-DATSUN SIMPSON BEIGE CLR807/432 1977 1979
NISSAN-DATSUN SKY BLUE 20066/452M 1985 -
NISSAN-DATSUN SKY 841 1981 1982
NISSAN-DATSUN SLATE GREY CLR073 1988 1989
NISSAN-DATSUN SLATE GREY CLR094 1991 -
NISSAN-DATSUN SMOKE ICE FL2 1991 1992
NISSAN-DATSUN SMOKE ICE TL1 1991 1992
NISSAN-DATSUN SMOKE K11 2004 -
NISSAN-DATSUN SMOKED SILVER KX1 2001 -
NISSAN-DATSUN SMOKEY QUARTZ LUSTRE CLR221 1983 -
NISSAN-DATSUN SOFT BLUE CLR537 1977 1978
NISSAN-DATSUN SOLAR YELLOW EW3 2000 -
NISSAN-DATSUN
RED Z10 2000 -
NISSAN-DATSUN
SHOCK BLUE BY2 2001 -
NISSAN-DATSUN SORREL LIGHT GREEN PEARL DY2 2002 -
NISSAN-DATSUN SOVEREIGN BLUE BM1 1995 1999
NISSAN-DATSUN SPARKLE RED A15 2003 -
NISSAN-DATSUN SPARKLING SILVER WV2 1999 -
NISSAN-DATSUN SPECTRUM RED 80556 1986 1987
NISSAN-DATSUN SPRUCE GREEN KS4 1998 -
NISSAN-DATSUN SPRUCE GREEN PEARL DV9 1999 -
NISSAN-DATSUN STARLIGHT GLOW CLR051 1987 -
NISSAN-DATSUN STIRLING MIST KT3 1997 -
NISSAN-DATSUN STORM CLOUD KN8 1993 1997
NISSAN-DATSUN STORMY GLOW CLR079 1990 -
NISSAN-DATSUN STORMY GLOW CLR056 1986 1987
NISSAN-DATSUN STORMY GLOW 512B 1991 -
NISSAN-DATSUN STRAWBERRY RED AT3 1998 -
NISSAN-DATSUN SUMMER SAND CLR730 1983 1988
NISSAN-DATSUN SUNSET RED PEARL AP4 1996 -
NISSAN-DATSUN SUNSHINE YELLOW 50884/251S 1983 -
NISSAN-DATSUN SUPER WHITE 326 1984 2001
NISSAN-DATSUN TAUPE CV1 1999 -
NISSAN-DATSUN TECHNO GREY KY5 2002 -
NISSAN-DATSUN THISTLE 80834/494B 1990 -
NISSAN-DATSUN THUNDER QUARTZ K30 2004 -
NISSAN-DATSUN TICKFORD GREEN D14 2002 -
NISSAN-DATSUN TITANIUM FROST KP2 1990 1996
NISSAN-DATSUN TOFFEE HV0 1999 -
NISSAN-DATSUN TOPAZ LUSTRE CLR220 1983 -
NISSAN-DATSUN TOREADOR RED 80295 1987 -
NISSAN-DATSUN TORNADO BW3 1999 -
NISSAN-DATSUN TORQUAY BLUE BS9 1998 -
NISSAN-DATSUN TOSCANA GOLD 222 1992 -
NISSAN-DATSUN TRUE GREEN DW1 2000 -
NISSAN-DATSUN TURQUOISE DH1 1988 1992
NISSAN-DATSUN TURQUOISE 225 1974 1975 - NISSAN-DATSUN TURQUOISE FJ0 1994 1998
NISSAN-DATSUN TURQUOISE FH1 1995 1999
NISSAN-DATSUN TURQUOISE FV1 1999 -
NISSAN-DATSUN TURQUOISE FM0 1993 -
NISSAN-DATSUN TURQUOISE 260 1973 -
NISSAN-DATSUN TURQUOISE CLR552 1984 1985
NISSAN-DATSUN TURQUOISE TH7 1989 1990
NISSAN-DATSUN TURQUOISE 828 1980 -
NISSAN-DATSUN TURQUOISE 121 1974 1975
NISSAN-DATSUN TURQUOISE PEARL FM2 1993 -
NISSAN-DATSUN TWILIGHT BLUE BK2 1992 -
NISSAN-DATSUN TWILIGHT BLUE MK/BK2 1992 -
NISSAN-DATSUN TWILIGHT SILVER CLR637 1981 1983
NISSAN-DATSUN VALENTINE RED 14818 1987 -
NISSAN-DATSUN VENUS RED 80486 1985 -
NISSAN-DATSUN VERDURE GREEN 40496 1986 1991
NISSAN-DATSUN VESUVIUS RED CLR237 1979 -
NISSAN-DATSUN VINTAGE BURGUNDY CLR320 1981 1983
NISSAN-DATSUN VIOLET BP3 1994 -
NISSAN-DATSUN VIOLET MICA LR0 1995 -
NISSAN-DATSUN VIOLET PEARL L20 2003 -
NISSAN-DATSUN VIVID WHITE 01997 1987 -
NISSAN-DATSUN WARATAH RED CLR317 1977 -
NISSAN-DATSUN WARM SILVER KV9 2000 -
NISSAN-DATSUN WARM SILVER KT1 1998 -
NISSAN-DATSUN WHEEL TRIM SILVER CLR076 1990 -
NISSAN-DATSUN WHITE 002 1988 1991
NISSAN-DATSUN WHITE QR0 1994 -
NISSAN-DATSUN WHITE 598 1986 1987
NISSAN-DATSUN WHITE 216 1974 1979 - NISSAN-DATSUN WHITE CLR924 1991 1995
NISSAN-DATSUN WHITE 531 1985 1999
NISSAN-DATSUN WHITE 831 1981 1982
NISSAN-DATSUN WHITE 963 1983 -
NISSAN-DATSUN WHITE KG5 1994 1998
NISSAN-DATSUN WHITE 625 1990 -
NISSAN-DATSUN WHITE QV1 1998 2000
NISSAN-DATSUN WHITE 805 1979 -
NISSAN-DATSUN WHITE 326 1984 2001
NISSAN-DATSUN WHITE WK3 1991 1992
NISSAN-DATSUN WHITE COTTON 621 1986 -
NISSAN-DATSUN WHITE PEARL KH1 1991 -
NISSAN-DATSUN WHITE PEARL KH0 1993 -
NISSAN-DATSUN WHITE PEARL [BACKGROUND] 234 1987 1992
NISSAN-DATSUN WHITE PEARL [BACKGROUND] QR2 2002 -
NISSAN-DATSUN WHITE PEARL [BACKGROUND] QX1 2000 -
NISSAN-DATSUN WHITE PEARL [BACKGROUND] QN0 1995 -
NISSAN-DATSUN WHITE PEARL [TOPCOAT] QN0 1994 -
NISSAN-DATSUN WHITE PEARL [TOPCOAT] QX1 2000 -
NISSAN-DATSUN WHITE PEARL [TOPCOAT] 234 1987 1992
NISSAN-DATSUN WHITE PEARL [TOPCOAT] QR2 2002 -
NISSAN-DATSUN WHITE PEARL BACKGROUND QT1 1997 -
NISSAN-DATSUN WHITE PEARL TOPCOAT QT1 1997 -
NISSAN-DATSUN WHITSUNDAY BLUE (A) CLR546 1981 1982
NISSAN-DATSUN WILD THYME 40798/372M 1985 -
NISSAN-DATSUN WILLOW GREEN PEARL DP3 1996 -
NISSAN-DATSUN WILLOW GREEN PEARL SH/DP3 1995 -
NISSAN-DATSUN WINDSOR BLUE BX3 2001 -
NISSAN-DATSUN WINE 032 1983 1984
NISSAN-DATSUN WINE 309 1977 1978
NISSAN-DATSUN WINE 819 1979 -
NISSAN-DATSUN WINE PURPLE 213 1981 1981
NISSAN-DATSUN WINEBERRY PEARL 671B 1997 -
NISSAN-DATSUN WINTER BLUE BG6 1990 -
NISSAN-DATSUN WOOD BROWN 214 1974 1975
NISSAN-DATSUN YELLOW EH2 1995 1999
NISSAN-DATSUN YELLOW 431 1978 - - NISSAN-DATSUN YELLOW 339 1984 1985
NISSAN-DATSUN YELLOW 337 1984 1985
NISSAN-DATSUN YELLOW 804 1980 1982
NISSAN-DATSUN YELLOW CG5 1987 1988
NISSAN-DATSUN YELLOW E11 2002 -
NISSAN-DATSUN YELLOW 650 1979 -
NISSAN-DATSUN YELLOW 016 1981 1982
NISSAN-DATSUN YELLOW ES3 1996 -
NISSAN-DATSUN YELLOW EW1 1999 -
NISSAN-DATSUN YELLOW 705 1988 -
NISSAN-DATSUN YELLOW 119 1983 -
NISSAN-DATSUN YELLOW 52020 1986 -
NISSAN-DATSUN YELLOW BEIGE 226 1983 1984
NISSAN-DATSUN YELLOW GREEN JY0 2003 -
NISSAN-DATSUN YELLOW GREEN J32 2004 -
NISSAN-DATSUN YELLOW LIGHT CLR733 1989 -
NISSAN-DATSUN YELLOW E30 2004 -
NISSAN-DATSUN YELLOW ER3 1996 -
NISSAN-DATSUN YELLOW ER2 1995 -
NISSAN-DATSUN YELLOW MICA [BACKGROUND] E33 2004 -
NISSAN-DATSUN YELLOW MICA [TOPCOAT] E33 2004 -
NISSAN-DATSUN YELLOW PEARL EH7 1990 -
NISSAN-DATSUN YELLOW SILVER KJ1 1992 1997
NISSAN-DATSUN YELLOW WHITE PEARL KH6 1990 -
NISSAN-DATSUN YELLOWISH GREEN J11 2002 -
NISSAN-DATSUN YELLOWISH GREEN EL2 1992 -
NISSAN-DATSUN YELLOWISH GREEN JP1 1995 -
NISSAN-DATSUN YELLOWISH GREEN JW1 1999 -
NISSAN-DATSUN YELLOWISH GREEN JW0 1999 -
NISSAN-DATSUN YELLOWISH GREEN PEARL JR1 1996 -
NISSAN-DATSUN YELLOWISH GREEN PEARL JT3 1997 -
NISSAN-DATSUN YELLOWISH GREEN PEARL DS2 1997 -
NISSAN-DATSUN YELLOWISH GREY CJ5 1988 1991
NISSAN-DATSUN YELLOWISH SILVER KG4 1988 2000
NISSAN-DATSUN YELLOWISH SILVER K32 2004 -
NISSAN-DATSUN YELLOWISH SILVER KR3 1995 -
NISSAN-DATSUN YELLOWISH SILVER MICA KN4 1994 -
NISSAN-DATSUN YELLOWISH WHITE KH5 1993 -
NISSAN-DATSUN ZEE GREEN 303 1974 1975
NISSAN-DATSUN ZUCCINI 302 1974 1975