To Buy Car Touch Up Paint or Car Aerosol Spray Cans for your Vauxhall please


CLICK HERE

or

RETURN TO HOMEPAGE

Finding Your Vauxhall Paint Code

Vauxhall has one main area for a paint code, check the drivers door sill or the drivers door jamb. Some newer models such as insignias are in the passenger door sill. Some old models will be under the bonnet. A Vauxhall Color Code is typically 3, 4 digits long, this can also be a letter/number combination.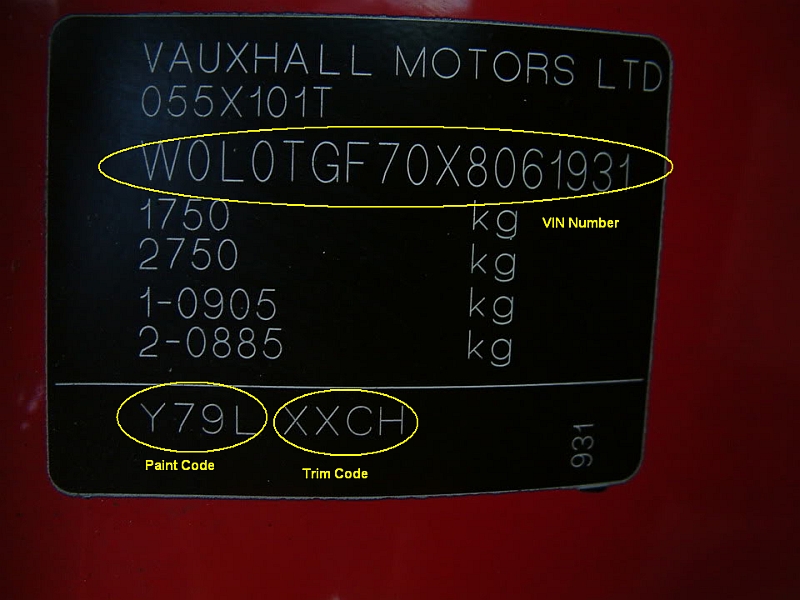 VAUXHALL SPINELL RED 579 1999 -
VAUXHALL CITYROT 591/67U 2000 -
VAUXHALL TAWNY BROWN 60L 1984 1986
VAUXHALL CHESTNUT 60L 1992 -
VAUXHALL CALYPSO RED 597 2000 -
VAUXHALL RABIATA RED PEARL 595 2000 -
VAUXHALL BAROLOROT MET 592/44H 2000 -
VAUXHALL TIERRA DELFUEGO PEARL 590 2001 -
VAUXHALL SOVEREIGN GOLD 58L 1988 1990
VAUXHALL PEARL COLOUR RED 586/50U 2000 -
VAUXHALL CYPRUS GREEN 611 2000 -
VAUXHALL PINEAPPLE YELLOW 57L 1994 -
VAUXHALL MAGNETIC BLUE 64L 1994 -
VAUXHALL APRICOT 580/74L 1997 -
VAUXHALL AUTUMN GOLD 65L 1984 1985
VAUXHALL HELLROTORANGE 693 1999 -
VAUXHALL SCHWEFELGELB 692 1999 -
VAUXHALL CHAMPAGNE 68L 1996 -
VAUXHALL SIGNALBLAU 680 1999 -
VAUXHALL BARYTBROWN 67L 1984 1985
VAUXHALL PATINAGRUEN 678 1999 -
VAUXHALL APACHE 61U/61L 1994 1997
VAUXHALL RIO GRUEN PEARL 65L/65U 1995 -
VAUXHALL CAPE BLUE 612 2000 -
VAUXHALL LIGHT CURRY 53L/53U 1996 -
VAUXHALL ONYXBROWN 63L 1982 1986
VAUXHALL ROSE PEARL 576/LD 1997 -
VAUXHALL APACHE 61L/61U 1994 1997
VAUXHALL SAXON BRONZE 61L 1986 1988
VAUXHALL SATIN GOLD 613 2000 -
VAUXHALL ANTIQUEGOLD 66L 1981 1985
VAUXHALL MINT GREEN 47L/47U 1994 1997
VAUXHALL FLORENTINE RED MICA 569 1993 -
VAUXHALL PINEAPPLE YELLOW 485/57L 1994 -
VAUXHALL APACHE MICA 484/61L 1994 -
VAUXHALL SOLAR YELLOW 483/51L 1993 -
VAUXHALL LEMON YELLOW 481/49L 1994 -
VAUXHALL BROCADE YELLOW 488/53L/53U 1995 -
VAUXHALL OLIVINE 44L 1983 1985
VAUXHALL EMERALD GREEN PEARL 48L/48U 1989 1993
VAUXHALL RIOJA PEARL 69L/568 1992 -
VAUXHALL JUNGLE GREEN PEARL 46U/46L/359 1993 -
VAUXHALL JUNGLE GREEN PEARL 46L/46U/359 1993 -
VAUXHALL KOBALTBLAU 460 2002 -
VAUXHALL SILVER MOSS 45L 1983 1986
VAUXHALL FIR GREEN MICA 45L 2003 -
VAUXHALL PANORAMABLAU PEARL 44P 2003 -
VAUXHALL KIWI 49L/384 2000 -
VAUXHALL TIZIANROT 573/76L/KD 1997 -
VAUXHALL KODIAK MET 572/71L 1994 -
VAUXHALL AMARENA MICA 571/73L 1992 -
VAUXHALL DESERT SHADOW 56L/141 1992 -
VAUXHALL RIOJA PEARL 568/69L 1992 -
VAUXHALL COLORADO WHITE 487/11L 1996 -
VAUXHALL PLATINUM 50L 1986 1990
VAUXHALL BOLOGNA ROT PEARL 575/LB 1996 -
VAUXHALL CANYON PEARL 498/89L 1997 -
VAUXHALL AZTEKENGOLD 497 1999 -
VAUXHALL KUPFER 495/15L 1998 -
VAUXHALL SIAMESE BEIGE 491 1997 -
VAUXHALL ANTELOPE PEARL 490 1998 -
VAUXHALL EMERALD GREEN PEARL 48U/48L 1989 1993
VAUXHALL SOLAR YELLOW 51L/483 1993 -
VAUXHALL GRAPHITE II PEARL 85L 1999 -
VAUXHALL KRISTALGRAU 920/13U 1998 -
VAUXHALL RED ROCK PEARL 872 1995 -
VAUXHALL FIR GREEN MICA 871 2003 -
VAUXHALL ASTRO SILVER 86L 1978 1990
VAUXHALL WALDGRUEN PEARL 863 1999 -
VAUXHALL KAISERSILBER 878 1999 -
VAUXHALL SILVER 85L 1980 1990
VAUXHALL REMBRANDT SILVER 87L 1989 1993
VAUXHALL EMPIREBLAU PEARL 853 1999 -
VAUXHALL DOLPHIN GREY 84L 1986 1989
VAUXHALL IRON GREY 849 1993 -
VAUXHALL MIDNIGHT BLACK 83L/298 1998 2002
VAUXHALL MISTRAL GREY 83L 1989 1993
VAUXHALL TROOPER BLUE 833 1994 -
VAUXHALL STONE GREY 85L 1994 -
VAUXHALL TIEFSEEGRUEN 941/45U 1998 -
VAUXHALL BAROLOROT MET 44H/592 2000 -
VAUXHALL BLUE STARMIST 90L 1986 1991
VAUXHALL PEARL BLUE 99L 1988 1991
VAUXHALL BLUE PEARL 99L 1989 -
VAUXHALL RED PEARL 98L 1989 -
VAUXHALL ALPINWEISS 877 1999 -
VAUXHALL GRAPHITE PEARL 95L 1994 -
VAUXHALL NEPAL YELLOW PEARL 825J/40D 2002 -
VAUXHALL PLATINUM SILVER 892 1993 -
VAUXHALL STAR SILVER 88U/88L 1992 -
VAUXHALL STAR SILVER 88L/88U 1990 -
VAUXHALL RANGERGRUEN 880 1999 -
VAUXHALL WHITE GOLD 87L 1978 1987
VAUXHALL SCHWARZ II 87L 1998 2002
VAUXHALL SMOKE GREY 96L/96U 1992 -
VAUXHALL CREAM WHITE 752 1993 -
VAUXHALL DARK REGATTA 759 1994 -
VAUXHALL CRANBERRY PEARL 758 1993 -
VAUXHALL GOLD GREEN PEARL 757 1993 -
VAUXHALL RADIANT RED 756 1992 -
VAUXHALL WINDSOR BLUE PEARL 755 1993 -
VAUXHALL STEEL GREY 82L 1986 1989
VAUXHALL LIGHT SILVER 753 1993 -
VAUXHALL BRONZE BLUE PEARL 760 1993 -
VAUXHALL AUBERGINE PEARL 74L 1988 1992
VAUXHALL BORDEAUX PEARL 73L/73U/571 1989 1991
VAUXHALL MARSEILLE RED/SATIN RED 72U/72L 1991 -
VAUXHALL MARSEILLE RED/SATIN RED 72L/72U 1991 -
VAUXHALL PALE BEIGE 724 1992 -
VAUXHALL ASTRALSILBER 718 1999 -
VAUXHALL NEW MEDIUM BROWN 754 1993 -
VAUXHALL CARNELIAN RED 79L 1980 1987
VAUXHALL ALMADINE RED 70L 1983 1987
VAUXHALL ANTIQUE SILVER 824 1993 -
VAUXHALL STEEL BLUE 823 1993 -
VAUXHALL DIAMOND BLACK 81L/81U 1990 -
VAUXHALL ANTHRACITE 81L 1980 1987
VAUXHALL PURE WHITE 811 1993 -
VAUXHALL CALYPSO RED 75L 1987 1991
VAUXHALL BLACK 80L 1960 -
VAUXHALL CHIANTI RED PEARL 75L 1996 -
VAUXHALL TOSCANA/BURGUNDY RED 78L 1991 -
VAUXHALL RUBY RED 77L 1988 1990
VAUXHALL TIZIAN RED 76L 1997 -
VAUXHALL HUNTING GREEN PEARL 763 1993 -
VAUXHALL FLAXEN YELLOW 762 1993 -
VAUXHALL EBONY BLACK 826/80L 1993 -
VAUXHALL BREEZEBLAU 80U 2000 -
VAUXHALL ULTRABLAU PEARL 21B 2003 -
VAUXHALL COSMOS BLUE 27L/273 1992 -
VAUXHALL HELIOS BLUE 22L 1982 1988
VAUXHALL AMETHYST 21P 2003 -
VAUXHALL IBIZA BLUE 21L 1988 1991
VAUXHALL CHINESE BLUE 21F 2003 -
VAUXHALL SILVER BLUE 23L 1983 1988
VAUXHALL SARDINIA BLUE 21D 2004 -
VAUXHALL WESTMINSTER BLUE PEARL 23L/23U/88U 1989 1991
VAUXHALL SATURN BLUE PEARL 21A/922K 2002 -
VAUXHALL ROYALBLAU 20Z/924K 2002 -
VAUXHALL MIDNIGHT BLACK 20X/3DU 2001 -
VAUXHALL BLACK 20W 2000 -
VAUXHALL SCARAB 20U 2004 -
VAUXHALL BLACK SAPPHIRE PEARL 20R 2001 -
VAUXHALL PANORAMABLAU PEARL 21E/4UU 2003 -
VAUXHALL LAGOON BLUE PEARL 26U/26L 1992 1993
VAUXHALL AURORA PEARL 279/20L 1992 -
VAUXHALL CARIBIC BLUE 277/33L/33U 1992 -
VAUXHALL LIFESTYLE BLUE 276/31L 1993 -
VAUXHALL AQUAMARINE 275/30L 1993 -
VAUXHALL FROST BLUE 274/32L 1992 -
VAUXHALL FLIEDER 22P 2003 -
VAUXHALL SPECTRAL BLUE PEARL 270/24U/24L 1992 -
VAUXHALL BREEZEBLAU 20N 2000 -
VAUXHALL LAGOON BLUE PEARL 26L/26U 1992 1993
VAUXHALL FJORD BLUE 26L 1985 1987
VAUXHALL BREEZE BLUE 264/15U/15L 1992 -
VAUXHALL PORTOBLAU 264/15U 1990 1993
VAUXHALL SPECTRAL BLUE PEARL 24L/24U/270 1992 -
VAUXHALL ORIENT BLUE 24L 1985 1987
VAUXHALL COSMOS BLUE 273/27L 1992 -
VAUXHALL DESERT SHADOW 141/56L 1992 -
VAUXHALL MIRAGE PEARL 151/94L 1998 -
VAUXHALL WEIDENGRUEN 150/93L 1998 -
VAUXHALL NAUTILUS PEARL 14L/283 1994 -
VAUXHALL YUKONSILBER 149/92L 1998 -
VAUXHALL DIAMOND SILVER 148 1996 -
VAUXHALL PRESTIGE BLUE 20Q 2002 -
VAUXHALL MAGIC GRAU 144/86L 1993 -
VAUXHALL BASALT/MOONLAND PEARL 155/3KU 2000 -
VAUXHALL POLAR SEA BLUE PEARL 13L/282/13U 1993 -
VAUXHALL NEPTUNE BLUE 13L 1988 1991
VAUXHALL LASER BLUE 12L 1987 1990
VAUXHALL GLACIER WHITE 10L/10U 1987 -
VAUXHALL FLORIDA GREEN 43L 1989 1991
VAUXHALL SATURN BLUE PEARL 922K/21A 2002 -
VAUXHALL STAR SILVER 2 147/82L/83U 1997 -
VAUXHALL SCARAB 19K 2004 -
VAUXHALL AMETHYST PEARL 165 2003 -
VAUXHALL PETROL/JAZZ BLUE PEARL 20M/69L 2000 -
VAUXHALL AURORA/HIGH VOLTAGE 20L/279 1992 1997
VAUXHALL KOBALTBLUE PEARL 20L 1988 1989
VAUXHALL NOKTURNOBLAU MET 20H/34L 1999 -
VAUXHALL BLACK 2 20C/87L 1998 -
VAUXHALL METEORGRAU 152/ 1999 -
VAUXHALL TECH VIOLET 19L/19U 1990 1993
VAUXHALL ORIONSILBER 153 1999 -
VAUXHALL REGENCY BLUE 16L 1987 1991
VAUXHALL NEW SILVER 161 2000 -
VAUXHALL BREEZE BLUE 15L/15U/264 1990 1993
VAUXHALL COPPER 15L 1998 -
VAUXHALL STARSILBER III 157/2AU 2001 -
VAUXHALL INK BLUE 20P 2001 -
VAUXHALL ARUBABLAU 20A/20U 2000 -
VAUXHALL KRYPTONGRUEN 380/41L 1999 -
VAUXHALL VERDE 389/31L 2000 -
VAUXHALL SPACEGRUEN 388/69U 2000 -
VAUXHALL JADE GREEN PEARL 387/32L 2000 -
VAUXHALL FIFTIESGRUEN 386/86U 2000 -
VAUXHALL GRAPHITE II PEARL 385 2000 -
VAUXHALL CLASSIC GREEN 374/45L 1997 -
VAUXHALL URALMOUNTAIN PEARL 382 2000 -
VAUXHALL BAMBOO GREEN 393 2002 -
VAUXHALL NEPTUNE TURQUOISE MICA 37L/357 1992 -
VAUXHALL MAMBAGRUEN 379 1999 -
VAUXHALL HAWAII GREEN PEARL 378 1997 -
VAUXHALL CYPRESS GREEN PEARL 377/42L 1998 -
VAUXHALL TROPICAL GREEN 376/DX 1996 -
VAUXHALL CARRIAGE GREEN 375/44L 1997 -
VAUXHALL KIWI 384/434 2000 -
VAUXHALL AZTEKENGOLD II 40E 2000 -
VAUXHALL BREEZE BLUE 15U/15L/264 1990 1993
VAUXHALL POLAR SEA BLUE PEARL 282/13L/13U 1996 -
VAUXHALL OLIVE GREEN 42L 1985 1987
VAUXHALL BERMUDA GREEN 43L 1995 -
VAUXHALL CRYPTON GREEN 41L/380 2000 -
VAUXHALL LIMA PEARL 41L 1994 -
VAUXHALL ARKTISWEISS 389/404 1998 -
VAUXHALL PAPYRUS 40H 2003 -
VAUXHALL LEAF GREEN 38L 1996 -
VAUXHALL NEPAL YELLOW PEARL 40D/825J 2002 -
VAUXHALL YELLOW 40C 2000 -
VAUXHALL CORN YELLOW 40A 2000 -
VAUXHALL MINTSILBER MET 397/885J 2002 -
VAUXHALL OCEAN GREEN 396 2001 -
VAUXHALL BRITISH RACING GREEN 394 2000 -
VAUXHALL CRYSTAL MOSS 41L 1988 1990
VAUXHALL BLACK SAPPHIRE 28U 2003 -
VAUXHALL AQUAMARINA 30L/275 1993 -
VAUXHALL AQUAMARINE 30L 1987 1990
VAUXHALL CERAMIC BLUE PEARL 29L/286 1996 -
VAUXHALL MONACO BLUE 29L 1986 1990
VAUXHALL PERSIA PEARL 299/58L 2000 -
VAUXHALL MAGNETIC BLUE MET 288/64L 1994 -
VAUXHALL RAINBOW BLUE/LIFESTYLE BLUE 31L/276 1993 -
VAUXHALL NORDKAP MET 290/90L 1995 -
VAUXHALL LAGO BLUE 296/89L/X4 1996 -
VAUXHALL ATLANTIC BLUE 28L 1994 -
VAUXHALL ARCTIC BLUE PEARL 289/21L 1997 -
VAUXHALL LEAF GREEN PEARL 372/38L 1996 -
VAUXHALL SAFRANGELB 396 1998 -
VAUXHALL CERAMIC BLUE PEARL 286/29L 1996 -
VAUXHALL NAUTILUS PEARL 283/14L 1993 -
VAUXHALL SEYCHELLENBLAU PEARL 295/17E 1998 -
VAUXHALL NEPTUNE TURQUOISE MICA 357/37L 1992 -
VAUXHALL IMPERIAL GREEN PEARL 36L 1990 1992
VAUXHALL RIO VERDE MET 369/65L/30D 1995 -
VAUXHALL BERMUDA GREEN 366/43U/43L 1995 -
VAUXHALL PREMIUM BLUE 293/25L/AW 1997 -
VAUXHALL APPLE GREEN 371/36L 1996 -
VAUXHALL TROPICAL GREEN 326 1996 -
VAUXHALL TOURMALINE GREEN PEARL 359/46U/46L 1998 -
VAUXHALL JUNGLE GREEN 359/46U/46L 1993 -
VAUXHALL MINT GREEN 361/47L 1994 -
VAUXHALL BLACK 353 1982 1986
VAUXHALL NOCTURNO BLUE PEARL 34L/20H 2000 -
VAUXHALL CARIBIC BLUE 33U/33L/277 1992 -
VAUXHALL CARIBIC BLUE 33L/33U/277 1992 -
VAUXHALL FROST BLUE 32L/274 1992 -
VAUXHALL TURQUOISE 32L 1979 1988